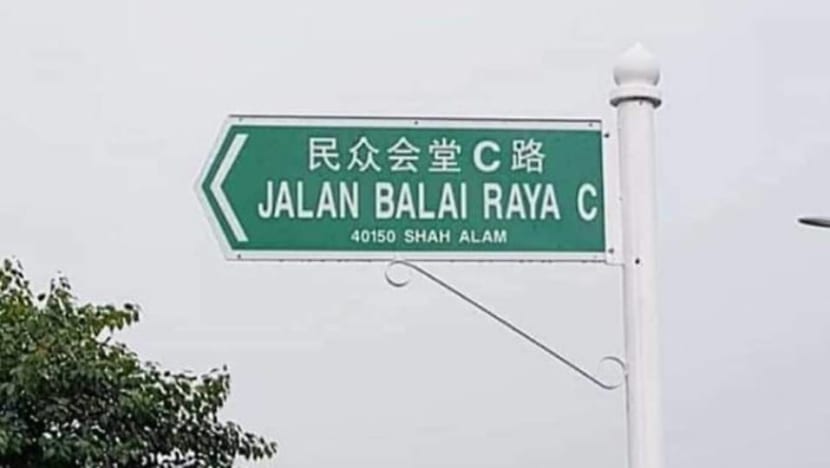 SHAH ALAM: Dual-language road signs placed throughout Malaysia's Shah Alam with Chinese or Tamil translations written on them have been ordered to be removed. 
Shah Alam is the capital of Selangor, Malaysia's most populous state. 
Selangor's Sultan Sharafuddin Idris Shah has ordered that road signs now be written in only one language, Bahasa Malaysia. 
The order was conveyed in a letter to the Selangor secretary on Monday (Nov 19), demanding for the changes to be made before the sultan's 73rd birthday, which falls on Dec 11. 
The letter said: "The changing of road signages must be done immediately and completed at the latest before the Sultan of Selangor's 73rd birthday on Dec 11."
Images of road signs with Chinese and Tamil translations that previously only had Jawi or Bahasa Malaysia on them have sparked an uproar on social media in Malaysia, according to local media reports. 
Mohammad Saleeh Rahamad, the president of the Malaysia's National Writers' Association (PENA), reportedly said that the decision to switch the languages on the road signs from Jawi and Bahasa Malaysia was "not in harmony with Malaysia's context".
In response to the online furore, the Shah Alam City Council said in a tweet on Nov 15 that the state's permanent committee on local government had decided on the bilingual signages in January last year. 
It then added that the decision was to have signages placed in older villages to be written in Malay and Jawi while those in new villages, which have more Chinese residents, to also be written in Chinese.