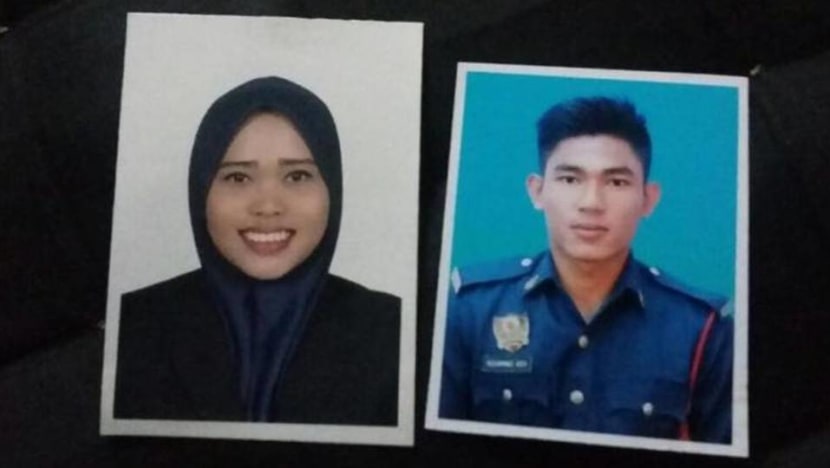 KUALA LUMPUR: The fiancee of a fireman who was injured on Tuesday (Nov 27) during the second night of violence outside the Sri Maha Mariamman temple has called for the public to pray for him and to stop speculating on his condition.

In a Facebook post, Nurul Najihah also said Muhammad Adib Mohd Kassim, 24, is "still safe".

In an earlier post, Nurul Najihah uploaded a photo of herself and her fiance and said: "You are strong. Wake up soon Muhammad Adib. Pray for my fiance. I am not strong, looking at you like this."

Muhammad Adib, who is with the Fire and Rescue Department's Emergency Medical Response Service, was believed to have been attacked by rioters in the early hours of Tuesday. 
He was part of an operation to extinguish burning vehicles near the temple.

FIREMAN SUFFERED BROKEN RIBS
A spokesperson from the Fire Department said Muhammad Adib was forcefully pulled out of his vehicle by rioters. 
Housing and Local Government Minister Zuraida Kamaruddin said Muhammad Adib is now on life support. He was previously reported to be unconscious.

The minister said Muhammad Adib suffered multiple injuries including broken ribs and bruises on his chest and abdomen.
She added that his broken ribs had punctured his lung, leading to breathing difficulties.
Zuraida also said the attack against civil servants who were on duty was outrageous and should not have happened at all.

"I am shocked, saddened and disappointed by this incident. Everyone must stop this unruly behaviour," she said.
"The public should show respect for uniformed civil servants who are carrying out their duty, you cannot do as you please."
RIOTERS FORCED FIREMEN TO RETREAT

Fire and Rescue Department chief Mohammad Hamdan Wahid said the firefighters arrived at the scene on Tuesday after receiving an emergency call at 1am.
"A fire engine with seven personnel and an Emergency, Medical and Rescue Services (EMRS) vehicle with two staff including Muhammad Adib Mohd Kassim were rushed to the scene," he said at a media conference.
Muhammad Hamdan said upon arrival at the scene, the two vehicles were surrounded by a group of rioters who also threw stones and tried to injure personnel on duty.
He added that the operations commander had ordered the two vehicles to retreat as the situation was getting out of control.
"It was then that Muhammad Adib, seated at the front passenger seat of the EMRS vehicle was dragged out by the rioters and assaulted," he said.
The others did not realise this until they reached the Subang Jaya fire station.
"When they tried to call his mobile phone, members of the public who answered informed them that the victim had been rushed to the hospital," he said.
SECOND NIGHT OF CLASHES
Muhammad Adib, who is from Kedah state, was due to get married next month.
Tuesday marked the second night of clashes outside Sri Maha Mariamman temple in Subang Jaya. 
In the wee hours of Monday, vehicles were set ablaze during a fight between two groups of people. An initial statement by the Subang Jaya district police said the clash was due to a disagreement over the planned relocation of the temple.
However, several ministers on Tuesday denounced the police statement as "false and irresponsible" and called for a corrective statement to be immediately issued. 
Authorities have arrested 21 Malaysian men in connection with the violence.