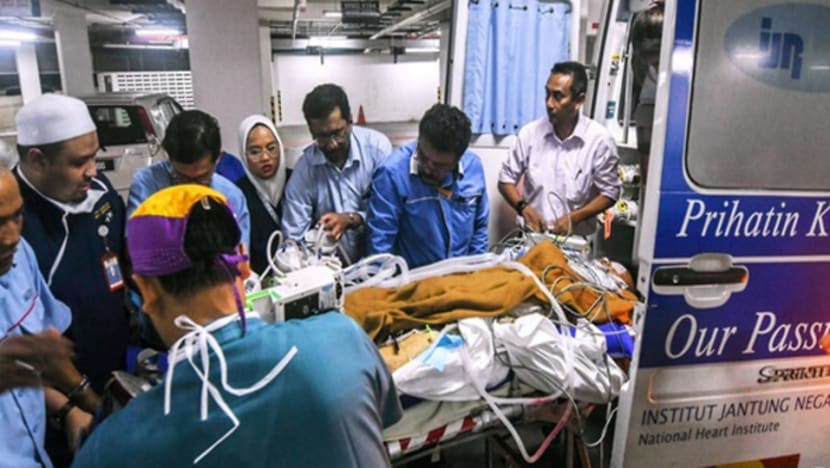 KUALA LUMPUR: The Malaysian firefighter who was injured during the second day of riots at the Seafield Sri Maha Mariamman Temple is in stable condition, the National Heart Institute (IJN) said in a statement on Wednesday (Nov 28).
However, Muhammad Adib Mohd Kassim is still in a critical state and has been transferred from the Sime Darby Medical Centre to IJN for further treatments. 
"To date, his condition is stable but he is still in a critical condition," Dr Mohd Nazeri Nordin, IJN's consultant cardiothoracic surgeon said, adding that a life-support machine known as the Extracorporeal Membrane Oxygenation was deployed at 1.30am. 
"The procedure was completed at around 2.30am," he added. "The machine will provide both circulatory and gas exchange support for him due to his serious chest injuries."
The 24-year-old, who is with the Fire and Rescue Department's Emergency Medical Response Service, was believed to be attacked by rioters who were protesting the relocation of the temple. 
Muhammad Adib was part of a nine-man team responding to a fire near the scene. 
According to a spokesperson from the Fire Department, Muhammad Adib was forcefully pulled out of a vehicle by rioters. 
Housing and Local Government Minister Zuraida Kamaruddin said the incident caused him multiple injuries including broken ribs and bruises on his chest and abdomen. 
Muhammad Adib was due to be married next month. His fiancee, Nurul Najihah, earlier called out to the public via Facebook to pray for his speedy recovery.
"You are strong. Wake up soon Muhammad Adib. Pray for my fiance. I am not strong, looking at you like this," she wrote in the post, which was widely circulated, garnering more than 2,800 shares. 
The riot at the temple, was sparked by a disagreement between two groups over the relocation of the temple. 
The temple was supposed to be vacated on Monday morning but violence broke out between the groups instead, setting vehicles ablaze and breaking glass windows of a nearby mall. 

Twenty-one people have been arrested over the riots. 
Prime Minister Mahathir Mohamad said that those responsible for the incident will be punished. He also highlighted that the incident had nothing to do with race or religion.