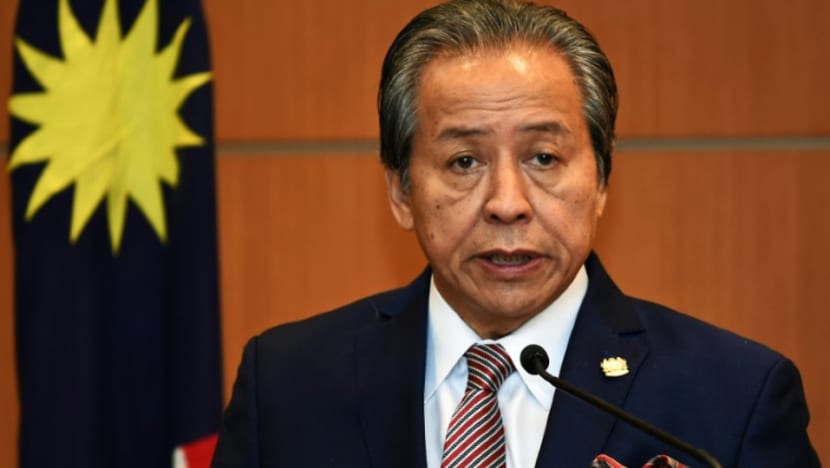 KUALA LUMPUR: Anifah Aman on Wednesday (Sep 19) became the second former minister from the United Malays National Organisation (UMNO) to announce he was quitting Malaysia's former ruling party. 
The member of parliament for Kimanis in Sabah, who served as foreign minister in the previous Barisan Nasional (BN) government, said his resignation from the party he had served for more than 25 years was effective immediately.
"Yes, I have quit UMNO. It is with immediate effect," he told Bernama.
In a statement issued later, Anifah said he was quitting the party in the interests of Sabah's rights, and that the decision was made after a period of "self-reflection and deep thinking". 
"I made this decision because I once told my voters in Kimanis, as well as the people of Sabah, that I would step down should UMNO and BN fail to keep its promises in issues regarding the 1963 Malaysia Agreement," said Anifah.
The agreement states, among others, that Sabah and Sarawak are equal partners in the formation of Malaysia with autonomy, and that the states would have freedom of religion. 
"My stand throughout my political career has been clear. I have insisted that the people of Sabah receive equal treatment and that their rights are implemented fully without excuse.
"Although I will no longer be with UMNO, I will continue to fight for this for the sake of the people. I will also carry out my duties as member of parliament in highlighting the needs and hopes of the voters in Kimanis," he said. 
Anifah also urged the new Pakatan Harapan government to commit itself to fulfilling its promises, especially in returning the rights of Sabah and Sarawak as stated in the Malaysia Agreement. 
He expressed his gratitude to UMNO president Ahmad Zahid Hamidi, as well as the rest of the party leadership for their trust and support.
UMNO LEADERS AT PAS MEETING
Anifah is the second former minister from UMNO to leave the party in less than 24 hours, following the resignation of former international trade and industry minister Mustapa Mohamed on Tuesday. 
The resignations come days after the anniversary of the formation of Malaysia. That same weekend, UMNO leaders, including Zahid, attended the annual general meeting of Parti Islam Se-Malaysia (PAS) - a move seen to foreshadow a potential formal alliance down the road.
PAS believes that Islam must form the backbone of governance.  
After their unprecedented defeat in the May general election, analysts have said that UMNO would need to court fellow opposition party PAS to consolidate support from the ethnic majority, the Malays, if they wanted to have a fighting chance at power again. 
UMNO won 54 parliamentary seats while PAS has 18 out of the 222 seats nationwide. Both control two states each, with Terengganu and Kelantan under PAS, and Pahang and Perlis under UMNO.
PAS, however, is known for a more conservative brand of Islam - defending for instance the controversial decision to cane two Muslim women in front of an audience for attempting lesbian sex in Terengganu. 
MORE EXITS TO COME?
The chorus of unhappiness among so-called progressive members of UMNO has been growing ever since the party's defeat, with former youth and sports minister Khairy Jamaluddin leading the choir.
In a tweet after Mustapa's resignation, he blamed UMNO president Zahid Hamidi for attending the PAS annual general meeting and losing "a leading light of our party". 
One analyst said this adds to speculation of more exits to come, including Khairy's.
"There is a segment of UMNO members who are making statements that are going against the party's policies or these statements could be made using internal party channels," said Associate Professor Awang Azman Awang Pawi of University Malaya's Academy of Malay Studies.
"Yet, we see that these statements could be made this way (publicly) because they want to be fired, rather than them exiting UMNO. When they're fired, they'll be viewed as heroes and be supported by the people."
In a tweet on Sep 18, however, Khairy told a follower he did not want to be fired but wanted to contest for the presidency in 2021. He had run and lost earlier this year.

Even so, Assoc Prof Awang Azman said he believes there may be a group of UMNO members who will be accepted into Prime Minister Mahathir Mohamad's Parti Pribumi Bersatu Malaysia. 
"We can perhaps see to that Mahathir is not happy with the performance of his Cabinet," he said.
"There is a big possibility that he will take those from UMNO into Bersatu, and then they could be offered positions in government-linked companies or politics"
Mahathir himself left UMNO after alleging it had developed a culture of corruption and abuse of power stoked by former president and prime minister Najib Razak, who is embroiled in a scandal involving state investment firm 1MDB.
On Tuesday, Mahathir reportedly said Mustapa would have to show he's different before they would consider accepting him into the ruling coalition's fold.
Meanwhile, UMNO president Zahid has defended closer ties with PAS - even amid unhappiness from its coalition mate, the Malaysian Chinese Association.
"They understand that this cooperation is political cooperation for issues to do with religion, Islam specifically, but we have never abandoned our respect for other religions and this has always been our principle," he said at a news conference after the PAS annual general meeting on Saturday.
UMNO meets later this month for their own annual general assembly, where all these issues will likely be brought up for debate.
Source: CNA/bernama/mz(rw)/hs/(gs)