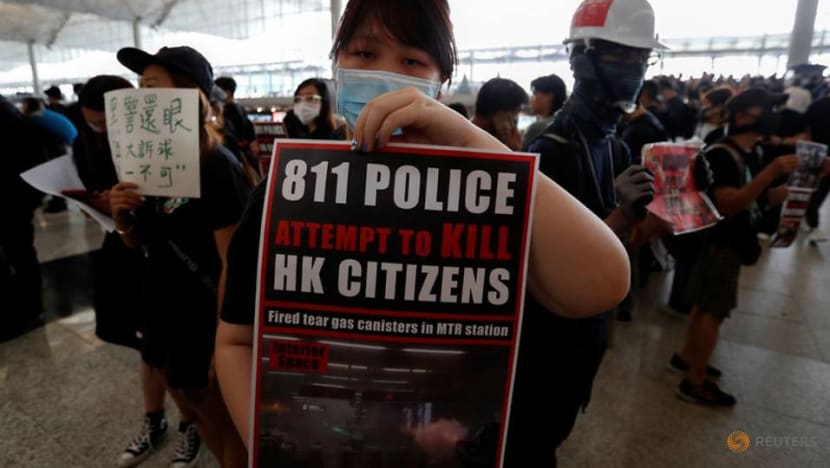 HONG KONG: All flights in and out of Hong Kong were cancelled on Monday (Aug 12) after thousands of protesters flooded the city's airport to denounce police violence. 
Thousands of demonstrators held signs reading "Hong Kong is not safe" and "Shame on police". 
According to Hong Kong police, more than 5,000 protesters were gathered at the airport on Monday. 

Airport authorities had allowed demonstrators to gather in the arrivals halls, but police said some protesters went into the departure halls, causing disruption to passengers. 
"Airport operations at Hong Kong International Airport have been seriously disrupted as a result of the public assembly at the airport today," said the airport authority.

It warned that traffic to the airport was "very congested" and the facility's car parks were completely full.
"Members of the public are advised not to come to the airport."

The airport authority said in an update that it hopes to resume flights from 6am on Tuesday.
In a travel advisory, Hong Kong carriers Cathay Pacific and Cathay Dragon urged customers not to proceed to the airport. They were also advised to postpone non-essential travel. 
The website of Hong Kong International Airport showed that all departure flights from 6pm local time have been cancelled. 
They include Singapore Airlines flight SQ865 to Singapore, Cathay Pacific CX890 to New York, AirAsia AK137 to Kuala Lumpur and China Eastern Airlines MU8981 to Shanghai. 
Scoot flight TR980 to Hong Kong had to return to Singapore, said an airline spokesperson. 
Three other Scoot flights were cancelled - TR974 from Singapore to Hong Kong, as well as TR981 and TR975 from Hong Kong to Singapore. 
Singaporean Nicole Lim was among the passengers affected by the flight cancellations. She was travelling from New York to Singapore with Cathay Pacific and was in transit in Hong Kong.

"There were no announcements made by the airport about the cancellations. I got my information online," said the 23-year-old.
"It's not really chaotic in here, but people are trying to find out what's happening. I've been stuck in the queue for the service desks for about an hour," she told CNA.
She later said she was instructed by a Cathay Pacific employee to head to Shenzhen to get another flight from there instead. 
Ms Lim said she was told passengers will have to bear the cost of the new flight from Shenzhen, and that their checked-in luggage will be at Hong Kong airport until further notice.
Asked if she would make the trip to Shenzhen, she said she did not want to take the risk.
"I don't think its safe for me to leave and I don't want to take the risk either. I'm concerned about my luggage being here," she added.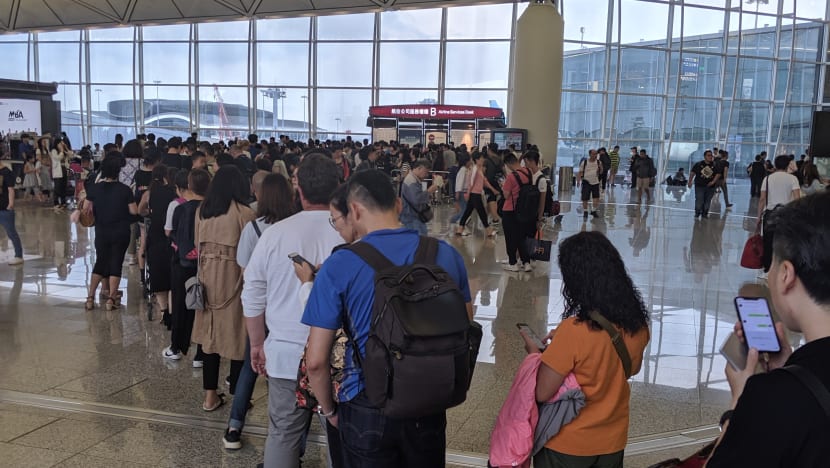 In its statement, the Hong Kong airport authority said the Airport Emergency Centre has been activated. 
"The AA will work closely with its business partners with a view to resuming normal airport operations as soon as possible," it said. 

"Affected passengers are reminded to pay attention to the latest flight information through the airport's website and the HKG My Flight mobile app."

"AN EYE FOR AN EYE"
Instead of being met by smiling relatives and friends, passengers arriving at the airport were greeted by thousands of activists chanting "fight with Hong Kong, fight for freedom!"
Most were dressed in the movement's trademark black clothing, some sporting construction hard hats or gas masks.
And many added a new accessory on Monday - eyepatches or bandages to pay tribute to a woman who suffered a serious face injury at a protest on Sunday night.
The woman, who has not been identified, was reportedly hit by a beanbag round fired by police, and rumours circulated that she lost her vision.
Images of blood pouring from her face as she lay on a pavement quickly went viral and featured in posters calling for demonstrations under the banner: "An eye for an eye".
Protesters had already staged a three-day sit-in from Friday at the airport, handing out leaflets about their movement to arriving passengers.
But while several thousand people joined those rallies, the scene on Monday was vastly different, with people so tightly packed that it took 15 minutes to move through the crowd from the upper floor to the ground floor in the arrivals hall.
In the early afternoon, shops in the hall began to shut as the protest swelled, but well-organised volunteers moved through the crowd distributing water and food to the mostly young protesters.
Passengers looked confused as they exited wheeling their luggage, with some moving swiftly past the outstretched hands offering information about the anti-government movement.
As protesters sang and chanted, an occasional muffled announcement could be heard from the loudspeakers above: "All flights have been cancelled, please leave as soon as possible."
Flight boards showed row after row of flights with their status reading "cancelled".
Underneath one protester had attached a sign: "Sorry for the inconvenience ... But we're fighting for survival!"