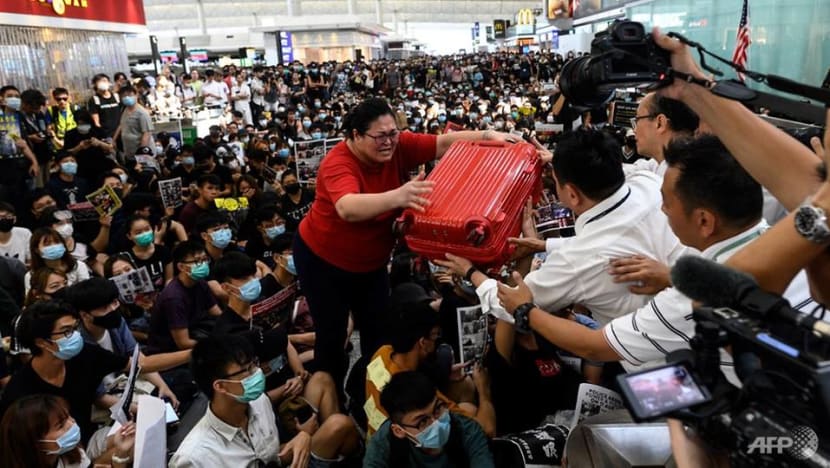 HONG KONG: Hong Kong's airport resumed operations on Wednesday (Aug 14), rescheduling hundreds of flights that had been disrupted over the past two days as protesters clashed with riot police in a deepening crisis in the Chinese-controlled city.
Hong Kong's Airport Authority said it had obtained an interim injunction to stop people from "unlawfully and wilfully obstructing" the airport's operations.
"Persons are also restrained from attending or participating in any demonstration or protest or public order event in the airport other than in the area designated by the airport authority," it said in a statement on Wednesday morning.
In a later statement, the airport said that it would implement access control at the terminal buildings from 2pm. 
"Only departure passengers with a valid air ticket or boarding pass for a flight in the next 24 hours and a valid travel document, or airport staff with relevant identification document will be allowed to enter the terminal buildings until further notice," it said. 
Protesters physically blocked travellers from accessing flights throughout Tuesday afternoon, before battling with police outside the terminal later that evening and turning on two people they accused of being spies or undercover police.
Several police vehicles were blocked by protesters and riot police moved in amid chaotic scenes, using pepper spray to keep people back. A policeman pulled out a gun at one point.
Police condemned violent acts by protesters overnight and said on Wednesday a large group had "harassed and assaulted a visitor and a journalist". Some protesters said they believed one of those men was an undercover Chinese agent and that another was a reporter from China's Global Times newspaper.
Five people were detained in the latest disturbances, police said, bringing the number of those arrested since the protests began in June to more than 600.
Hong Kong Secretary for Transport and Housing Frank Chan Fan said on Wednesday evening about 1,000 flights were affected by the two-day disruption at the airport.
"In the past two days, the number of affected flights has reached 1,000," he added. 
"If those 1,000 flights are fully booked, for example, if one flight can fit 100 people, then the affected passengers could reach 100,000. If there (are) more than 100 people in one flight, then the affected people would be a lot."
On Monday alone, 421 flights were cancelled, accounting for more than 30 per cent of the total number of flights that day, the Hong Kong International Airport said in a statement late on Wednesday.
"OUR LAST BARGAINING CHIP"
By early Wednesday, most protesters had left as workers scrubbed the airport clean of blood and debris from overnight. Check-in counters reopened to queues of weary travellers who had waited overnight for their flights.
The airport's website showed dozens of flights taking off overnight and listed hundreds more scheduled to depart throughout Wednesday, although many were delayed.
However, it was unclear if the protesters, who have no public leaders and organise via social media, would return to the airport.
Dicky, a 35-year-old protester at the airport for more than two days, said protesters would obey the injunction if it meant they had to leave, despite anger felt towards the government and the police, plus triad gangs who have been blamed for attacking some protesters.
"We saw the government arrested many people, many are injured, some committed suicide. We will continue to fight for what we deserve otherwise all of that would have been in vain," he said, declining to give his full name.
"The airport is our last bargaining chip," another protester said.
Michael, a 25-year-old tourist from Dubai, got to the airport on Wednesday more than 12 hours ahead of his flight home in a bid to avoid potential protests later in the day.
"I can feel like they are really fighting for my freedom, so my heart goes to them in a way," he said of the protesters.
But he said they were now targeting the wrong people.
"The passengers have nothing to do with what's happening, they mostly are tourists," he told AFP.
Flag carrier Cathay Pacific Airways published a half-page advertisement in the Hong Kong Economic Journal on Wednesday pledging its support for the government and calling for the resumption of the rule of law and social order.
"Rule of law is the cornerstone of prosperity and for people to live and work in peace. We have to act now to oppose violence, to resume the peace, and to maintain the prosperity and stability of Hong Kong," it said.
Swire Pacific also said in an advertisement in the same paper that, as Cathay's largest shareholder, it supported the carrier's "zero tolerance on illegal activity".
CITY IN A STATE OF "PANIC AND CHAOS": HONG KONG LEADER
Ten weeks of increasingly violent clashes between police and protesters, angered by a perceived erosion of freedoms, have plunged the Asian financial hub into its worst crisis since it reverted from British to Chinese rule in 1997.
The Hang Seng stock index fell to a seven-month low on Tuesday and embattled Hong Kong leader Carrie Lam said the city had been pushed into a state of "panic and chaos".
The protests began in opposition to a now-suspended Bill that would have allowed the extradition of suspects for trial in mainland China but have swelled into wider calls for democracy.
China has condemned protesters for using dangerous tools to attack police, saying the clashes showed "signs of terrorism". The protests represent one of the biggest challenges for Chinese President Xi Jinping since he came to power in 2012.
Demonstrators say they are fighting the erosion of the "one country, two systems" arrangement that enshrined some autonomy for Hong Kong when it returned to China in 1997.
The protesters turned their attention to the economically vital airport after weeks of huge peaceful rallies - and increasingly violent clashes between hardliners and police - failed to win any concessions from the city's leaders or Beijing.
Forward Keys, a flight data company, said the recent wave of protests in Hong Kong, culminating in the closure of the airport, had deterred people from making plans to visit the city.
"The situation in Hong Kong has deteriorated substantially in the past eight weeks, and particularly so in the past four weeks," said spokesman David Tarsh.
Long-haul bookings to Hong Kong between Jun 16 and Aug 9 were down 4.7 per cent from the same period last year, he said. 
Follow us on Telegram for the latest on Hong Kong: https://t.me/cnalatest
Source: AGENCIES/cy(rw)/ad(hm)