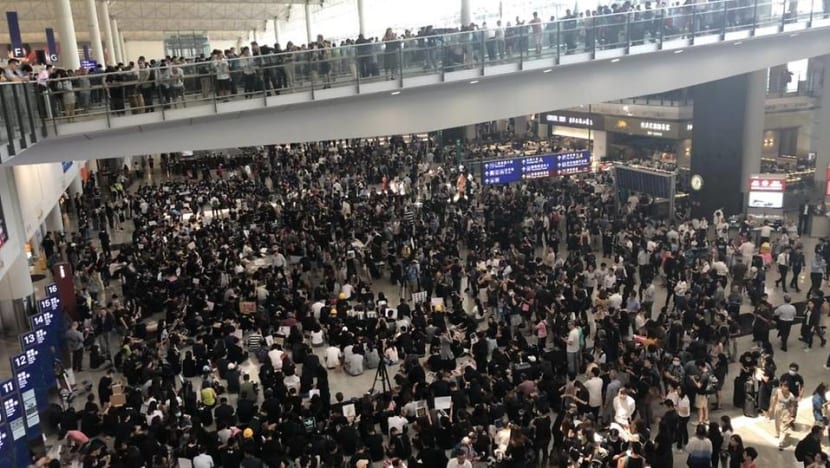 HONG KONG: Protesters on Friday (Jul 26) kicked off a demonstration at Hong Kong International Airport to draw international visitors' attention to a controversial extradition Bill. 
They also called for an investigation into the police's apparently slow response after pro-democracy demonstrators and commuters were attacked by thugs at a Mass Transit Railway (MTR) station in Yuen Long last Sunday.
At least 45 people were sent to the hospital after the incident.
"The world has been watching us in the past few weeks," said Jeremy Tam, a former pilot and lawmaker who helped organise the protest with other aviation sector employees.
"We simply believe that the airport is the most direct way for all tourists to explain what is happening in Hong Kong."

Police granted approval for the rally at the airport, but banned another protest planned for Sunday in Yuen Long. Organisers of this weekend's protest said they would go ahead with their march despite the ban.

At the airport, members of the public, tourists and pilots, flight attendants and other aviation workers signed a petition urging the Hong Kong government to prosecute the attackers.
One particularly creative group of protesters used a television to display a satirical version of an airline safety announcement video that details protester demands and warns of protests in the city.
"Kindly put on your masks and black t-shirts ... when attending the assemblies," the video said, in a reference to the colour widely adopted by anti-government protesters.
Others held "Tourist Warning" signs detailing how police have fired tear gas at protesters while pro-government thugs have also attacked demonstrators, putting 45 in hospital.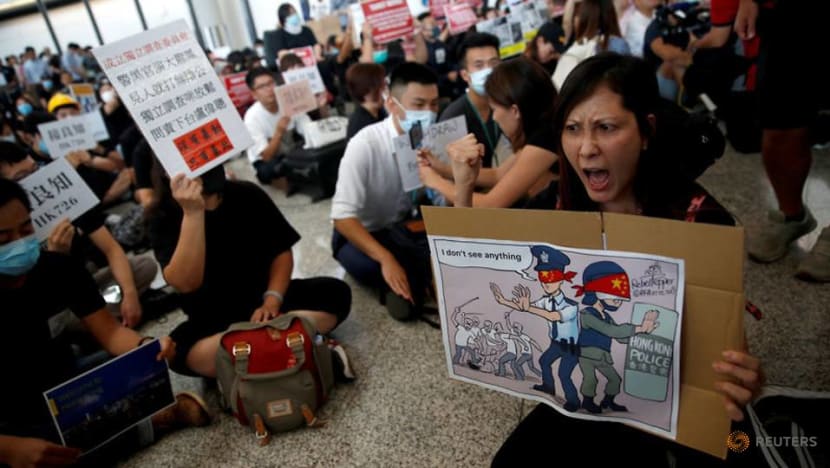 Meryl Yeung, a 29-year-old flight attendant, had just got off a flight and joined the protest.
"It's important to come to the airport and tell foreigners what's happening in Hong Kong," she told AFP, saying it was especially vital to make sure people in China are made aware of the protests.
"They have no idea at all, they only get information from one side, they think everyone ... coming to a protest, to a rally, are all rioters, or promoting Hong Kong independence," she said.
Yoko Tsang, 29, said the more she travelled around the world as a flight attendant, the more she has come to cherish Hong Kong's freedoms, which she feels are increasingly under attack.
"No matter where we go, Hong Kong is always our home and our roots," she said. "Whether it's before or after work, we have to fight for time to show our support in rallies."
Cathay Pacific's Flight Attendants Union said it supported the rally and encouraged members to join, a stance that earned it a rebuke in China's state media.
"We feel deep regret with the incapability of our (chief executive) Carrie Lam and her team that only play tricks to fool its people," the union said in a message on Facebook, referencing the city's unelected leader.
"We aim to demonstrate (in) a peaceful manner and take the time to tell the people from all over the world... what has been happening lately in Hong Kong," it added.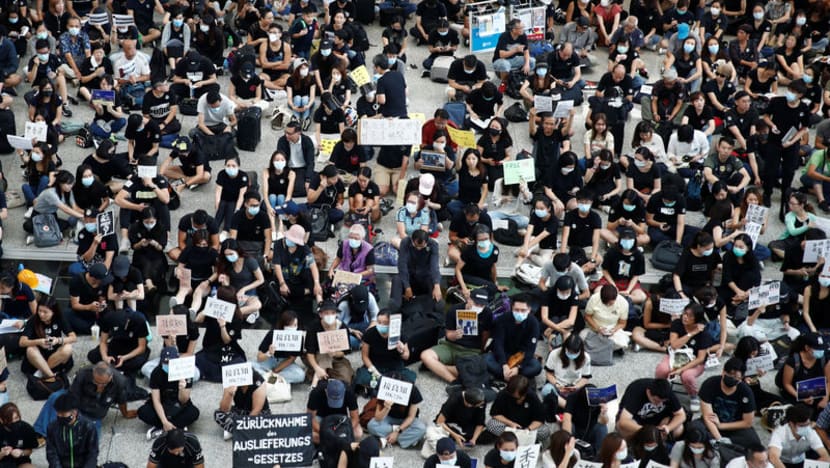 In light of the protest, extra manpower was deployed at the airport, a spokesperson from the Airport Authority Hong Kong (AA) said.
"Measures have also been implemented at the terminal to facilitate passengers and ensure smooth airport operations," the spokesperson said.
"The AA has activated the Airport Emergency Centre and has been working closely with its business partners to ensure normal airport operations."
An investment banker from a US bank told Reuters he had rescheduled his flight from Hong Kong to Beijing to another day, over concerns flights possibly being grounded should the protest escalate.
Singapore's Ministry of Foreign Affairs (MFA) on Friday advised Singaporeans to avoid travelling to Hong Kong's airport and Yuen Long.

"In recent weeks, several large-scale protests have taken place at multiple venues in Hong Kong. Although mostly peaceful and orderly, cases of localised clashes following these protests were reported," said MFA.
"Protests which are meant to be peaceful may still have the potential to turn violent with little or no notice."
Millions of people have taken to the streets in the last two months to protest against the controversial extradition Bill, which would have allowed extraditions to mainland China. The city's chief executive Carrie Lam said the Bill was dead, but it has yet to be withdrawn.
US Secretary of State Mike Pompeo said on Thursday he hoped protests in Hong Kong would remain peaceful and China would show restraint.
Asked in an interview with Bloomberg television whether he was concerned about the possibility of China's military intervening in Hong Kong, Pompeo said: "We need China to do the right thing. We hope that they'll do that. We hope that the protests will remain peaceful. We think that's important."
Source: CNA/agencies/jt(mi)