HONG KONG: The cavernous arrivals hall at Hong Kong's airport is usually filled with excited friends and relatives waiting to greet loved ones as they make their way out of one of the world's busiest airports.
But on Friday visitors were greeted by a sea of black-clad protesters chanting anti-government slogans, holding banners and handing out flyers - the information desk plastered in a tapestry of colourful sticky notes.
Extra staff were deployed at Hong Kong International Airport as protesters rallied to keep the pressure on the city's leaders on Friday (Jul 26). 

"In view of the public assembly held at Hong Kong International Airport (HKIA) today, the Airport Authority Hong Kong (AA) and Airport Security have deployed extra manpower," a spokesperson for the authority said.

"Measures have also been implemented at the terminal to facilitate passengers and ensure smooth airport operations."
The spokesperson said airport operations remained normal.
"Major passageways in the terminal for passengers are clear and airport operations remain normal," the airport said in an update at 5.30pm, adding that protesters have stayed in the designated areas as agreed. 
"The AA has activated the Airport Emergency Centre and has been working closely with its business partners to ensure normal airport operations," the authority spokesperson added.
Hundreds of protesters have rallied at the airport's arrivals hall to draw international visitors' attention to the their demands for a "free Hong Kong".

Armed with placards and flyers, they crowded into the airport to protest against police violence during the rallies.
The protest went on till a midnight deadline, with people chanting "Free Hong Kong!" at arrivals.

Some protesters, dressed in helmets and seated on the ground of the arrivals hall, held up signs calling on the government to withdraw the extradition Bill completely.

They also called for an investigation into the police's apparently slow response after pro-democracy demonstrators and commuters were attacked by thugs at a Mass Transit Railway (MTR) station in Yuen Long last Sunday.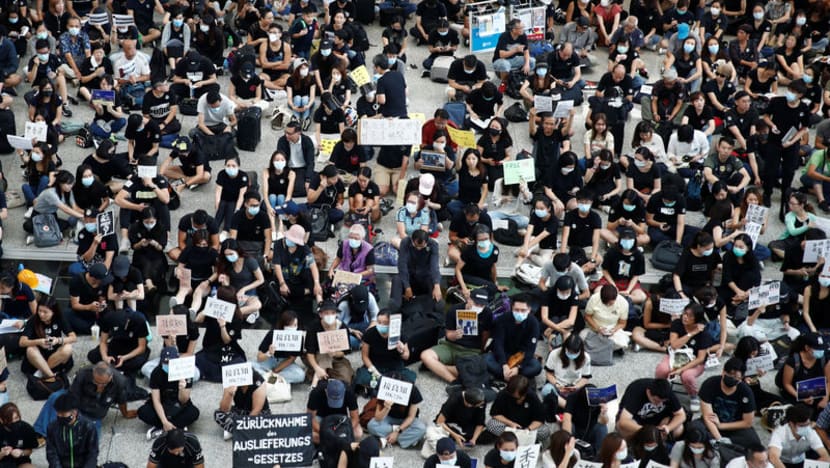 TOURISTS REACT TO PROTEST
Around 15,000 people including tourists and pilots, flight attendants and other aviation workers signed a petition urging the government to prosecute the attackers.

"The world has been watching us in the past few weeks," said Jeremy Tam, a former pilot and lawmaker who helped organise the protest with other aviation sector employees.
"We simply believe that the airport is the most direct way for all tourists to explain what is happening in Hong Kong."

Some protesters handed out flyers explaining the city's crisis to tourists. An impromptu "tourist information" booth was set up by the protesters, with pictures and captions detailing the allegations of police brutality and the Yuen Long train station attack.

"I think Hong Kong is a clean and safe city. The protest hasn't changed my idea of Hong Kong," said Sebastian Vanneste, 22, a tourist from New Zealand.
"I didn't know about the police brutality ... As a tourist, I respect Hong Kong people's freedom of speech and assembly."

The Flight Attendants' Union for Hong Kong's main carrier Cathay Pacific had asked its members to "stand up for our human rights and be connected with the rest of the Hong Kongers" on its Facebook page.

An investment banker at a US bank told Reuters he had rescheduled his flight from Hong Kong to Beijing to another day, over concerns flights possibly being grounded should the protest escalate.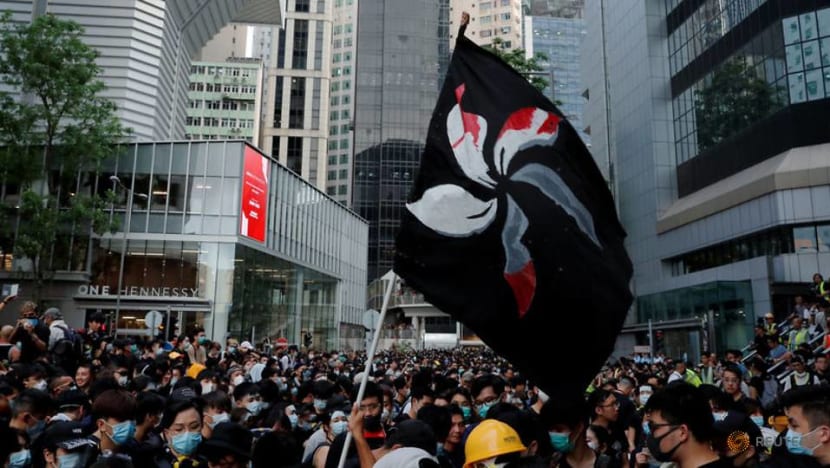 MORE PROTESTS EXPECTED
Millions of people have taken to the streets in the last two months to protest against the controversial extradition Bill, which would have allowed extraditions to mainland China. 
The city's chief executive Carrie Lam said the Bill was dead, but it has yet to be withdrawn. The protests have since evolved into a call for wider democratic reforms.

An application for a protest on Saturday in Yuen Long was rejected by police, but a sizeable turnout is still expected amid fears of clashes between triads and activists flaring up.
Singapore urged its citizens in a travel advisory to avoid parts of Hong Kong where protests may be taking place, noting the airport demonstration.
"You should take all necessary precautions to ensure your personal safety," it read. "Protests which are meant to be peaceful may still have the potential to turn violent with little or no notice."
Source: CNA/agencies/aa/hm(mi)