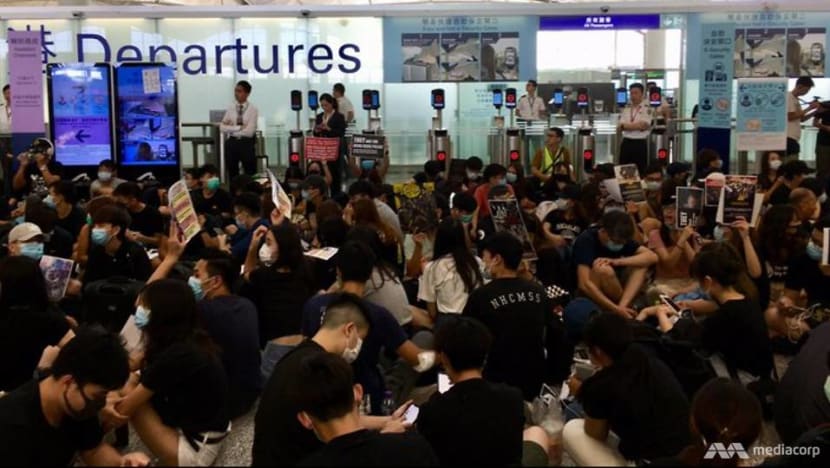 HONG KONG: Hundreds of flights were cancelled or suspended at Hong Kong International Airport for a second day on Tuesday (Aug 13) as demonstrations at the aviation hub entered a fifth day, and protesters defying warnings from the city's leader who said they were heading down a "path of no return".
All check-ins were cancelled on Tuesday afternoon, after thousands of protesters wearing their signature black T-shirts made barricades using luggage trolleys to prevent passengers from passing through security gates.
"Terminal operations at Hong Kong International Airport have been seriously disrupted as a result of the public assembly," the airport authority said in a statement. 
"All check-in service for departure flights has been suspended since 1630hrs (0830 GMT). Other departure and arrival flights for the rest of the day will continue to operate, and airlines will provide arrangements for passengers who have not completed the departure process," it added.
"Members of the public are advised not to come to the airport."
The airport authority also advised passengers to leave the terminals buildings "as soon as possible".
Protesters had mainly occupied the arrival halls. But some entered the departure halls on Monday, forcing authorities to take the unprecedented step of cancelling of all arriving and departing flights.
Operations resumed early Tuesday morning, but a massive backlog of cancelled flights meant many take-offs were being delayed or cancelled.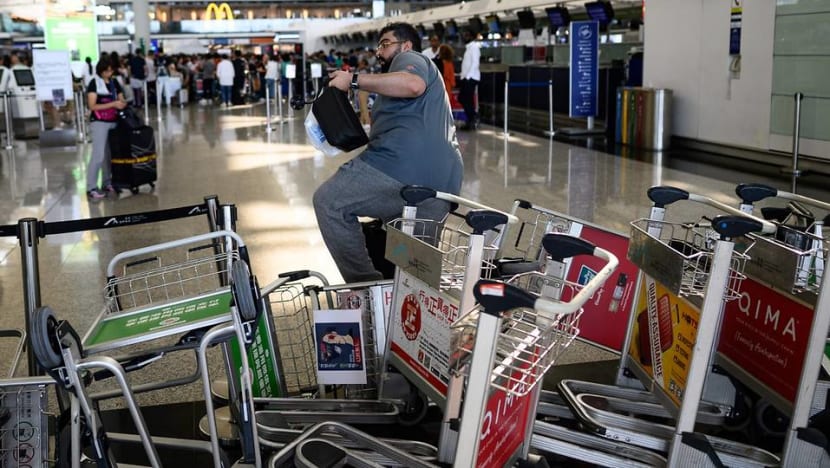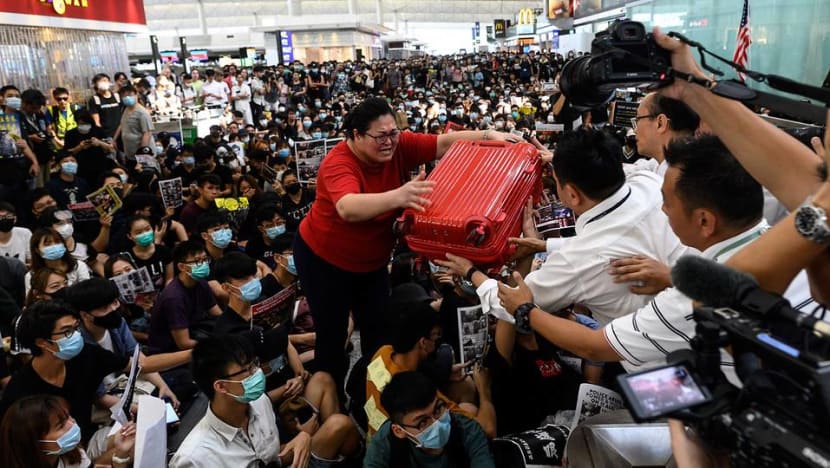 Flag carrier Cathay Pacific urged passengers to postpone non-essential travel on Tuesday and Wednesday.
"There is potential for further flight disruptions at short notice," it said on its website.
Floors and walls were covered with missives and other artwork penned by activists. The scene was peaceful as knots of protesters spoke to travellers, explaining their aims.
"Sorry for the inconvenience, we are fighting for the future of our home," read one protest banner at the airport.
"I think paralysing the airport will be effective in forcing Carrie Lam to respond to us ... it can further pressure Hong Kong's economy," said Dorothy Cheng, 17.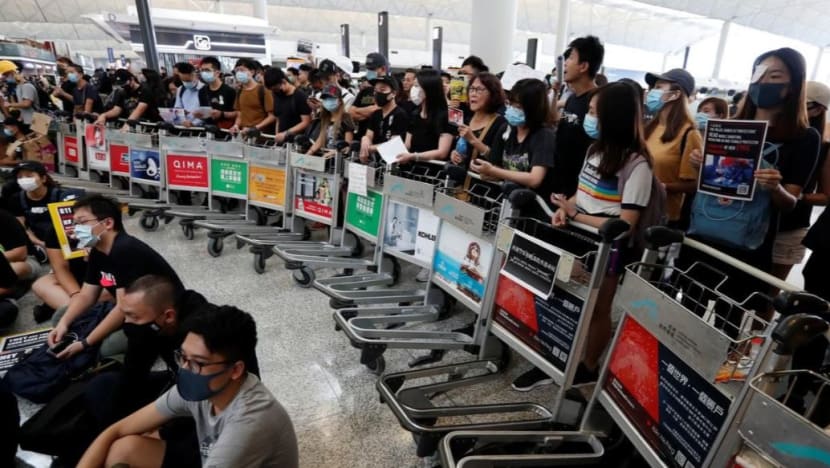 FURTHER FLIGHT RESCHEDULING EXPECTED WEDS
In an updated statement on Tuesday night, Hong Kong airport warned of further disruptions on Wednesday.
The Airport Authority of Hong Kong (AA) will "continue to implement flight rescheduling, with flight movements expected to be affected", said the statement.
The authority had "exercised tolerance" during previous public assemblies held at the airport and regretted the disruption caused, said the statement.
"The AA had hoped that the assemblies would not obstruct airport operations and affect passengers," it said. "The AA regrets that participants of the public assemblies have caused serious disruption to airport operations for two consecutive days, affecting a large number of passengers."
"Public safety, public order and behaviour of the public are stringently regulated by the Airport Authority Bylaw."
Tuesday saw serious disruptions to Hong Kong airport's operations, with "chaotic situations occurring frequently", added the statement.
"Participants of the public assembly blocked all the passageways to the airport restricted area, and passengers were unable to proceed to go through the immigration procedures," it said. "There were also many disputes between participants of the public assembly and passengers in the terminal buildings."
Although check-in services were suspended from the afternoon, the "majority of other departure and arrival flights" continued to operate, said the airport, while some flights were cancelled.
Unrest has roiled Hong Kong for 10 weeks, as thousands of residents chafe at a perceived erosion of freedoms and autonomy under Chinese rule.
Earlier on Tuesday, Hong Kong Chief Executive Carrie Lam warned violent protests were driving the city down a "path of no return".
"Violence, no matter if it's using violence or condoning violence, will push Hong Kong down a path of no return, will plunge Hong Kong society into a very worrying and dangerous situation," Lam said during a press conference.
"The situation in Hong Kong in the past week has made me very worried that we have reached this dangerous situation," she added.