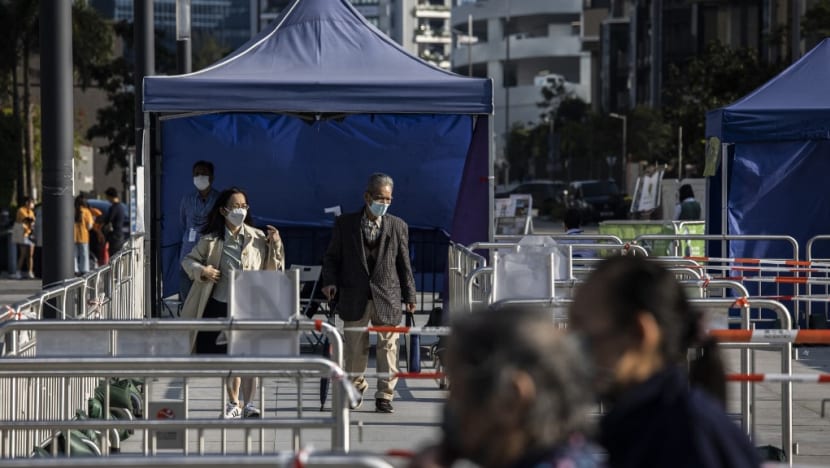 HONG KONG: The Hong Kong government said on Thursday (Dec 8) that the isolation period for COVID-19 patients and their close contacts will be cut from seven days to five.
The requirement for arrivals to Hong Kong to undergo daily rapid antigen tests would similarly be reduced from seven to five days.
They must, however, still take a PCR test on their day of arrival and on their third day.
Current social distancing measures, including mandatory masks and the use of a contact tracing app in public buildings, bars and restaurants, will remain until Dec 28.
Hong Kong's moves come after Chinese authorities on Wednesday announced the most sweeping changes to the nation's stringent COVID-19 control measures since the pandemic began three years ago.
Despite the easing of some rules, Hong Kong's undersecretary for health warned that the city's pandemic situation is worsening, which is why authorities cannot relax social distancing rules for now.
"We are seeing an increasing trend in the daily tally, hospitalisations, death cases and severe cases, and there is no sign of easing. The pressure on the healthcare system remains high and we must stay vigilant," said Dr Libby Lee Ha-yun as quoted by the South China Morning Post.
Hong Kong reported 14,373 new COVID-19 infections on Thursday, the highest since late march, SCMP reported. 
In September, Hong Kong ended mandatory hotel quarantine for international arrivals, allowing them to return home or to the accommodation of their choice. 
People arriving in Hong Kong have to self-monitor for three days after entering the city. Under a system the Hong Kong authorities dubbed "0+3", they are allowed to go to work or school, but are not allowed to enter bars or restaurants for the period. 
At its peak in 2021, quarantine lasted as long as 21 days and the economic toll has been severe.
On Thursday, Macao authorities also announced it will relax COVID-19 test requirements for arrivals from China. 
Those entering Macao from the adjoining Chinese city of Zhuhai will only be required to show a 24-hour COVID-19 negative result.