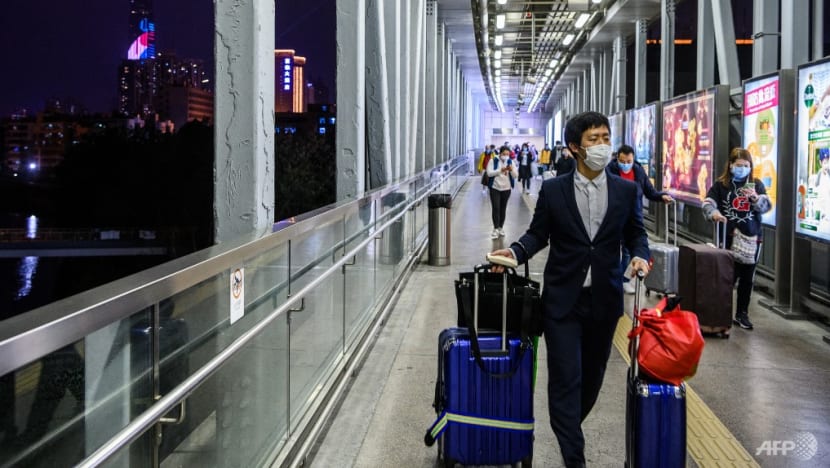 HONG KONG: Tens of thousands of people will be able to travel daily between Hong Kong and China from Sunday (Jan 8) in a major easing of pandemic rules that kept the border mostly sealed for almost three years.
Both Hong Kong and China stuck to zero-COVID policies in which strict travel curbs and mandatory quarantine orders caused arrivals to fall to a trickle.
The measures kept families separated, cut off tourism and severed most business travel, with Hong Kong hit especially hard and ending 2022 in a deep recession.
Officials announced on Thursday the most significant changes to border rules since they were introduced in early 2020.
City leader John Lee said that, from Sunday, up to 50,000 Hong Kong residents can register online to cross the border daily at three land checkpoints.
Another estimated 10,000 will be able to enter the mainland by sea, air or bridges without needing to register in advance, he told a news conference.
A similar number will be allowed to travel from the mainland to Hong Kong and mandatory quarantine will be scrapped.
Lee predicted a "very big" impact on Hong Kong's recession-battered economy.
"2023 will be more fabulous, more prosperous," he said.
China made a U-turn on its zero-COVID strategy last month, abruptly lifting restrictions that had torpedoed the economy and sparked nationwide protests.
Infections have surged in the world's most populous nation since then, although the government has stopped releasing data that reliably illustrates the true impact of its outbreak.
The border measures between the Chinese mainland and Hong Kong do not amount to a full, pre-pandemic reopening.
Those crossing the border will still be required to present a negative nucleic acid test result taken 48 hours before departure.
Beijing criticised other countries this week for adopting similar measures in response to the mainland's soaring caseload.
It also called on the World Health Organization to take a "just" position on COVID-19 after the WHO criticised its "very narrow" definition of virus deaths.
Mainlanders have long made up the vast majority of Hong Kong's viators. The city received nearly 44 million arrivals from mainland China in 2019.
Sunday also marks the day that China scraps mandatory quarantine rules for overseas arrivals, although pre-flight tests remain compulsory.
China's Hong Kong and Macau Affairs Office said earlier on Thursday Beijing will cancel flight capacity limits from Hong Kong and Macau and will resume flight transits to the mainland.
A high-speed rail service between Hong Kong and the mainland will resume no later than Jan 15, officials said.