Banks and shops in the busy Central district closed early in anticipation of violence as some protesters burned Chinese flags and chanted "You burn with us", and "Hong Kongers, revolt".

Masked protesters set fire to at least three locations in Causeway Bay on Friday evening, with videos posted on social media showed protesters continuing to take aim at mainland Chinese businesses and those with pro-Beijing links, smashing windows and setting fire to the premises.

Thousands of demonstrators gathered in other parts of the territory, filling shopping malls and blocking roads as protests looked set to continue into the night. Bus routes were suspended and rail operator MTR closed stations.
At one point a banner celebrating 70 years of Chinese Communist Party rule was torn down and torched.

In a tweet addressing protesters damaging public property and buildings, the Hong Kong Police Force said that they have "deployed appropriate force to disperse and arrest rioters".

"The anti-mask law has become a tool of tyranny," said Samuel Yeung, an 18-year-old university student, as crowds swelled in Central.
"They can make use of the emergency law to enact any policies or laws that the government wants. There's no rule of law anymore. We can only be united and protest."

Earlier in the evening, dozens of protesters used plastic barriers, wooden pallets and traffic cones to set up makeshift blockades in Central district, where many blue-chip international firms are based. 

Thousands more masked protesters remained in the roads behind the main barricade.

Blockades were also formed in the district of Kowloon Tong while hundreds of masked protesters held a sit-in at a mall in Sha Tin.
All MTR services were later suspended in the evening due to the mounting violence.
According to the MTR website, 10 MTR lines were disrupted "because of an escalation of the situation".
Cathay Pacific said in a tweet at about 11pm that the Airport Express service had also been suspended and asked that commuters consider other modes of transport to the Hong Kong International Airport. 

BAN "EXTREMELY NECESSARY"
Mrs Lam announced during a news conference on Friday an emergency law to ban protesters from wearing face masks with effect from Saturday.
The ban will be introduced under a law that allows authorities to "make any regulations whatsoever" in the public interest, first time the Emergency Regulations Ordinance has been invoked in 52 years.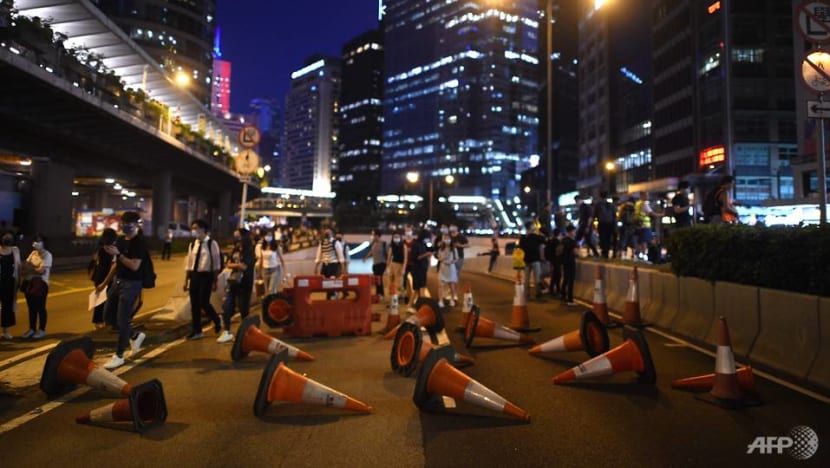 "We believe that the law will create a deterrent effect against masked violent protesters and rioters, and will assist the police in its law enforcement," Mrs Lam said.​​​​​

Many protesters wear masks to hide their identity due to fears employers could face pressure to take action against them.

The decision to invoke the Emergency Regulations Ordinance​​​​ was a difficult, but necessary one for the public interest, Mrs Lam added. 
She stressed that her use of the powers did not mean the government had officially declared a state of emergency.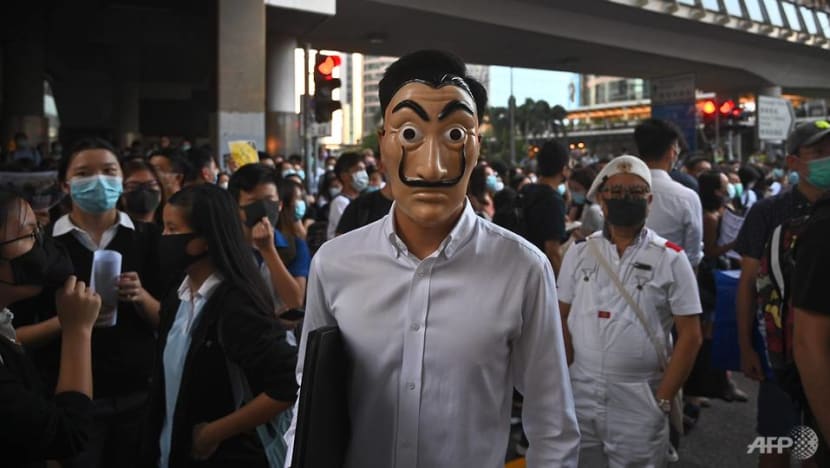 Beijing on Friday evening threw its backing behind the ban, which it said was "extremely necessary" and insisted did not infringe upon Hong Kongers' freedoms.
"The current chaos in Hong Kong cannot continue indefinitely," Yang Guang, spokesman for the Hong Kong and Macao Affairs Office of China's central government said in a statement.
"An important moment has come for stopping the violence with a clearer attitude and more effective measures."
Follow us on Telegram for the latest on Hong Kong: https://cna.asia/telegram 

Source: CNA/agencies/ic(hm)