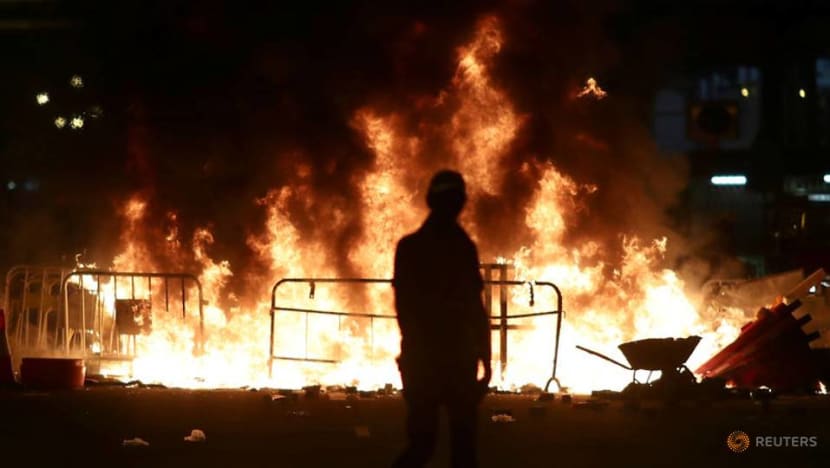 "The radical behaviour of rioters took Hong Kong through a very dark night, leaving society today half-paralysed," Lam said, in her first comments since Friday's ban on face masks ordered on the basis of the emergency provisions.
"The extreme violence clearly illustrated that Hong Kong's public safety is widely endangered," she said in a pre-recorded television announcement.
"That's the concrete reason that we had to invoke emergency law yesterday to introduce the anti-mask law."
The protests began in opposition to a Bill introduced in April that would have allowed extradition to mainland China, but have since spiraled into a broader broader movement for more rights.
After Friday's violence, rail operator MTR Corp took the unprecedented step of shutting down the entire network, which carries about 5 million passengers each day, while shopping malls and supermarkets also closed.
Further demonstrations are planned across Hong Kong through Monday, which is a public holiday, but it was not immediately clear how the transport shutdown would affect them.
UN human rights chief Michelle Bachelet said Saturday she was "troubled" by Hong Kong's increasingly violent protests, and stressed that any measures to quell the unrest must be grounded in law.
"We are troubled by the high levels of violence associated with some demonstrations that have been taking place in the past days," Bachelet said during a visit to Malaysia.
She said she was "alarmed" by injuries to police, protesters and journalists covering the demonstrations.
"I strongly condemn all acts of violence from all sides," she added.
Asked about the ban on face coverings, she said: "We believe that any restriction must have a legitimate and formal basis in law, has to be proportionate."
"Freedom of peaceful assembly ... should be enjoyed without restriction to the greatest extent possible. But on the other hand, we cannot accept people who use masks to provoke violence."
Follow us on Telegram for the latest on Hong Kong: https://cna.asia/telegram