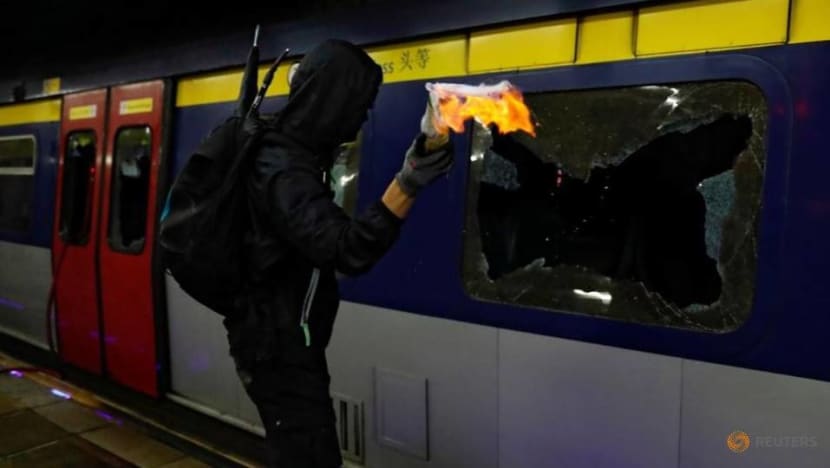 HONG KONG: Hong Kong protesters paralysed parts of the Asian financial hub for a third day, with some transport links, schools and many businesses closing after an escalation of violence.
Around 1,000 protesters on Wednesday (Nov 13) blocked roads in the heart of the city's Central business district during the lunchtime rush hour.
Wearing now-banned face masks and dressed in office wear, they marched and hurled bricks onto roads lined with some of the world's most expensive real estate and luxury flagship stores.
Scores of riot police tried to disperse the crowds, grappling some people to the ground and beating others with batons near the city's stock exchange.
Morning commuters were faced with closed metro stations, a suspended rail line and dozens of cancelled bus services a day after police warned that the rule of law in the territory was on "the brink of total collapse".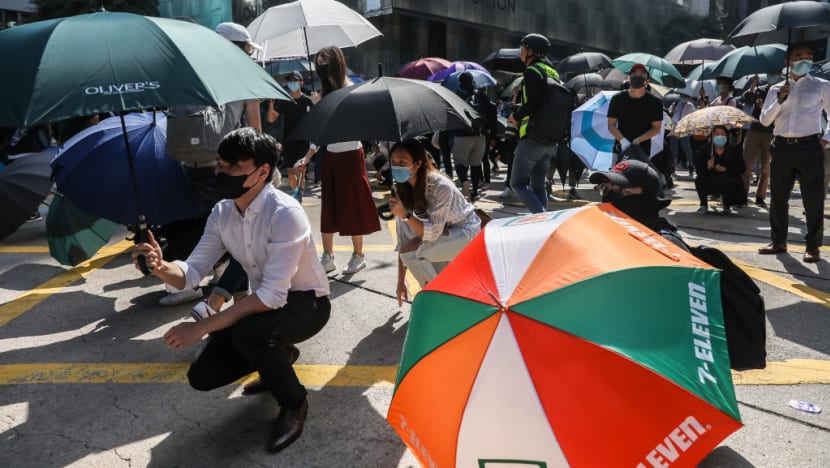 "Thugs set up roadblocks and destroyed public transport facilities in various parts of Hong Kong," the Hong Kong police said in a Facebook post on Wednesday.
Protesters and police had battled through the night at university campuses only hours after a senior police officer said on Tuesday the Chinese-ruled city had been pushed to the "brink of a total breakdown". Many campuses remained tense.
At the Chinese University campus, students held watch through the night, fearing police might return.
Many slept on the campus sports track and in the bleachers. Others played football to pass the time as they took turns manning barricades on a bridge where the main battles earlier that night took place.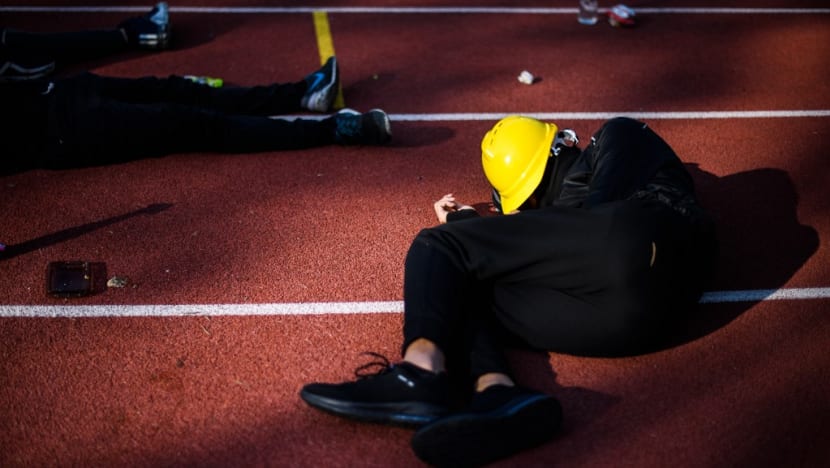 The clashes followed a particularly brutal day on Monday, when police shot a protester and a man was set on fire.
After months of largely confining their most disruptive protests to the weekends, protesters angry at Beijing's tightening control over Hong Kong have been pushing new tactics targeting the working week.
On Wednesday, road junctions across the city were littered with debris and objects placed by protesters as they heeded overnight calls put out on messaging forums to hit their local neighbourhoods in a bid to keep the police stretched and distracted from the Chinese University campus.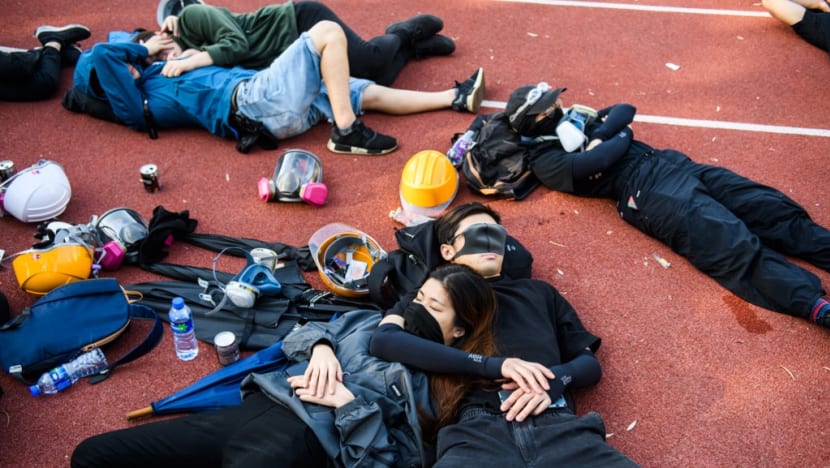 In the district of Mongkok, one of the most regular flashpoint neighbourhoods in recent months, barricades made from debris and bamboo scaffolding could be seen for hundreds of metres, choking one of the city's main arteries. Pockets of protesters remained out and one man was beaten for taking photos of them.
In many neighbourhoods, main roads were devoid of traffic, trams and buses and locals formed long queues for taxis and buses.
Protesters also planned demonstrations across the harbour from Central on the Kowloon peninsula and in the outlying New Territories, according to notices circulated on social media.
Hong Kong's Education Bureau said all schools would shut on Thursday for transport and safety reasons.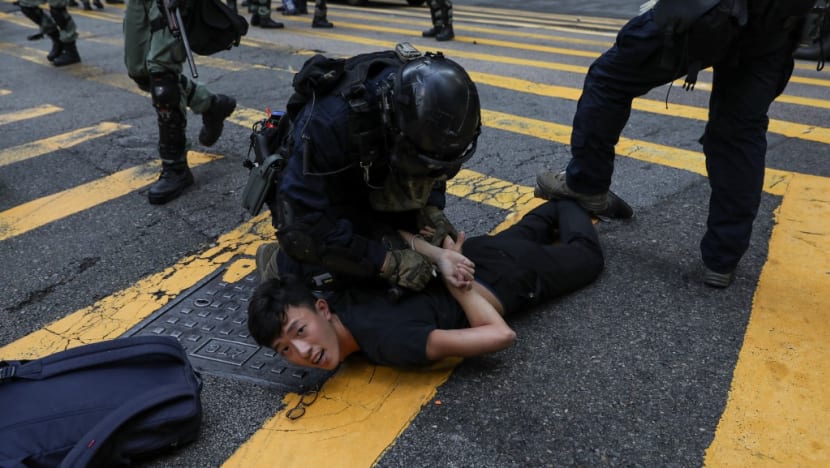 "It is very painful to watch my city turn into this. Look at everyone, how angry they are," said Alexandra, a 42-year-old insurance executive who had been trying to get to work.
"We all want to return to normal, but how can the government do that if they don't listen to what Hong Kongers have been asking for," she said.
Police rammed barricades with buses to clear them outside Baptist University campus on the Kowloon peninsula. At least two people were arrested before police made a quick retreat.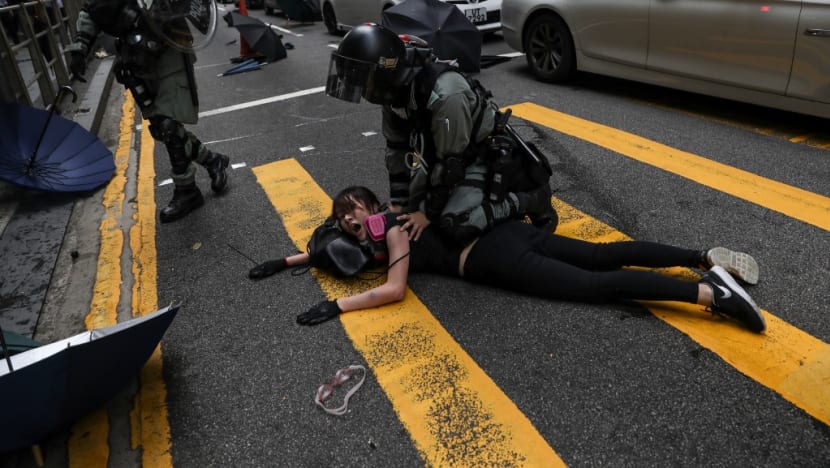 Protesters later regrouped to build new roadblocks, reinforcing them with bricks dug up from the sidewalk.
"We are trying to tell the grown-ups that we can do something to stop the injustice and violence," a Baptist University student, who gave her name as Emily, told Reuters.
"Most of us are young and we are fighting for our future. This is our way of showing how much we care," she said.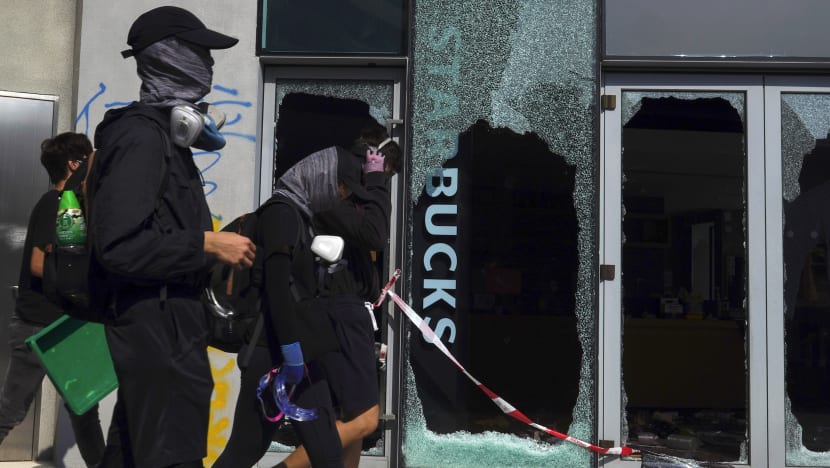 Many banks and retail stores in bustling commercial areas shut on Wednesday, while Hong Kong's Jockey Club canceled its evening races. Many recreational clubs said they were also shut for the day or planned to close early.
Hong Kong's stock market dropped 2 per cent to a three-week low in early trade, outpacing falls elsewhere in Asia.
Authorities have offered repeated condemnation but been unable or unwilling to find a solution to the crisis.
"Hong Kong's rule of law has been pushed to the brink of total collapse," police spokesman Kong Wing-cheung told a press conference on Tuesday as he defended the force against seething public anger.
Protesters, fuelled by Beijing's tightening control over the city, are demanding a right to freely elect their leaders, as well as an independent inquiry into what they see as police brutality.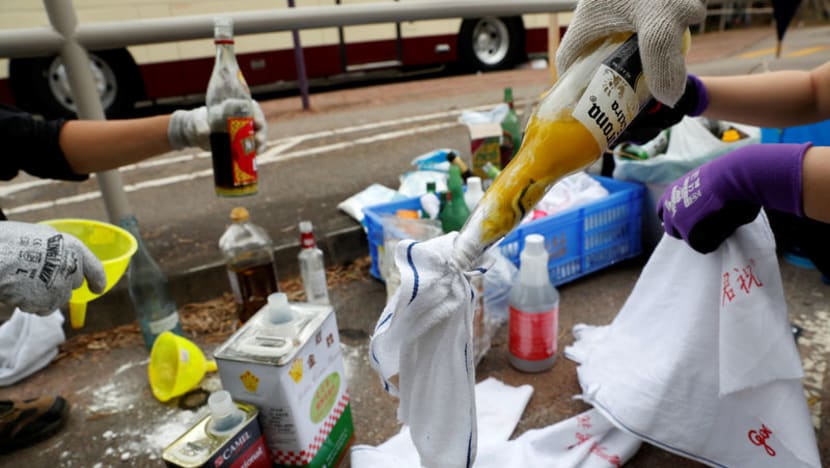 But China has steadfastly refused to offer any concessions and has instead warned of even tougher security measures.
Chinese state media on Wednesday condemned the violence, with the China Daily newspaper saying young protesters were reveling in a "hormone-fueled 'rebellion'".
"It is foolish and naive to believe that Hong Kong would be better off by eliminating all mainland factors. Particularly, since the mainland is the main source of fresh water, electricity and the largest supplier of food to the city," it said.
Follow us on Telegram for the latest on Hong Kong: https://cna.asia/telegram