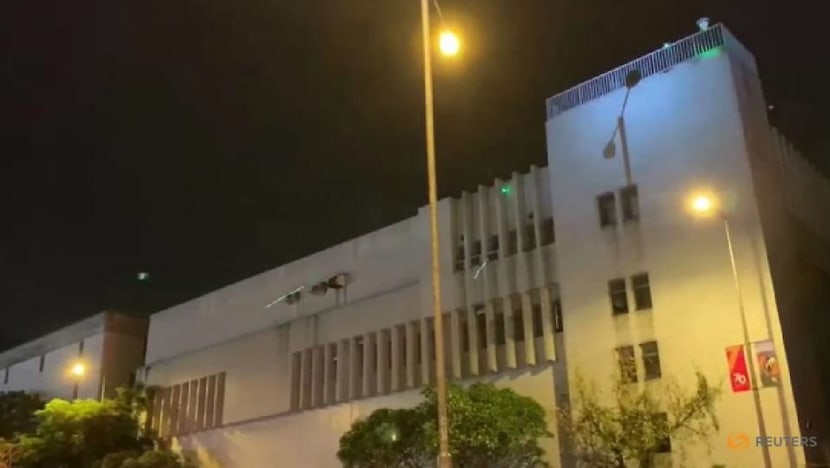 HONG KONG: China's Hong Kong military garrison warned protesters on Sunday (Oct 6) they could be arrested for targeting its barracks in the city with laser lights.
In the first direct interaction between the People's Liberation Army (PLA) and protesters, the PLA raised a yellow flag with the arrest warning written in large letters, said a Reuters witness.
Chinese military personnel standing on the roof of the building held up a sign in English and Chinese which read: "Warning. You are in breach of the law. You may be prosecuted."

As a few hundred protesters shone laser lights on the barrack walls, troops in fatigues on the roof of the building shone spotlights at protesters and used binoculars and cameras to monitor protesters. The protesters eventually dispersed.
In August, Beijing moved thousands of troops across the border into Hong Kong in an operation state news agency Xinhua described at the time as a routine "rotation".
But the PLA has remained in barracks since protests started, leaving Hong Kong's police force to deal with the massive and often violent protests in the Asian financial hub.
The PLA's top brass has warned violence is "absolutely impermissible".
Hong Kong police and protesters clashed on Sunday as tens of thousands marched through the central city wearing face masks in defiance of colonial-era emergency powers which threaten them with a year in prison for hiding their faces.
Police fired tear gas and baton charged protesters in several locations, while some protesters threw bricks and petrol bombs at police, as night began to fall on Hong Kong.
Authorities had braced for two major protests on Sunday, fearing a recurrence of Friday night's violent protests which saw the Asian financial centre virtually shut down the next day.

The rallies on Sunday on Hong Kong island and across the harbour in Kowloon had been largely peaceful until police began to try and disperse the crowds, saying they were participating in unlawful assemblies, blocking major roads, and ordered protesters to leave immediately.
Follow us on Telegram for the latest on Hong Kong: https://cna.asia/telegram