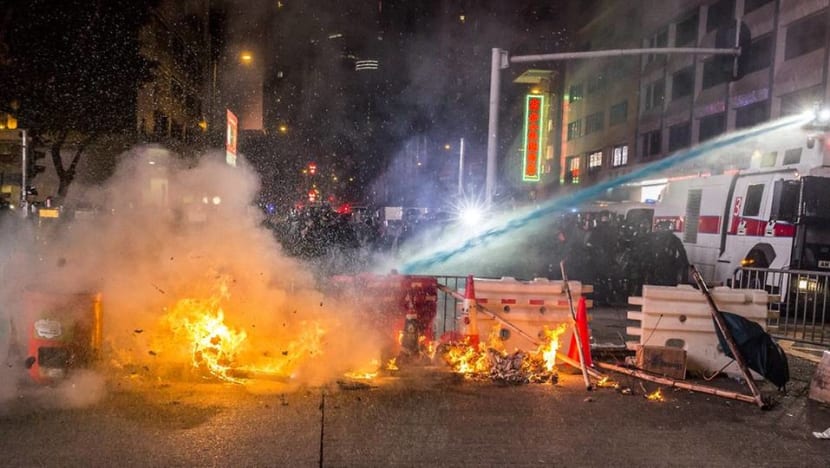 HONG KONG: Protests in Hong Kong on Tuesday (Oct 1), the 70th anniversary of communist China's founding, will be "very, very dangerous", police in the city warned on Monday.
"After our analysis, we're expecting the situation tomorrow to be very, very dangerous," Superintendent John Tse told reporters. 

It comes after a weekend of clashes between protesters and police, with around 100 petrol bombs being thrown at police officers and riot police firing tear gas and a water cannon to disperse crowds.

Eight officers were injured during the protests. 

Superintendent Tse said: "We are on the verge of extreme danger.
"We've got intelligence suggesting that some hardcore violent protesters are inciting others, including those with suicidal tendencies, to commit extreme acts, such as murdering the police, disguising as police officers to kill others and setting fires in petrol stations.

"All acts are one step closer to terrorism."

A total of 157 people were also arrested, including 67 students, over the weekend. 

Two prominent activists, actor Gregory Wong and Ventus Lau, were among those arrested for their involvement in protests on Monday, according to a representative for the Civil Human Rights Front (CHRF), the organiser of previous mass protests.
Hong Kong police did not immediately confirm the arrests of the two activists.
CHRF said on Monday authorities had rejected a permit for a march planned for Tuesday from Victoria Park in Causeway Bay to Chater Road, next to government headquarters.
Police later confirmed they had done so because of concerns over "public safety".
Protesters are expected to proceed with demonstrations across Hong Kong regardless. Police said several major roads will be closed on Tuesday near the Convention and Exhibition Centre, where a flag-raising ceremony is set to take place.
About 15,000 soldiers will march across Tiananmen Square and the latest military technology will be displayed on Tuesday in a patriotic show of strength.
President Xi Jinping is expected to make a stirring speech ahead of the parade at the Gate of Heavenly Peace, the same spot where Chairman Mao Zedong announced the founding of the People's Republic of China on Oct 1, 1949.

The ongoing unrest in Hong Kong threatens to upstage those festivities as the semi-autonomous city boils with public anger over the erosion of its special freedoms under Beijing's rule.
In the past week, activists in Hong Kong have ramped up their rallies and street battles ahead of Oct 1, which Hong Kong protesters have dubbed a "Day of Grief".

Hospital authorities said at least 40 people were injured, one in a serious condition.

Follow us on Telegram for the latest on Hong Kong: https://cna.asia/telegram

Source: CNA/agencies/mi/ad