HONG KONG: Hong Kong police fired tear gas on Tuesday (Nov 12) in the Central financial district, over the harbour in Mong Kok and at universities to break up protests which they said were leading the city to the "brink of total breakdown".
Renewed clashes at university campuses broke out as night fell, with barricades set ablaze and fresh rounds of tear gas whizzing through the air, turning the usually placid hillside campus into a battleground.

In the city centre, the streets filled with protesters once more as people left work for the evening, prompting police to carry out another dispersal operation with tear gas.
Some protesters took over the junction in front of SOGO in Causeway Bay, throwing bricks and stopping traffic.
SCHOOLS ARE "NEW BATTLEGROUND"
The students were taking part in a heated late-night exchange with the principal when clashes reignited, with police again firing volleys of tear gas and protesters throwing petrol bombs, lighting up the sky.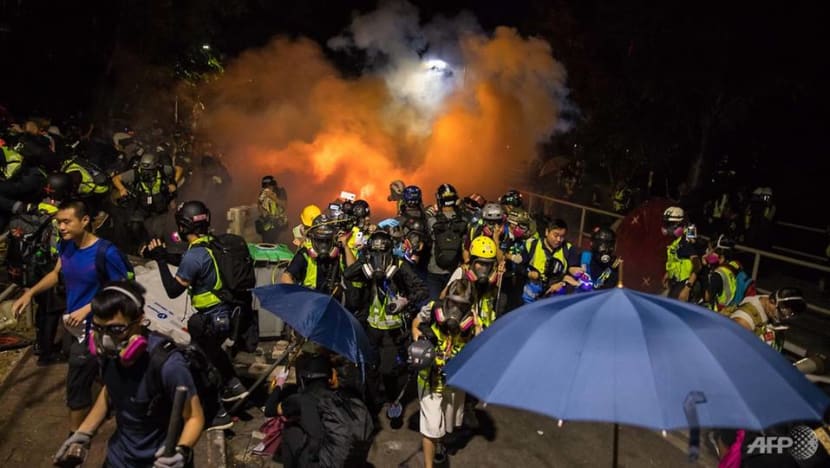 Several people were wounded, including a student reporter hit in the eye, apparently by a brick, who was sitting in tears as friends offered comfort.

Universities emerged as a new battleground Tuesday with sustained clashes at major campuses for the first time.

The epicentre was Chinese University of Hong Kong, where police fired multiple volleys of tear gas and rubber bullets at hundreds of protesters, who built barricades after an hours-long stand-off between the two sides.
Protesters responded with bricks and petrol bombs, while a vehicle used in a barricade was set alight.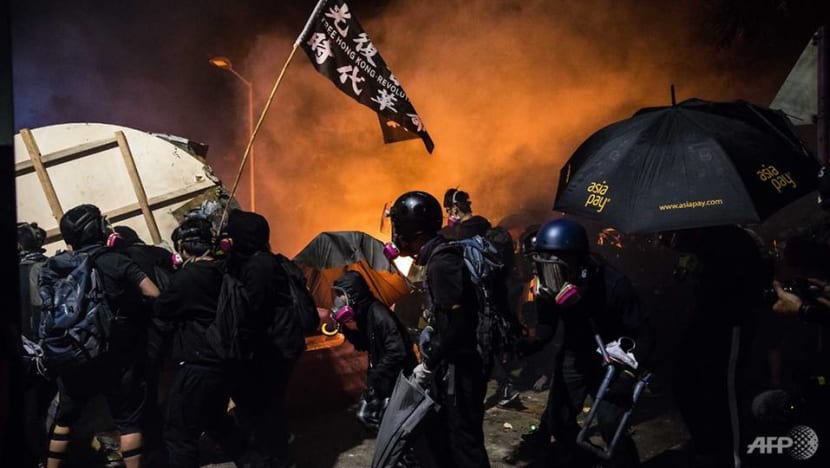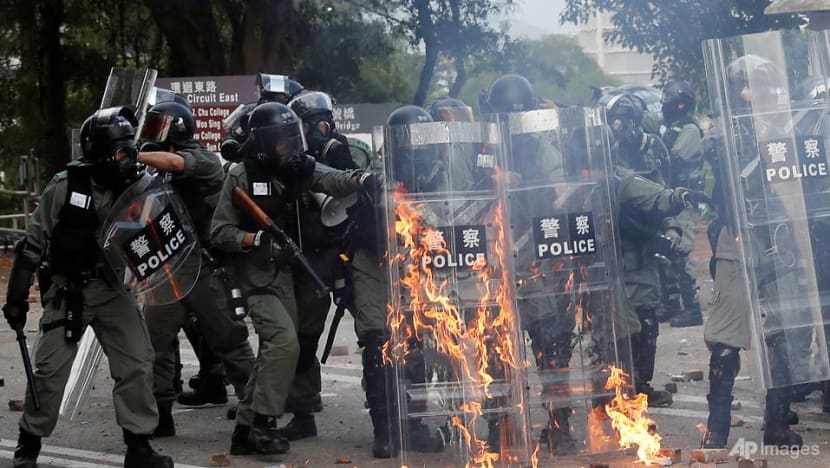 There were smaller clashes on at least three other university campuses throughout the day.
Protesters at City University have stockpiled bricks and petrol bombs on the bridges and other approaches and were making small devices with nails, apparently to puncture tyres.
Streets inside and outside the Chinese University campus entrance were littered with bricks, other debris and small street fires as police tackled some protesters to the ground.
A van used as part of a street barricade was set ablaze.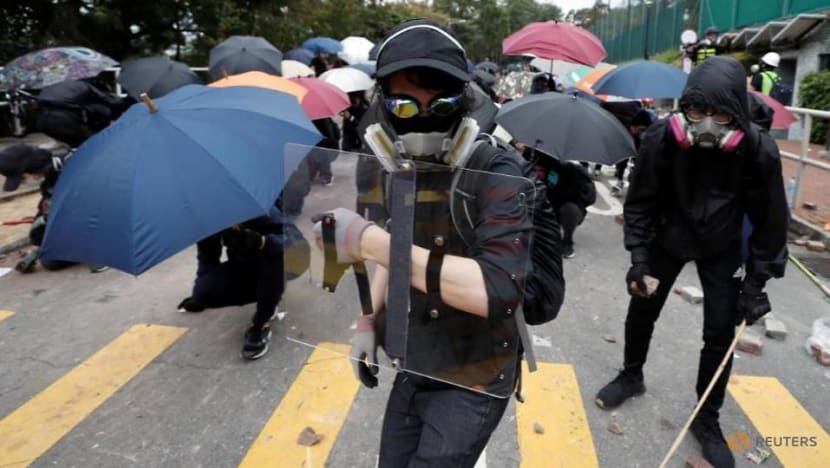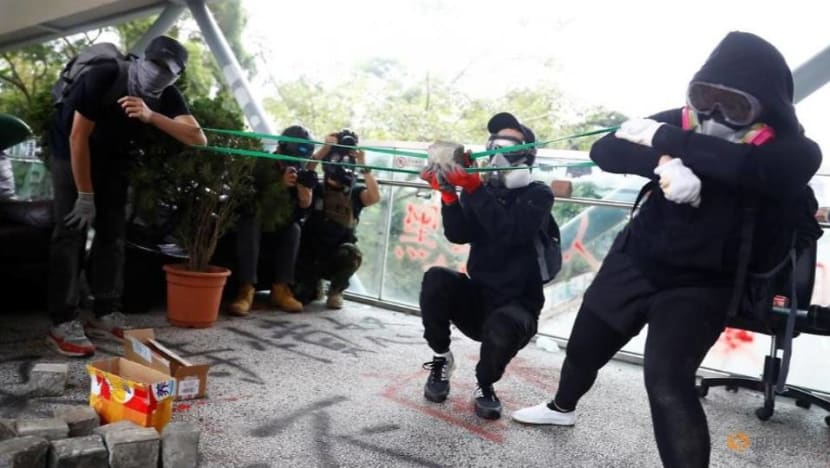 TEAR GAS IN CENTRAL
Earlier, a flash mob of more than 1,000 Hong Kong protesters, many wearing office clothes and face masks, rallied in Central for a second day, blocking roads below some of the city's tallest skyscrapers and most expensive real estate.
After they had dispersed, police fired tear gas at the remaining protesters on old, narrow Pedder Street. Police made more than a dozen arrests, many pinned up on the pavement against the wall of luxury jeweller Tiffany & Co.

"Our society has been pushed to the brink of a total breakdown," a police spokesman told a briefing, referring to the last two days of violence.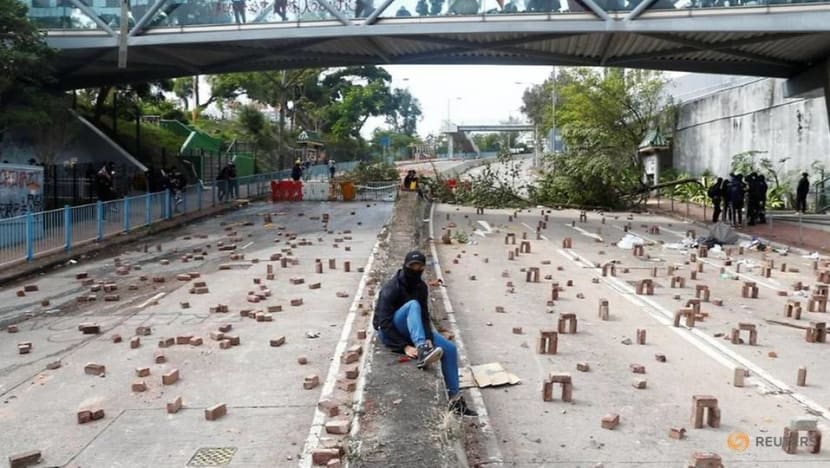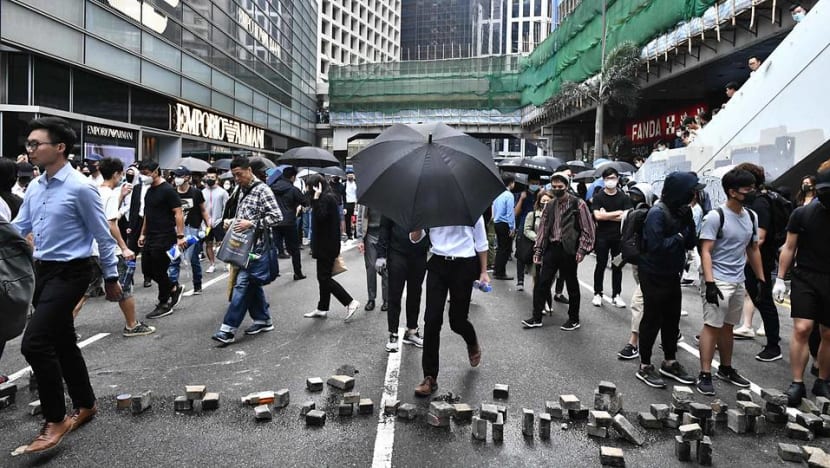 He said masked "rioters" had committed "insane" acts, such as throwing trash, bicycles and other debris onto metro tracks and overhead power lines, paralysing the transport system.
He said the man set on fire on Monday was still in critical condition and appealed for information on who was responsible.

After months of largely confining their most disruptive protests to the weekends, online groups used by protesters have been pushing new tactics targeting the working week.
For the last two days hardcore protesters have blocked roads during the morning rush hour, thrown objects onto rail tracks and held up subway trains, sparking transport chaos throughout the city.
"Let's stop focusing on the result. The result is all this chaos and madness but what is the root cause? We don't have a fully democratic system," said one demonstrator, a 25-year-old property manager wearing a white shirt, black suit pants and a black face mask who gave his name as Roy.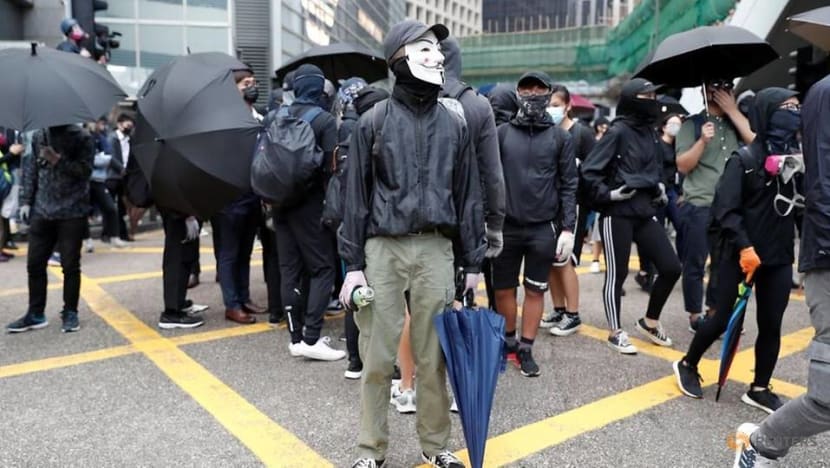 Emily, in her 30s and working in the finance sector, was carrying a black leather shoulder bag and wearing a black mask and swimming goggles on the front line on Tuesday.
In the bag was a bowl to cover tear gas canisters when they land on the street and a gas mask.
There was chaos earlier as people thronged metro stations only to stream out again after some train services were suspended.

The metro station at Sai Wan Ho on eastern Hong Kong island, where a 21-year-old protester was shot at close range on Monday, was among those closed.

Some roads were closed with long traffic jams building during rush hour, a day after some of the worst violence to rock the former British colony in decades.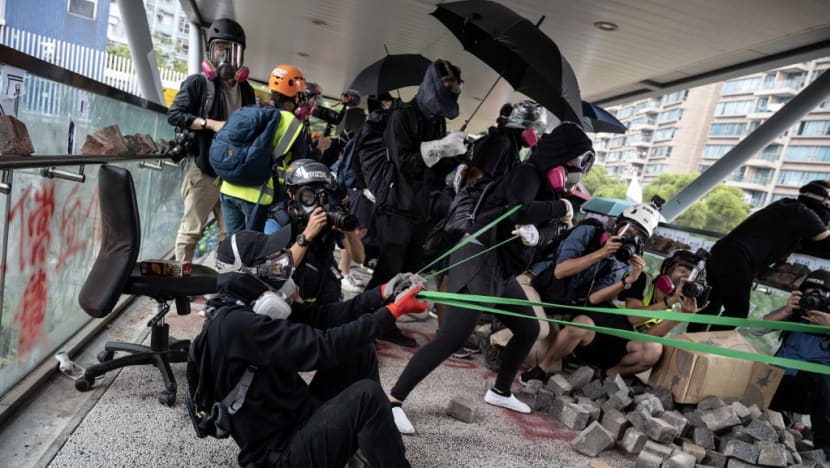 Hong Kong leader Carrie Lam said protesters who tried to paralyse the city were being extremely selfish and hoped that universities and schools would urge students not to take part in the demonstrations.
More than 260 people were arrested on Monday, police said, bringing the total number to more than 3,000 since the protests escalated in June.

Lam said on Monday the violence had exceeded protesters' demands for democracy and demonstrators were now the people's enemy.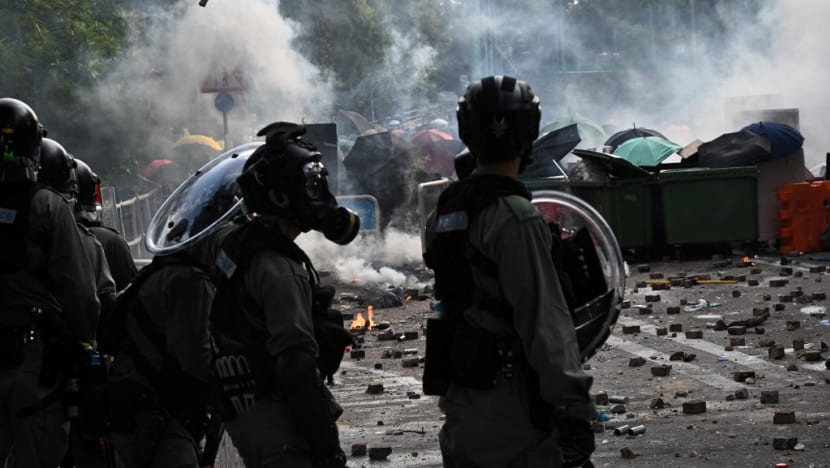 Protesters are angry about what they see as police brutality and meddling by Beijing in the freedoms guaranteed under the "one country, two systems" formula put in place when the territory returned to Chinese rule in 1997.
China denies interfering and has blamed Western countries, including Britain and the United States, for stirring up trouble.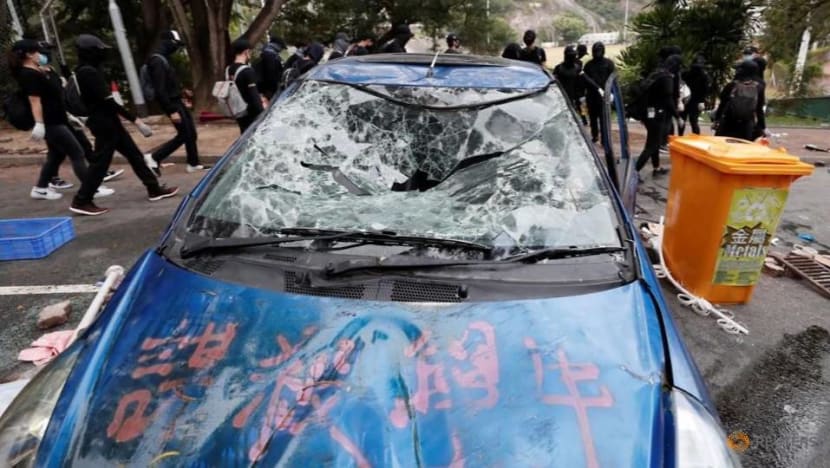 The United States condemned the unjustified use of deadly force in the latest violence and urged police and citizens to de-escalate the crisis.
US State Department spokeswoman Morgan Ortagus also urged Beijing to honour its commitments that Hong Kong would enjoy a high degree of autonomy and human rights, including freedom of expression and peaceful assembly.
Chinese Foreign Ministry spokesman Geng Shuang urged Britain and the United States not to intrude, saying: "Hong Kong affairs are purely China's internal affairs that allow no foreign interference. We urge the United States, United Kingdom and other countries to earnestly respect China's sovereignty."

China has a garrison of up to 12,000 troops in Hong Kong who have kept to barracks since 1997 but it has vowed to crush any attempts at independence, a demand for a very small minority of protesters.
Geng also told a briefing in Beijing that China's government firmly supports Lam's administration and the Hong Kong police "in law enforcement, maintaining social order and protecting the safety of citizens".
Following Tuesday's violence, the Hong Kong Jockey Club said all off-course betting centres would be closed ahead of Wednesday's racing at Happy Valley, "to ensure the safety of our employees and customers".
The "Mark Six" lottery draw, originally scheduled for Tuesday night, was postponed until Thursday.
Follow us on Telegram for the latest on Hong Kong: https://cna.asia/telegram
Source: Reuters/afp/aa/ec/hm