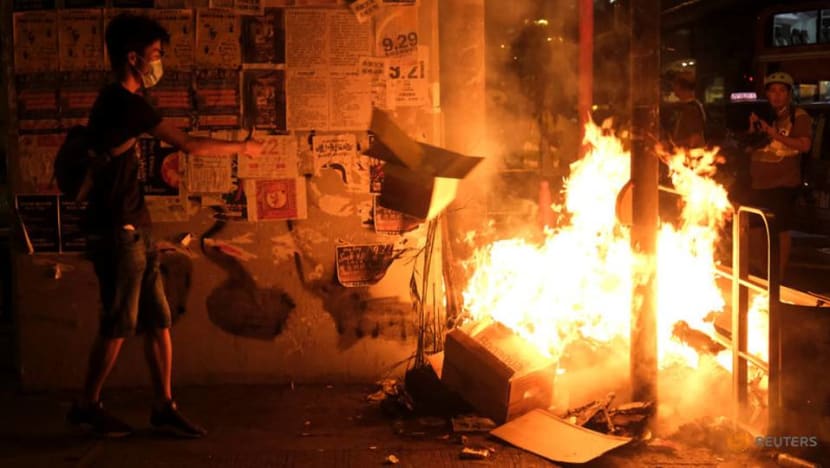 HONG KONG: Hong Kong was a scene of chaos all of Tuesday (Oct 1) as China marked the opening of celebrations for the 70th anniversary of Communist Party rule. 
Hong Kong police used tear gas, rubber bullets and a water cannon to repel protesters, who defied the authorities' ban on rallies to start fires and vandalise government property across the city. 
At one point along a march on Hong Kong island, protesters threw eggs at a portrait of Xi Jinping and tore down large placards celebrating the 70th anniversary before trampling on discarded slogans. 
Tens of thousands marched through the streets of Hong Kong island on Tuesday afternoon, including in Causeway Bay towards government headquarters in Admiralty.
At about 3.55pm, staff and lawmakers inside the Legislative Council building were told to evacuate the complex "immediately under safe circumstances".
A protester was shot in the chest at close range by a police officer who the authorities said had "feared for his life".

Officers gave the protester first aid before paramedics arrived and he was later taken to Princess Margaret Hospital.  
Hong Kong police said on Tuesday evening that they arrested more than 50 people in raids that began on Monday. 
They also seized a large number of offensive weapons and raw materials for dangerous goods. 
Among the items confiscated were protective gear, firecrackers and materials used for creating molotov cocktails.