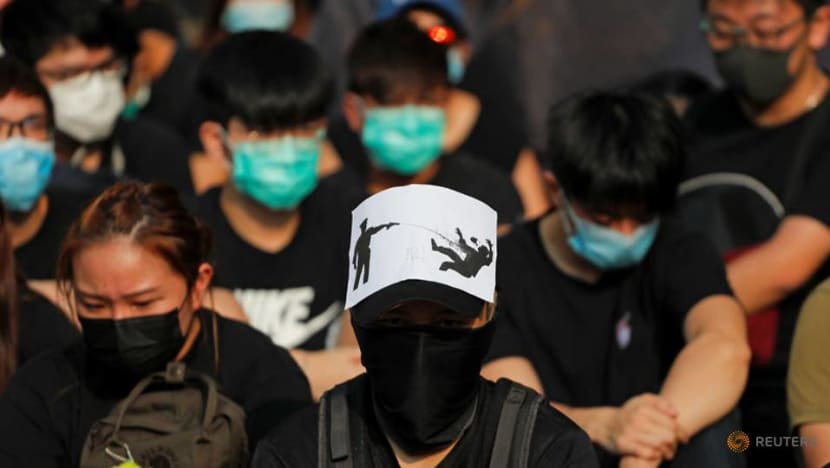 HONG KONG: Hong Kong is set to enact an emergency law to ban face masks at rallies, local media reported on Thursday (Oct 3), as authorities grapple with nearly four months of anti-government protests. 

Many demonstrators wear face masks to hide their identities - along with yellow helmets, goggles and respirators to protect themselves from tear gas and police projectiles.

Officials plan to deter future gatherings by introducing the ban under a colonial-era emergency law that bypasses the city's legislature, according to the South China Morning Post.
Chief Executive Carrie Lam is expected to announce the measure on Friday, the report added.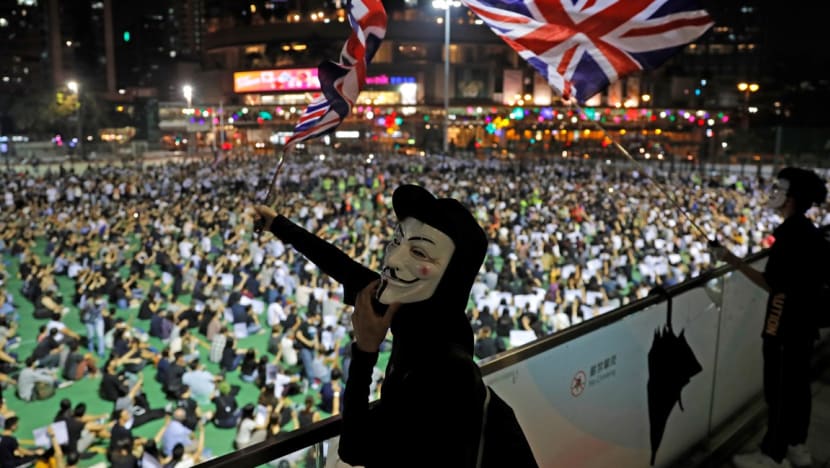 Pro-Beijing lawmakers in the financial hub have renewed their calls for Lam to introduce the emergency ordinance since Tuesday, when protests in Hong Kong overshadowed 70th anniversary celebrations for the founding of the People's Republic of China.
In the worst day of violence since the protests movement began, police shot and wounded a teenager who attacked officers with a stick, and fired a record 1,400 rounds of tear gas to disperse crowds across the city.
"If we had the law ... then this would have a deterrent effect on some people," lawmaker Elizabeth Quat told reporters on Thursday.
"We are not talking about peaceful protesters. We are talking about people who use illegal violence," she added.

But pro-democracy lawmaker Dennis Kwok said the emergency law would signal "the beginning of a slip towards an authoritarian state".
"The authorities by now should have listened to the Hong Kong people. Their yearning for freedom, liberty and democracy, is not going to go away," he said.

The Hong Kong stock market jumped to a one-week high on the news, which was also reported by media outlets TVB and Cable TV. The Hang Seng ended the day 0.3 per cent higher. 

The anti-mask law at least gives investors some hope that it could be a way to cool down the protests," said Steven Leung, at UOB Kay Hian (Hong Kong).
"Some protesters might think twice if they can be identified during protests."

LOOSENED GUIDELINES FOR POLICE
Hong Kong has also loosened guidelines on the use of force by police, according to documents seen by Reuters on Thursday.
These came into force on Sep 30, according to local media, before the protests on China's National Day on Tuesday. 
In the documents seen by Reuters, the police manual changed some guidelines on how officers could act when considering force. It also removed a line that stated officers should be accountable for their actions.
Police declined to comment when asked if amendments had been made.
"The guidelines on the use of force involve details of operation. It may affect the normal and effective operation of the police force and work of police on crime prevention if details are made public," police said in a statement to Reuters.
The unrest in Hong Kong, which began over opposition to a now-withdrawn extradition Bill that would have allowed people to be sent to mainland China for trial, shows no sign of letting up.
Demonstrators, angry over the shooting of an 18-year-old this week by police, clashed with officers into the early hours of Thursday. They threw petrol bombs and police responded with tear gas.
The teenager, Tony Tsang Chi-kin, has been charged with rioting - which carries a maximum 10-year sentence - and assaulting a police officer.
According to Hong Kong broadcaster RTHK, the Form Five student had undergone surgery and is in a stable condition. 

Police have also urged the government to impose curfews to help curb the escalating violence in the Chinese-ruled city, where officers have become a target of protesters amid accusations of excessive force.