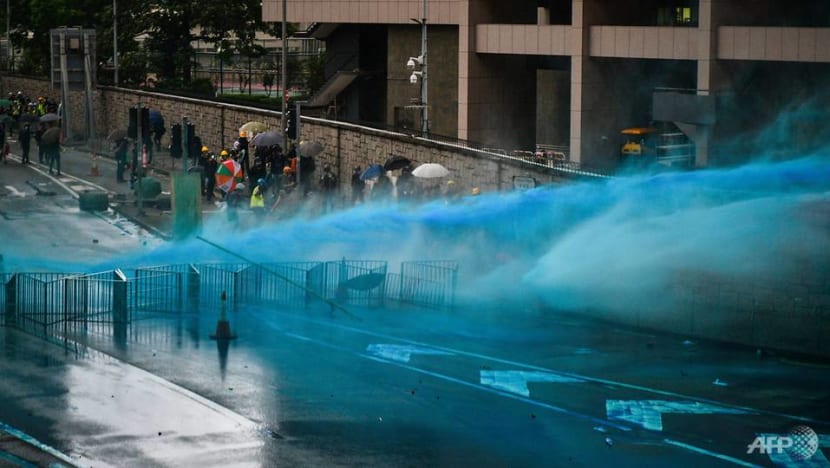 HONG KONG: Hong Kong police fired tear gas at protesters gathered outside government headquarters on Saturday (Aug 31), as thousands defied a ban to rally through the city centre.
A water cannon with blue-dyed liquid was also used briefly on a hardcore group of protesters who were throwing rocks and were armed with shields. Blue-dyed water is traditionally used elsewhere in the world to make it easier for police to identify protesters later.
Other protesters started fires, threw petrol bombs and pointed lasers at riot police as they smashed down a barrier erected around the government's parliament building.
Amid the chaos, protesters also dug up the pavement to use as projectiles and crouched under umbrellas.

Riot police then marched on foot towards the neighbouring Admiralty district, followed by about 20 police cars, where some protesters had thrown fire bombs. 

FIRE OUTSIDE POLICE HQ, POLICE STORM MTR STATIONS
Protesters later started a fire near Hong Kong's police headquarters in Wan Chai, sending billows of black smoke into the night sky.
The group used plastic bollards, metal fencing and seating from a nearby sports ground to build a barricade before starting the blaze.
CNA heard several loud explosions after the fire started, and a fire truck was initially prevented from reaching the scene. The fire was extinguished after burning for around half an hour.
There were also standoffs in North Point and Fortress Hill, to the east of Causeway Bay, and tear gas was fired against protesters over the harbour in Tsim Sha Tsui.

Police made numerous arrests as the night deepened into a cat-and-mouse chase across the city and protesters spread out.

Videos and photos online showed riot police entering several MTR stations in an attempt to arrest protesters. 
The train operator said late on Saturday night that services on Tsuen Wan Line and Kwun Tong Line have been suspended due to "a number of incidents". 
Affected train stations include Mong Kok, Prince Edward and Yau Ma Tei in Kowloon. 
MTR later announced the suspension of service on three more lines.
Saturday's clashes came on the fifth anniversary of Beijing's rejection of a call for universal suffrage in the semi-autonomous city, sparking the 79-day Umbrella Movement in 2014.

Police had banned a planned rally on security grounds, prompting organisers to cancel the event marking the anniversary.
But large crowds, many in their signature black T-shirts and under a colourful canopy of umbrellas, snaked through Hong Kong island anyway, blocking roads in the financial heart and chanting "Reclaim Hong Kong. Revolution of our times".
Many protesters are determined not to let the new movement fizzle out as the Umbrella protests did.
"I'm not afraid to come out here today," said another 25-year-old protester who gave his surname as Ng.

"It's 'now or never' for Hong Kong," said a 33-year-old accountant who gave her surname as Wong.
"I'm a mother-of-two. They didn't come today but their grandmother did. We're defending the right of assembly for the next generation in Hong Kong."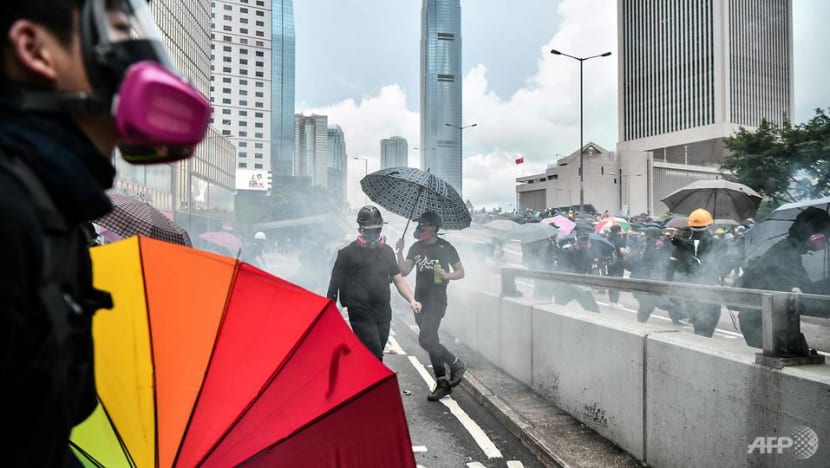 Earlier, protesters marched by the official residence of Hong Kong's embattled Beijing-backed leader Carrie Lam, who is the focal point of anger after trying to pass a Bill which would have allowed extradition to China.
Another big group massed in the busy shopping district of Causeway Bay, occupying the road and chanting anti-government slogans.

In an attempt to sidestep the protest ban, some people carried crosses and sang "hallelujah" after calling on protesters to form religious gatherings, which do not require the same stringent permission from authorities.

Demonstrators, who have earned a reputation for their creativity and unpredictability, also called for mass "shopping trips", while a YouTuber with 800,000 followers called a fan meeting.
This is the 13th straight weekend of protests.
There have been frequent clashes between protesters and police, who have often fired tear gas and rubber bullets to disperse crowds, amid accusations of excessive force.

Follow us on Telegram for the latest on Hong Kong: https://t.me/cnalatest