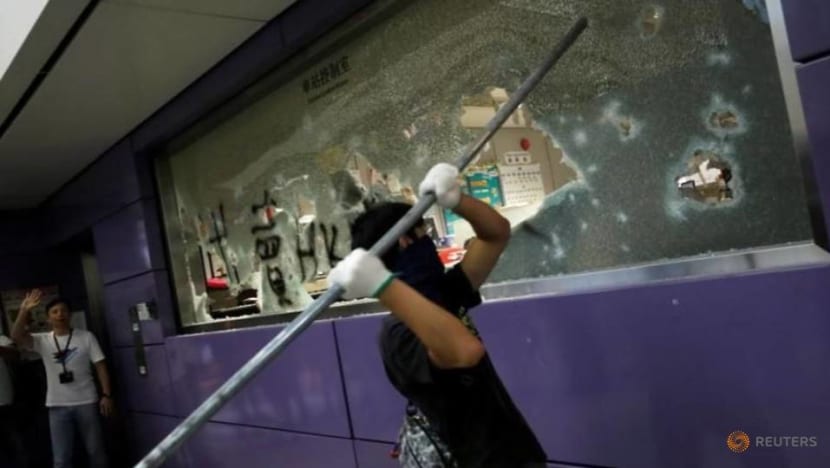 HONG KONG: Protesters stormed Tung Chung MTR station on Sunday (Sep 1) evening, tearing down clocks, posters, CCTV cameras and smashing glass panels.
Hundreds of demonstrators crowded into the station after leaving Hong Kong airport, where protesters had set up barricades and road blocks to "stress test" the airport's operations.
After dismantling turnstiles at the MTR station, they used crowbars to smash clocks and ticketing machines, before making their way outside to destroy CCTV cameras and lamps.
A barricade was set on fire, and firefighters rushed to the scene to extinguish the blaze.
A statement from Hong Kong Police said: "Since around 5.30pm today, violent protestors have committed destructive acts extensively inside the Tung Chung MTR station. 

"They dismantled CCTV cameras, damaged turnstiles and fire facilities, and smashed glass panes of a customer service centre.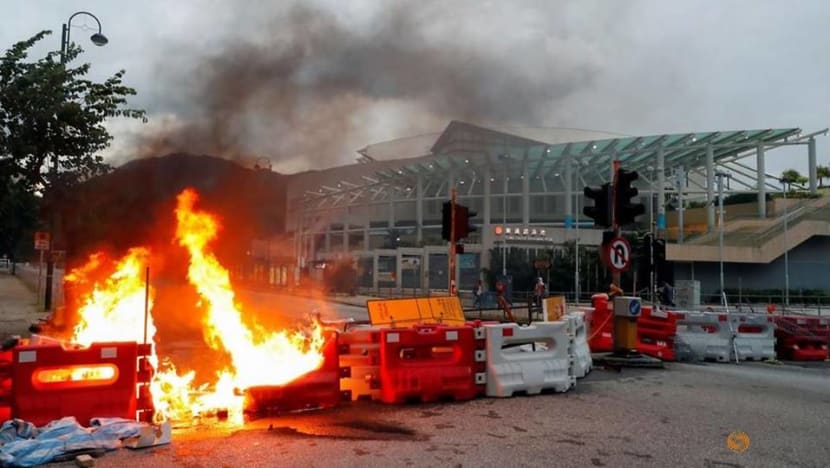 "Furthermore, radical protestors blocked multiple roads in Tung Chung, set fire to barricades and a national flag, paralysing traffic."

"BARBARIC AND OUTRAGEOUS"
Riot police arrived after the bulk of the protesters had left, with officers searching trains and the station for the demonstrators, but most had left by that point.

Police continued to search other MTR stations as the night went on.
The Hong Kong government said Tung Chung station was "severely damaged" and that protesters had assaulted other members of the public during the demonstration.

"The protesters totally disregarded the needs of travellers and members of the public," the government statement added.
"They threatened with violence and took malicious revenge on people with different views as well as innocent people and organisations. 
"Their acts are barbaric and outrageous. 
"The police will take resolute enforcement actions against all illegal and violent acts to protect the safety and rights of the members of the public." 
HONG KONG AIRPORT TO MTR STATION
Protesters had earlier urged the public to target access to the city's airport. The city's Airport Express service was suspended as protesters built barricades at the airport bus station and attempted to stop traffic on the main road.

Police added that protesters hurled projectiles onto the track near the train line's Airport Station. Officers and protesters clashed at the airport shortly after 3pm on Sunday.

Parts of the metro system ground to a halt as skirmishes spread to the subway on Saturday, with television showing images of people being beaten as they cowered on the floor behind umbrellas.
Police said they arrested 63 people on suspicion of obstructing officers, unlawful assembly and criminal damage.