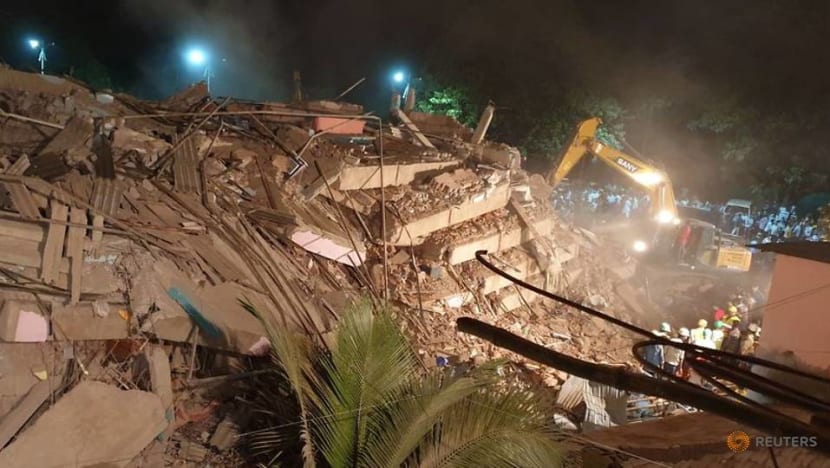 MUMBAI: Rescue workers pulled more than 60 people alive from the rubble of a collapsed building in an industrial town near India's financial capital Mumbai, a senior official said on Tuesday (Aug 25), as rescue efforts continued.
The five storey building near a slum district in Mahad, which housed roughly 200 residents, caved in on Monday evening.
National Disaster Response Force spokesman Sachidanand Gawde told reporters that emergency workers had so far retrieved the bodies of two victims.
Estimates of the number still trapped ranged from 20 to 70 after dozens managed to flee when the building began to shake.
"No one knows how many people are actually stuck inside," a Mahad police official told AFP on condition of anonymity, adding that authorities had initially feared the worst, with early estimates as high as 200.
Mahad legislator Bharat Gogawale told AFP that many of the building's occupants appeared to have been out shopping when the accident occurred around 7pm.
"As per latest estimates, we think 20 people are trapped inside," he said.
Others had left the town altogether, preferring to wait out the pandemic in their home villages.
"Many families were not residing in the building as they went to their native places due to the coronavirus-induced lockdown," district official Nidhi Choudhari told the Press Trust of India.
The building, which comprised of 47 flats, fell almost like a pack of cards, said a police official at the disaster site.
Local residents and police combed through tin sheets, metal rods and other wreckage in a desperate search for survivors as ambulances rushed injured to nearby hospitals amid heavy monsoon rains and fears of COVID-19 infections.
Mustafa Chafekar, a resident who had been in home quarantine after testing positive for the virus, told the Mumbai Mirror that he and his family of five initially thought they were experiencing an earthquake.
"We ran down immediately ... The whole (structure) collapsed right in front of us," the 39-year-old said of their escape.
He said residents had previously complained to the builders about the condition of the complex.
Local politician Manik Motiram Jagtap told TV9 Marathi that the structure was 10 years old and built on "weak" foundations.
"It fell like a house of cards," Jagtap said.
The cause of the incident was not clear. But building collapses are common in India, usually due to shoddy construction, substandard materials and disregard of regulations.
Prime Minister Narendra Modi tweeted that he was "saddened".
"My thoughts are with the families of those who lost their dear ones. I pray the injured recover soon," he said.

Every year, heavy downpours during the June to September monsoon season bring down rain-sodden small and large structures deemed too dangerous to live in.
More than 1,200 people were killed in 1,161 building collapses across India in 2017, according to latest data from the National Crime Records Bureau.