JAKARTA: Indonesia raised the alert status of the Anak Krakatoa volcano to the second-highest level on Thursday (Dec 27) morning, imposing a 5km exclusion zone.
Plumes of ash burst into the sky as pyroclastic flows - hot gas and other volcanic material - flowed down the crater, threatening anyone too close to the volcano and raising the risk of rough seas for boats in the vicinity.

This comes days after a crater collapse on the volcanic island at high tide sent waves up to 5m high smashing into the coast on the Sunda Strait, killing more than 400 people.

Authorities have also rerouted all flights around the erupting volcano as it spewed columns of ash into the air.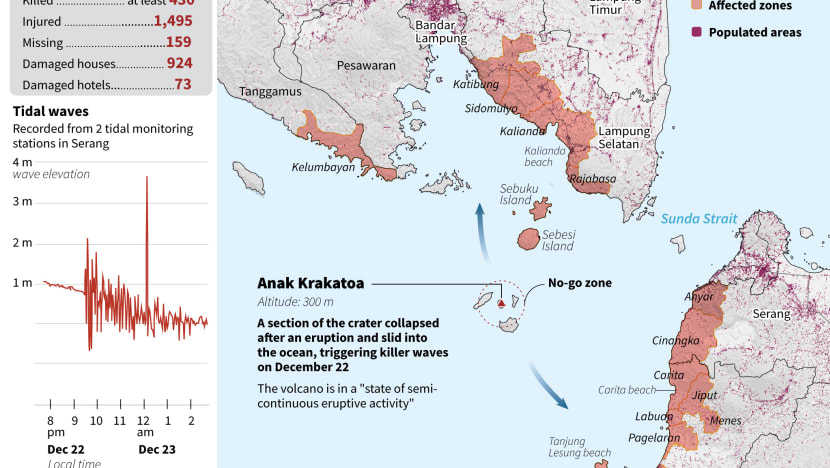 The volcano has been rumbling on and off since July but has been particularly active since Sunday, spewing lava and rocks, and sending huge clouds of ash up to 3,000m into heavily overcast skies.

"All flights are rerouted due to Krakatoa volcano ash on red alert," the government air-traffic control agency AirNav said in a release.

The civil aviation authority said no airports would be affected. The capital, Jakarta, is about 155km east of the volcano.

LEVEL 3 ALERT
Meanwhile, national disaster agency spokesman Sutopo Purwo Nugroho said: "The volcanic activity of Anak Krakatoa volcano located in the Sunda Strait continues to increase."

"To that end, the Volcanology and Geological Disaster Mitigation Centre (PVMBG) has upgraded the status of Anak Krakatoa volcano from Level 2 (Alert) to Level 3 (Standby)," he said. 

Indonesia has a four-level alert system for volcanoes. 
Mount Agung, which recently erupted in June and caused hundreds of flights to be disrupted, was at the highest alert of Level 4.  
All people and tourists have been prohibited from carrying out activities within a 5km radius of the volcano's crate peak, said Mr Nugroho. This is because eruptions in the form of incandescent rocks, hot clouds and thick volcanic ash can be dangerous. 
Indonesia's meteorology agency has also recommended that no activities should be held on the coast at a 500m to 1km radius from the coast in anticipation of a subsequent tsunami. 

"People are encouraged to remain calm and increase their awareness. Always use information from PVMBG for volcano early warning and the meteorology agency (BMKG) regarding tsunami early warning as an official institution." said Mr Nugroho. 
"Do not believe in misleading information whose sources cannot be accounted for," he added. 
A thin layer of volcanic ash has been settling on buildings, vehicles and vegetation along the west coast of Java since late on Wednesday, according to images shared by the national disaster mitigation agency.

Authorities said the ash was not dangerous, but advised residents to wear masks and goggles when outside.

The status change sparked new fears with many residents already scared and refusing to return to their communities over fears of another tsunami.
"This worries me," said Ugi Sugiarti, a cook at the Augusta Hotel in hard-hit Carita. "I've already left."
Sukma, a security guard at the shattered Mutiara Carita Cottages, added: "Just please pray for us and that everything will be okay."
EARLY WARNING SYSTEM
The tsunami was Indonesia's third major natural disaster in six months, following a series of powerful earthquakes on the island of Lombok in July and August and a quake-tsunami in September that killed around 2,200 people in Palu on Sulawesi island, with thousands more missing and presumed dead.
The disaster agency has said it installed new sensors to better monitor tremors at the volatile volcano.
The agency initially said there was no tsunami threat at all, even as the killer wave crashed ashore.
It was later forced to issue a correction and an apology as it pointed to a lack of early warning systems for the high death toll.
One of the hardest-hit areas - Tanjung Lesung - is on a list of 10 destinations that Jakarta wants to turn into another Bali, the holiday island hotspot which draws millions of tourists annually.
"We need to have (tsunami) early warning systems, especially in tourist destinations," Indonesia's tourism minister Arief Yahya said Thursday.
"We're going to make that happen."
In 1883, the volcano then known as Krakatoa erupted in one of the biggest blasts in recorded history, killing more than 36,000 people in a series of tsunami and lowering the global surface temperature by one degree Celsius with its ash.
Anak Krakatoa is the island that emerged from the area in 1927 and has been growing ever since.
Source: CNA/agencies/ad/hm(mn)