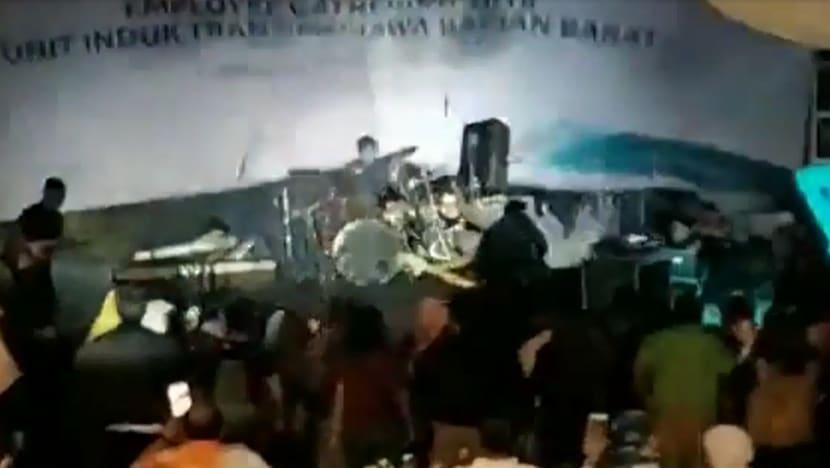 JAKARTA: Members of the Indonesian pop band Seventeen, along with members of the audience watching them perform on Saturday (Dec 22) night, are among the missing after a tsunami engulfed the crowd.
About 200 employees of state electricity utility Perusahaan Listrik Negara (PLN) and family members had gathered at the Tanjung Lesung beach for an end-of-year party when the tsunami struck on Saturday night.

A dramatic video circulating online shows the band members performing on stage in front of a seated audience at Tanjung Lesong resort, at the tip of western Java.

Seconds into the video, the stage appears to be brought down by the wave, with screams heard from the crowd as they attempt to flee. 
One member of the band died, according to its lead singer who posted a video on Instagram.
In an emotional video post, Riefian Fajarsyah, the band's vocalist, said his wife, actress Dylan Sahara, was missing, along with other band members.

"Underwater I could only pray 'Jesus Christ help!'," Zack, a crew member of the rock band Seventeen, said in an Instagram post describing how he struggled in the water.
"In the final seconds I almost ran out of breath," he said, adding he survived by clinging to part of the collapsed stage.
At a news conference, PLN said 29 employees and relatives had died and 13 were missing.
Survivors were treated at clinics but could not return to Jakarta because road access was blocked, Yulia Dian, a manager for the band in Jakarta, told Reuters by telephone.
"We were shocked because a lot of the people who went there took their families," Dian said, noting the band had been due to return to Jakarta on Sunday.
"They'd been sharing stories they were having fun at the beach and we didn't expect this."
Seventeen, a Jakarta-based group, has more than a million followers on Facebook. Their official page says the band is managed by GP Records.
At least 200 people have been killed and hundreds more injured in the tsunami that may have been caused by a volcano known as the "child" of the legendary Krakatoa, officials said.
Hundreds of buildings were destroyed by the wave, which hit beaches without warning in South Sumatra and the western tip of Java about 9.30pm local time (1430 GMT) on Saturday, national disaster agency spokesman Sutopo Purwo Nugroho earlier said in a statement.
Authorities say the tsunami may have been triggered by an underwater landslide following the eruption of Anak Krakatau, which forms a small island in the Sunda Strait between Java and Sumatra.

Source: CNA/agencies/mn/nc