CNA Explains: How Indonesia lost its U-20 World Cup host status and what it means for the local football scene
President Joko Widodo has instructed Indonesia's football chief to ensure that the country is not deprived of hosting other international tournaments in the future.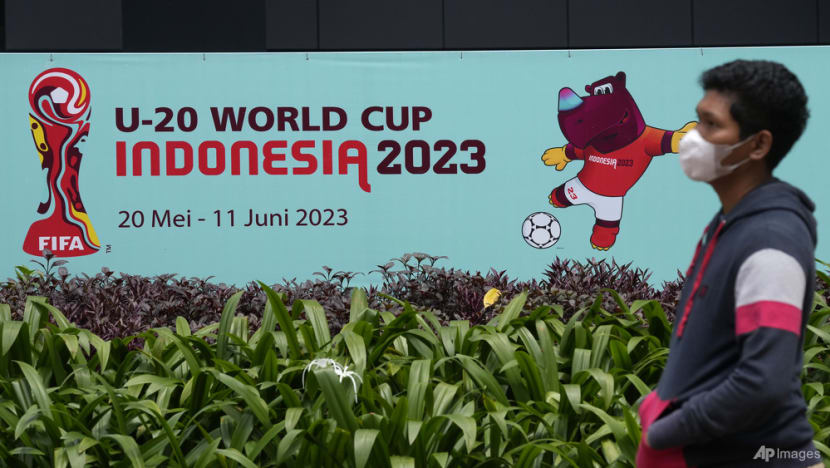 JAKARTA: In a last-ditch attempt to retain the country's right to host the U-20 World Cup, Indonesian Football Association (PSSI) chairman Erick Thohir flew to Qatar on Wednesday (Mar 29) to meet with Gianni Infantino, the president of the sport's governing body FIFA.
Despite Mr Thohir's lobbying efforts and a personal letter from Indonesian President Joko Widodo stating the country's readiness to host the tournament, FIFA announced that it has decided to strip Indonesia of its U-20 World Cup host status, less than two months before the tournament was supposed to kick off.
"A new host will be announced as soon as possible, with the dates of the tournament currently remaining unchanged," the football body said in a statement released shortly after Mr Infantino's meeting with Mr Thohir.
The world football body had earlier expressed concern about Indonesia's ability to host the event, cancelling at the last minute the tournament's group draw event which was originally scheduled to take place on Friday on the popular resort island of Bali.
FIFA did not specify the reason for its decision to disallow Indonesia from hosting the U-20 World Cup, stating only that it was "due to the current circumstances."
This appeared to be a reference to growing calls in the Muslim-majority country for the Israeli team to be excluded from the tournament. Among those calling for the ban were two governors who hail from the same political party as the Indonesian president.
Many Indonesians took to social media to express their anger and frustration, not at FIFA, but at the politicians deemed responsible for the debacle.
"Who knows what sacrifices we have made for this country, for this event. It is gone in a blink of an eye because of your political motives," Marselino Ferdinan, a midfielder in the Indonesian U-20 squad, wrote on his Instagram account.
The decision meant that millions of dollars spent to refurbish six stadiums chosen as the cup's venue and years of preparation to host Indonesia's first FIFA tournament went down the drain.
It also meant that the Indonesian squad will not be participating in its first-ever U-20 World Cup, since a spot in the tournament is reserved for the host nation.
Adding insult to injury, FIFA said "potential sanctions against the PSSI may also be decided at a later stage."
HOW IT BEGAN
Indonesia was awarded U-20 World Cup host status in 2019, defeating bids from Brazil and Peru. At that time, the tournament was supposed to be held in 2021 but the COVID-19 pandemic forced the event to be postponed until this year.
Indonesia soon got to work to organise the tournament, refurbishing six stadiums in the cities of Jakarta, Bandung, Solo, Surabaya, Palembang and Bali to meet FIFA standards.
The Indonesian ministry for public works said that it has so far spent 322 billion rupiah (US$21.4 million) to renovate the stadiums as well as other pitches where teams would have held practice sessions.
Indonesians were excited to play host to a major international football tournament for the first time in history. However, criticisms towards Indonesia hosting the U-20 World Cup began to surface last year when Israel qualified for the tournament.
The Muslim-majority country does not have a formal diplomatic relationship with Israel as a sign of solidarity towards Palestine.
A number of small demonstrations against Israel's participation in this year's tournament began to emerge, particularly in some of the cities playing host to the event. These demonstrations intensified as the tournament drew nearer.
Despite this, FIFA remained confident in Indonesia's ability to host the tournament, even after a conservative Muslim organisation threatened to occupy the country's main airport and stop the Israeli squad from setting foot on Indonesian soil.
The world governing body also remained steadfast in its decision to stage the tournament in Indonesia when a deadly stampede happened at a football stadium in East Java on Oct 1 last year. The incident killed 135 people, making it the world's second-worst stadium disaster in history.
BALI, CENTRAL JAVA GOVERNORS EXPRESS OBJECTIONS
Instead, it was statements from two Indonesian governors which forced FIFA to reconsider Indonesia's host status.
Mr Wayan Koster, the governor of the predominantly Hindu island of Bali wrote to the Ministry for Youth and Sports asking Israel to be removed from the competition entirely or at the very least, ensure that the squad does not play at Bali's Wayan Dipta Stadium, one of the venues for the tournament. The letter was dated Mar 14 and reported by local media on Mar 21.
On Mar 23, Central Java Governor Ganjar Pranowo issued a written statement stating that he is also lobbying the central government to stage the U-20 World Cup "without Israel present". One of the tournament's venues was the Manahan Stadium in the Central Java city of Solo.
Both Mr Koster and Mr Pranowo are members of the president's Indonesian Democratic Party of Struggle (PDI-P).
On Mar 26, FIFA announced that it was postponing – and ultimately cancelling – the tournament's group draw event. It was originally slated for Mar 31 in Bali.
The sudden cancellation of the group draw event prompted fears that Indonesia could be on the verge of losing its host status.
PSSI said it was worried that FIFA would see the two governors' statements as evidence that Indonesia could not guarantee the safety and well-being of one of the tournament's 24 participating teams.
ATTEMPT TO SALVAGE HOST STATUS
PSSI executive committee member, Arya Sinulingga told a press conference on Mar 26 that the association tried to get the two governors to retract their statements.
Mr Muhadjir Effendy, the acting sports minister, told local media separately that he too had been trying to get the two governors to reconsider their positions toward the Israeli team. "I called them every day," he told reporters at his office on Mar 29.
But their attempts failed to achieve the desired effect.
Mr Widodo, popularly known as Jokowi, decided to step in on Mar 28, issuing a statement that welcomed the Israeli squad to play on Indonesian soil.
"Please don't mix sports and politics," Jokowi said in a video message streamed on his office's YouTube account.
"I hereby guarantee Israel's participation has nothing to do with the consistency of our foreign policy position toward Palestine, because our support for Palestine is always strong and sturdy."
The Indonesian leader also said he had instructed Mr Thohir, who is also a Cabinet minister, to win back FIFA's confidence.
Hours after the president's statement was made, Mr Thohir made his way to Doha to meet with the FIFA president.
"I have fought my best," Mr Thohir said in a statement after FIFA decided to remove Indonesia as the host of the event.
"We have to accept FIFA's decision to cancel the event that we all have been looking forward to."
REACTIONS BY INDONESIAN LEADERS
On Thursday evening, Jokowi said that Indonesia must respect FIFA's decision.
"I know this decision has left many disappointed. I too felt the same way, disappointed and sad.
"We must not waste our energy blaming one another. As a great nation, we must look forward, not look backward. Turn this into a valuable lesson for us all, for Indonesian football," he said.
Jokowi also said that he has asked Mr Thohir of PSSI to continue to do his best so that Indonesian football is not sanctioned and the country is not deprived of chances to host other international tournaments.
Central Java governor Mr Pranowo also said he was disappointed by FIFA's decision.
"Of course, I am disappointed. We have made many preparations," he told reporters in Central Java on Thursday. "We'll just have to wait for the formal letter from FIFA to PSSI because until now we don't know the reason for the decision."
Mr Pranowo refused to comment on his earlier statement.
Meanwhile, Mr Koster, the Bali governor, defended his remarks, saying that the presence of the Israeli team could make Bali a target for another terrorist attack.
"I will not tolerate anything which has the potential to disrupt the security and safety of the Balinese people," he said in a statement on Thursday.
"I do not wish for FIFA to cancel the U-20 World Cup in Indonesia. I never object to the U-20 World Cup. I just object to the presence of the Israeli team playing in Bali."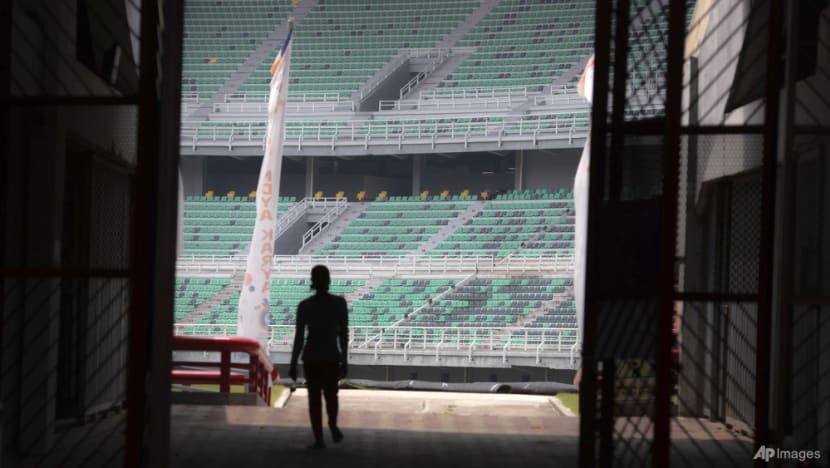 IMPACT ON INDONESIAN FOOTBALL SCENE
Mr Akmal Marhali of local football watchdog Save Our Soccer said at the very least, this debacle could hurt Indonesia's chances of ever hosting an international football event. His non-governmental organisation monitors PSSI's policies and initiatives.
"We were given such a huge honour and we let FIFA down. We let the world down," he told CNA.
"The people responsible for the controversy and cost us our host status must apologise to the entire people of Indonesia. They have crushed our dream of hosting our first-ever international (football) event. They have humiliated Indonesia in the global arena."
FIFA is currently mulling which country will take Indonesia's spot as the host for this year's U-20 World Cup although pundits say that it will likely go to one of the two bidders which Indonesia defeated in 2019: Brazil and Peru.
The governing body is also mulling possible sanctions against Indonesia.
FIFA last sanctioned Indonesia in 2015 after the government tried to intervene in a rift within PSSI. It barred Indonesia from competing internationally for a year.
Football commentator Mohamad Kusnaeni believes that a FIFA sanction, if any, will not be as harsh, particularly since the decision to stop Indonesia from hosting the tournament came from the governing body and not the Southeast Asian country.
Football is a popular sport in Indonesia, a nation of 270 million people.
The huge market potential, Mr Kusnaeni said, is another reason why FIFA could be reluctant to impose harsh sanctions on Indonesia. He noted that no sanction was given after last year's stampede in East Java.
"But trust towards Indonesia's ability to host an international tournament is pretty much tarnished," he told CNA.
Read this story in Bahasa Indonesia here.