Indonesia police fire tear gas as protesters rally against graft law, Bill banning pre-marital sex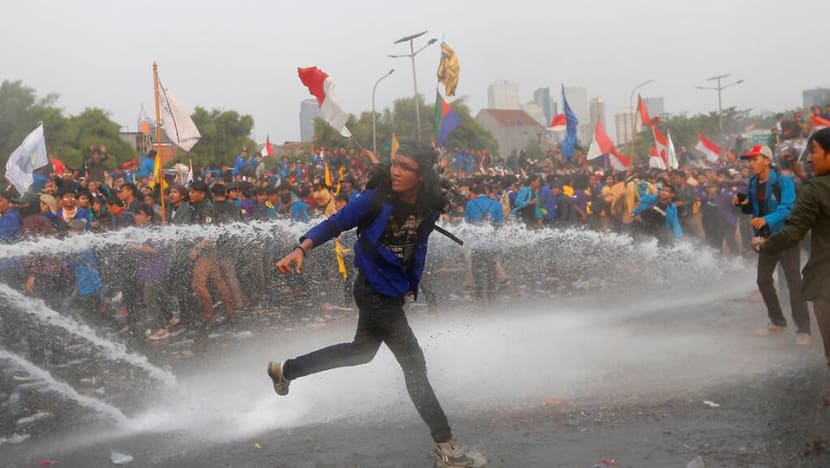 JAKARTA: Indonesian police fired tear gas and water cannon to break up protests on Tuesday (Sep 24), as tens of thousands of students gathered in cities nationwide to demonstrate against a new law which critics say will undermine the country's anti-graft agency and its ability to tackle corruption.
They are also opposing a Bill for a new criminal code that would, among other things, outlaw pre-marital sex.

Indonesia's parliament last week passed controversial revisions to a law governing the Corruption Eradication Commission - also known as KPK - which will place it under the oversight of an external board. The board's main power will be to authorise wiretaps. 
On Tuesday, thousands gathered in the front and back entrances to Jakarta's parliament building, demanding to meet with parliament speaker Bambang Soesatyo. Police eventually fired tear gas and water cannon to disperse them. 
Tear gas was also fired at rock-throwing protesters in Bandung, West Java, as well as in Makassar on Sulawesi island, while demonstrators broke down a barrier outside the governor's office in Semarang on Java island.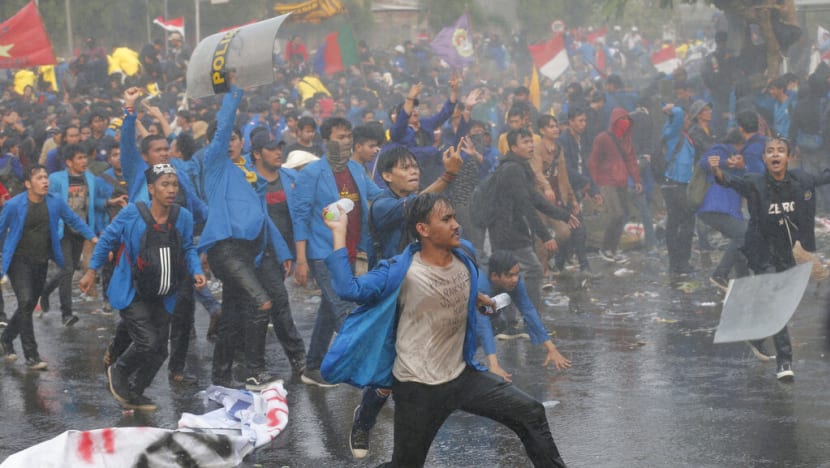 "(We) forcibly dispersed student because they were carrying out anarchist acts, damaging government property and throwing stones at police," said Dicky Sondani, a South Sulawesi police spokesman.

A vote on the Bill was originally scheduled for Tuesday, but President Joko Widodo last Friday called for a delay in passing the new criminal code after public backlash.

The revisions to the code - which would replace a Dutch colonial-era set of laws - include penalties for sex outside marriage, insulting the president's dignity, a four-year jail term for abortions in the absence of a medical emergency or rape, as well as a prison term for black magic.
Although the vote was not included in Tuesday's plenary session in parliament, some lawmakers have said they would try to come up with a new draft to bring it to a vote before their current term ends at the end of this month.
Parliament speaker Soesatyo held a news conference inside the building urging calm, but refused to answer questions from reporters on whether the vote would be delayed until new parliament takes office, repeating that the vote could happen in the current term.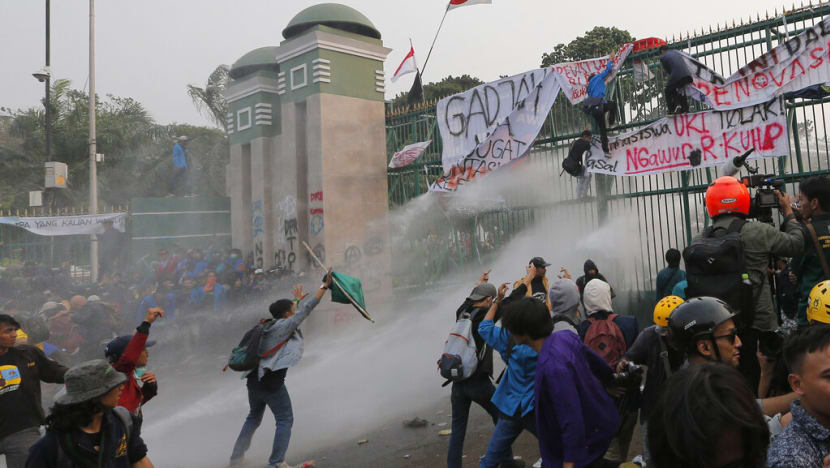 Indonesia's benchmark stock index dropped more than 1 per cent on Tuesday, amid worries over domestic political tensions, said Fakhrul Fulvian, an economist with Trimegah Sekuritas.
Finance Minister Sri Mulyani told reporters she hoped "the things that triggered (the demonstrations) can be discussed through the available political process so there won't be a wider impact on sentiment".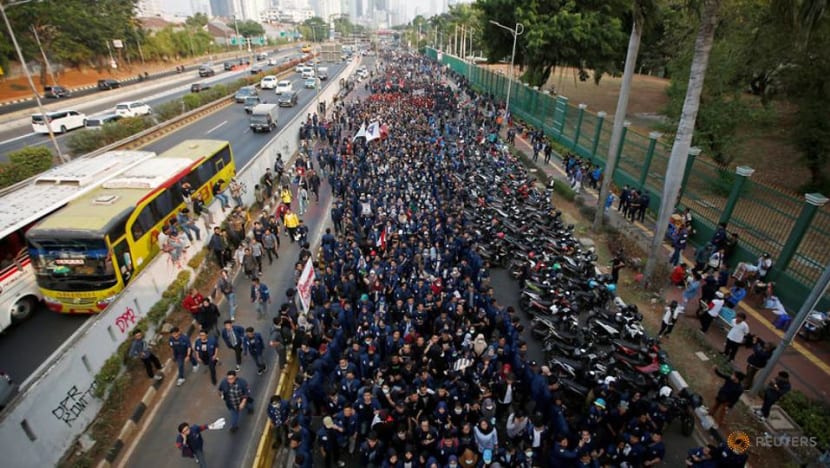 THOUSANDS OF POLICE ON STANDBY
Students, often wearing colourful jackets from their alma maters, gathered in cities across the country.
Protester Fuad Wahyudin, 21, said: "We're going to parliament to oppose the new law for the anti-corruption agency that are not pro-people but are pro-corruptors."
He added: "The criminal code is the same, it doesn't side with the people."

As for the proposed Bill, the mooted changes could affect millions of Indonesians, including gay and heterosexual couples who might face jail for having sex outside wedlock, or having an affair.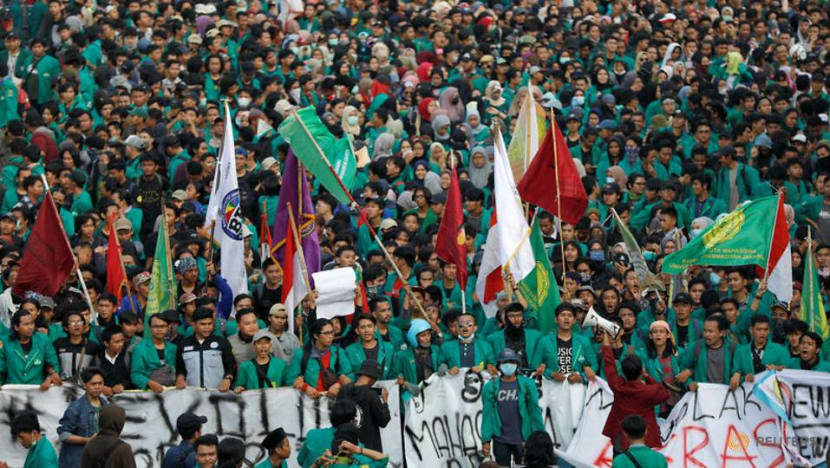 Students had stayed in front of Jakarta's parliament until nearly midnight on Monday, breaking part of the fence and blocking a toll road.
Media reports said more than 5,000 police personnel have been deployed to maintain security in Jakarta.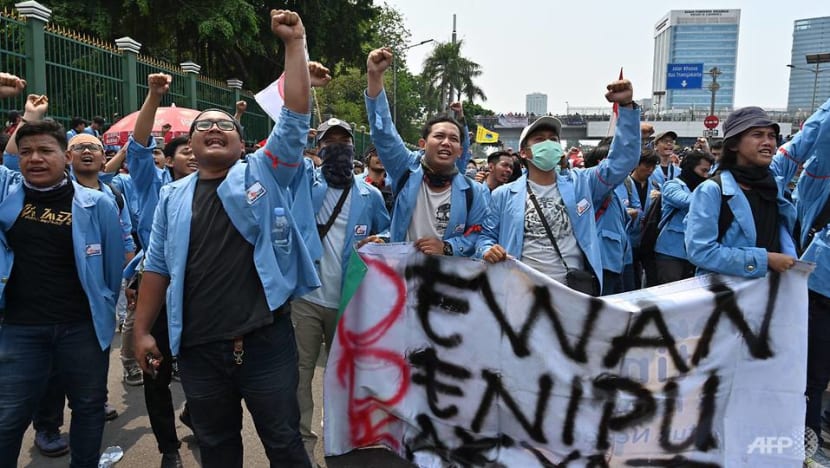 Updating Indonesia's criminal code, which dates back to the Dutch colonial era, has been debated for decades and appeared set to pass in 2018 before momentum fizzled out.

An online petition calling for the Bill to be scrapped garnered half a million signatures, while hundreds of thousands took to social media to vent their frustration.