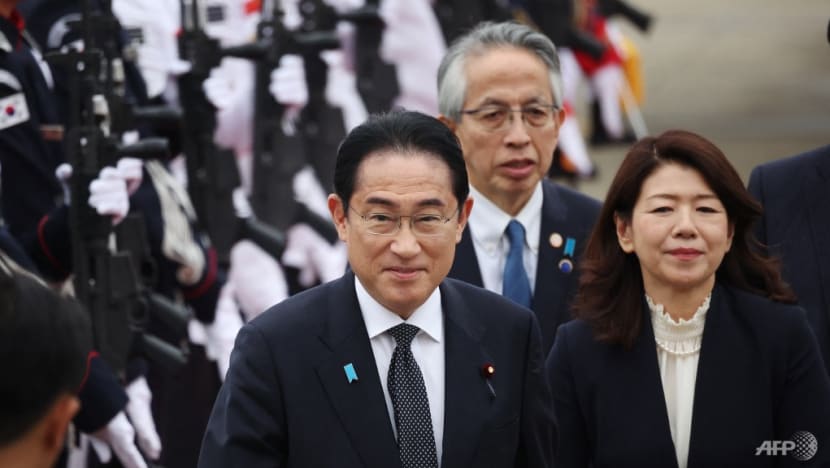 TOKYO/SEOUL: Japanese Prime Minister Fumio Kishida said Sunday (May 7) that his "heart aches" over South Korea's colonial-era suffering, as he hailed fresh efforts to mend Tokyo's long-strained ties with Seoul at a landmark summit.
"My heart aches as many people went through a very difficult and sad experience in the harsh environment at that time," Kishida said, speaking after a summit with South Korean President Yoon Suk-yeol in Seoul.
The East Asian neighbours, both crucial security allies of the United States, have long been at odds over historic issues linked to Japan's 1910 to 1945 colonial occupation of the Korean peninsula, including sexual slavery and forced labour.
The two countries have been locked in a tit-for-tat economic dispute since 2018, when South Korea's Supreme Court ordered Japanese firms to compensate the wartime victims of forced labour, enraging Tokyo.
But Yoon, who took office last year, has sought to bury the historical hatchet, earlier announcing a plan to compensate victims without direct involvement from Tokyo.
The move was unpopular domestically, including with victims who say it stops short of their demands for a full apology and compensation from the Japanese companies involved.
But Seoul says many of the victims have since accepted the deal.
Experts had predicted Tokyo would not offer a new apology, and Kishida stopped short of this, instead reaffirming the "heartfelt apology" made by previous administrations in Tokyo.
"When President Yoon visited Japan last March, I made it clear that I was inheriting the position of the previous cabinets related to recognising history," Kishida said, saying he stood by a 1998 agreement which included an apology for colonial-era woes.
"This government position will not be shaken in the future."
Yoon has said repeatedly that the two countries need to settle their historical disputes, telling AFP in March that it was long overdue that the two countries "end the vicious cycle of mutual hostility and work together" to improve regional security. 
The South Korean president stuck by that on Sunday. In his opening remarks at their meeting, he said: "Cooperation and coordination between South Korea and Japan are essential not only for the common interests of the two countries but also for world peace and prosperity in the face of the current severe international situation."
Kishida said it was his "responsibility as Japan's prime minister to inherit and continue the efforts of our predecessors who overcame difficult times and cooperate with the South Korean side, starting with President Yoon, to cooperate toward the future".
Kishida arrived in Seoul on Sunday morning to meet Yoon, facing a sceptical public there as the leaders seek deeper ties amid nuclear threats from North Korea and China's increasing assertiveness.
Kishida's bilateral visit, the first by a Japanese leader to Seoul in 12 years, returns the trip Yoon made to Tokyo in March, where they sought to close a chapter on the historical disputes that have dominated Japan-South Korea relations for years.
Soon before departing, Kishida told reporters he hoped to have "an open discussion based on a relationship of trust" with Yoon, without elaborating on specific issues.
Yoon is facing criticism at home that he has given more than he has received in his efforts to improve relations with Japan, including by proposing that South Korean businesses - not Japanese companies as ordered by a court - compensate victims of wartime labour during Japan's 1910-1945 colonial occupation.
South Korean officials are hopeful that Kishida will make some kind of gesture in return and offer some political support, although few observers expect any further formal apology for historical wrongs. Yoon himself has signalled he doesn't believe that is necessary.
The focus of the summit instead will likely revolve around security cooperation in the face of North Korea's nuclear threats, said Shin-wha Lee, a professor of international relations at Seoul-based Korea University.
"Within the framework of the 'Washington Declaration,' which outlines plans to strengthen extended deterrence, Korea will explore ways to enhance the collaborative efforts with Japan," she added.
"We have a lot of opportunities to cooperate when it comes to addressing the threat of North Korea" and securing a free and open Indo-Pacific, a Japanese foreign ministry official said.
Tensions have simmered between Washington and Beijing as China becomes more assertive in its territorial claims over Taiwan and in the South China Sea, while the US shores up alliances across the Asia-Pacific.
But the historical differences between South Korea and Japan also threaten to cast a shadow over the blossoming ties between its two leaders.
The majority of South Koreans believe Japan hasn't apologised sufficiently for atrocities during Japan's 1910-1945 occupation of Korea, Lee said. "They think that Prime Minister Kishida should show sincerity during his visit to South Korea, such as mentioning historical issues and expressing apologies," she added.
On the other hand, Japan is taking it slow, said Daniel Russel, former US assistant secretary of state for East Asia and the Pacific.
"Kishida is being careful not to go faster than his domestic politics permit," he added, pointing to the unilateral abrogation by the previous Korean government of a settlement on "comfort women" as a source of Japan's wariness.
In 2015, South Korea and Japan reached a settlement under which Tokyo issued an official apology to "comfort women" who say they were enslaved in wartime brothels, and provided 1 billion yen (US$9.23 million) to a fund to help the victims.
But then-South Korean President Moon Jae-in decided to dissolve the fund in 2018, effectively scrapping the agreement as he said it did not do enough to consider victims' concerns.
Still, South Korea is an "important neighbour that we must cooperate with on various global issues", Japan's foreign ministry has said.
Kishida has invited Yoon to the Group of Seven summit set for later this month in Japan and will hold trilateral talks with the US on the sidelines.
Kishida will also urge for trilateral talks with China as early as this year, Kyodo reported on Friday, citing multiple unnamed diplomatic sources.