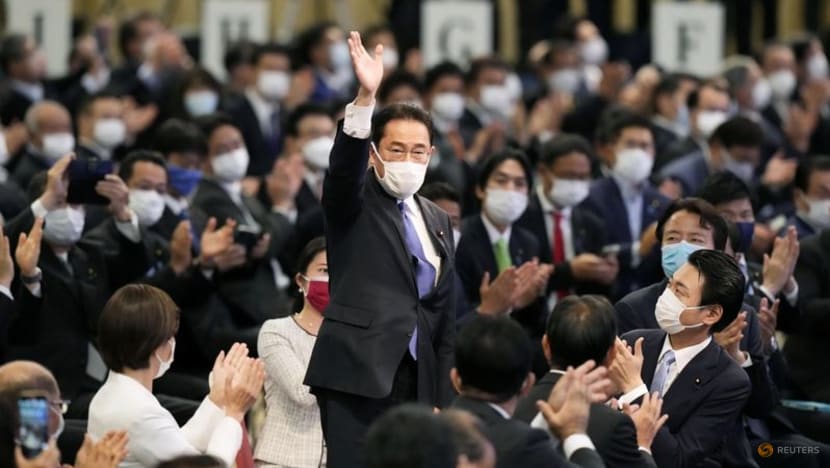 TOKYO: Japan's ruling Liberal Democratic Party (LDP) elected former foreign minister Fumio Kishida its new leader on Wednesday (Sep 29), setting him on course to become the next prime minister of the world's third-largest economy.
The soft-spoken centrist defeated popular vaccine chief Taro Kono in an unusually close race to succeed Prime Minister Yoshihide Suga, who decided to step down after just a year in office.
Kishida defeated Kono, a former defence and foreign minister, in a second-round run-off vote. Two female contenders, Sanae Takaichi, 60, and Seiko Noda, 61, dropped out after the first round.
The winner of the party poll is almost certain to become prime minister at a parliamentary session on Oct 4 because of the LDP's majority in the lower house.
"The LDP leadership election is over. Let us all face the lower house and the upper house elections as one," Kishida said.
"Our national crisis continues. We need to keep working hard on the coronavirus response with strong determination, and we need to compile tens of trillions of yen of stimulus package by the end of the year," he said.
Kishida is expected to form a new Cabinet and reshuffle the LDP executive in early October.
Local media reported, quoting LDP executives, that the lower chamber will likely be dissolved in mid-October, with the general election either Nov 7 or Nov 14.
A general election is due by Nov 28.
With masks on, the LDP's parliamentary members, including Suga and former prime minister Shinzo Abe, gathered in the ballroom of a Tokyo hotel to cast their votes from 1pm (12pm, Singapore time). Their ballot box was closed about 30 minutes after they voted in lines.
Last year, LDP factions rallied around Suga after Abe quit following his nearly eight-year tenure, citing ill health. But Suga's ratings tanked over his handling of the pandemic, prompting him to announce his departure.
While Kono had the highest numbers in public polls, Kishida has a bland image but a stronger support base from party members in parliament.
Japanese Finance Minister Taro Aso on Wednesday hailed Kishida's election, calling him a "good guy" with experience in domestic and foreign affairs.
"It was good that a good guy was elected," Aso, who doubles as deputy prime minister, told reporters.
Kishida's victory is unlikely to trigger a huge shift in policies as Japan seeks to cope with an assertive China and revive an economy hit by the pandemic, with the soft-spoken MP highlighting the need to focus on reducing income disparity.
He has said that Abe's "Abenomics", which sought to fix tattered finances by achieving high growth and boosting tax revenues, did not result in benefits trickling down.
Fiscal consolidation would be a major pillar of his policy, and Kishida has in the past voiced doubts over the Bank of Japan's ultra-loose policy, saying in 2018 that stimulus cannot last forever.
With the economy suffering from the pandemic, Kishida reversed course to say the BOJ must maintain its massive stimulus. He proposed a spending package of more than 30 trillion yen, adding that Japan likely would not raise a sales tax rate from 10 per cent "for about a decade".