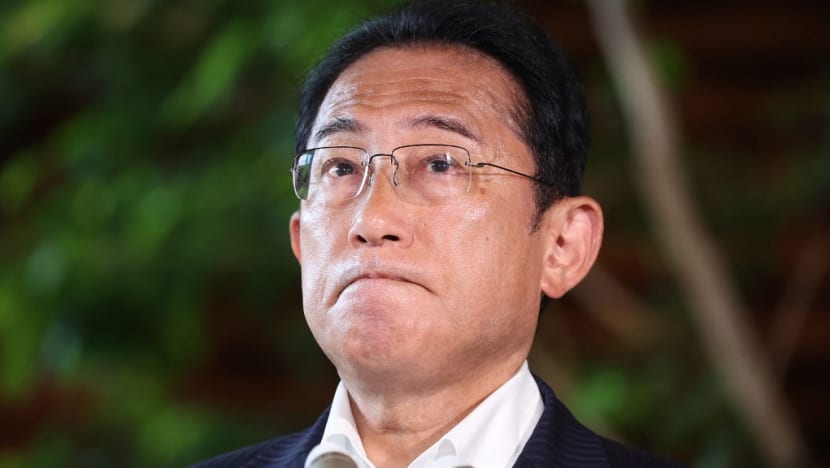 TOKYO: Japan's conservative coalition government increased its majority in the upper house of parliament in an election on Sunday (Jul 10), two days after the assassination of prominent LDP member and power broker, former premier Shinzo Abe.
Abe, Japan's longest-serving modern leader, was gunned down on Friday during a campaign speech in the western city of Nara in a killing that stunned a country where political violence and gun crime are rare.
Prime Minister Fumio Kishida's Liberal Democratic Party (LDP), of which Abe remained an influential lawmaker, and its junior partner Komeito won 76 of the 125 seats contested in the chamber, from 69 previously, according to an exit poll by public broadcaster NHK.
The LDP won 63 seats, up from 55, to win a majority of the contested seats, but not enough to take a single majority overall.
Elections for parliament's less powerful upper house are typically a referendum on the sitting government. Change of government was not at stake, as that is determined by the lower house.
But the strong showing could help Kishida consolidate his rule as he looks to steer Japan's recovery from the COVID-19 pandemic, keep a lid on rising consumer prices, and bolster defence at a time of tension with its powerful neighbour China.
Final results are due on Monday afternoon.
"It's significant we were able to pull this election together at a time violence was shaking the foundations of the election," Kishida, an Abe protege, said after the exit poll.
"Right now, as we face issues including the coronavirus, Ukraine, and inflation, solidarity within the government and coalition parties is vital," he added.
The party held a moment of silence for Abe at its Tokyo headquarters as members waited for results to come in.
The gains might allow Kishida to revise Japan's pacifist constitution, a dream Abe never achieved.
Analysts had predicted Abe's assassination might boost the LDP, led by Kishida.
The exit polls show parties open to revising the pacifist constitution were projected to maintain their two-thirds majority in the upper house. Most voters favour greater military strength, opinion polls show.
Kishida may move cautiously on constitutional change, but the apparent victory looked set to pave the way for more defence spending, a key LDP election promise, said Robert Ward of the International Institute of Strategic Studies.
Kishida "now has a green light for this", Ward said.
Asked about constitutional revision on Sunday evening, Kishida said he would focus on putting together a Bill to be discussed in parliament.
People close to Kishida have said his team also wants to gradually phase out "Abenomics", Japan's signature economic policy of government spending and monetary stimulus named after the ex-premier who started the experiment nearly a decade ago.
Kishida may now have the political capital to change course, analysts said, and is also likely to have three years to drive through legislation before another election needs to be held.
"Kishida may have more leeway in pursuing policies based on his ideas, though lawmakers who were close to Abe could rally and more vocally call for sustaining Abenomics," said Koya Miyamae, senior economist at SMBC Nikko Securities.
Abe's body arrived in Tokyo on Saturday from the western region where he was gunned down at close range a day earlier.
The assassination rattled the nation and sent shockwaves around the world, prompting an outpouring of sympathy.
The man accused of his murder, 41-year-old Tetsuya Yamagami, is in custody and has told investigators he targeted Abe because he believed the politician was linked to an unnamed organisation.
Local media have described the organisation as religious and said Yamagami's family had suffered financial trouble as a result of his mother's donations to the group.
"NO BIGGER REGRET"
Abe was campaigning for the LDP in the Nara region when Yamagami opened fire, and local police there on Saturday admitted "problems" with the security plan for the high-profile figure.
With little violent crime and tough gun laws, security at Japanese campaign events can be relaxed, though in the wake of Abe's murder, measures were beefed up for Kishida's remaining appearances.
Police have promised a "thorough investigation" into what the head of the Nara regional police called "problems with guarding and safety measures" for Abe.
"I believe it is undeniable that there were problems with the guarding and safety measures for former prime minister Abe," Tomoaki Onizuka told reporters on Saturday evening.
"In all the years since I became a police officer in 1995... there is no greater remorse, no bigger regret than this," the tearful police chief added.
Abe's office told AFP that a wake will be held on Monday night, with a funeral for family and close friends only on Tuesday. Local media said both were expected to be held at Tokyo's Zojoji Temple.