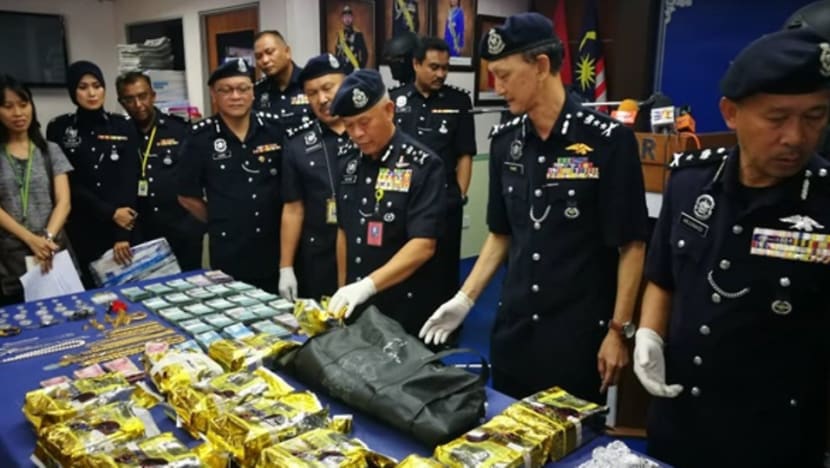 JOHOR BAHRU: Police in Johor have arrested 14 people and seized drugs and drug-related assets worth millions of ringgit after raids in several districts of the state over the weekend.
Nine Malaysian men, an Indonesian man and four Malaysian women were arrested in the raids which were carried out between Friday (Oct 12) and Sunday, said Bukit Aman Narcotics CID director Mohmad Salleh. The suspects were aged between 26 and 39 years.

Various types of drugs worth RM1 million and drug-related assets worth RM2 million were also seized. 

These included 16kg of suspected syabu (methamphetamine), 6kg of heroin, 250g of ketamine, 97 ecstasy pills, 12 yaba pills and an Eramin 5 pill.
The police also confiscated nine cars - a Jaguar XF, Toyota Vellfire, BMW, Ford Ranger, Mitsubishi Triton, Honda Accord, two Perodua Myvi and a Proton Wira - and a Yamaha R1 motorcycle.
In addition RM127,000 in cash, 34.5 million Indonesian rupiah (US$2,200) also in cash and watches and jewellery were also seized.
The raids were carried out at Jalan Teluk Buloh and Jalan Melur near Batu Pahat, Taman Austin Perdana, Bandar Baru Uda, Iskandar Puteri and Horizon Hills, Taman Renggam Jaya near Simpang Renggam and at Mersing Jetty.

Those arrested included a 34-year-old woman detained in Bandar Baru Uda, believed to be the "queen-pin of the syndicate", as well as a man in Taman Renggam Jaya believed to be the leader of "Gang 36" in Johor, said the director.

"The woman was detained under Section 6 (1) of the Dangerous Drugs (Special Preventive Measures) Act 1985 while the man has several drugs and criminal records related to the Prevention of Crime Act and the Security Offences (Special Measures ) 2012," he added.
In addition, one man arrested in Horizon Hills, who had a drug record, was also wanted by the Indonesian police for escaping from a prison in Bengkalis, Riau in Indonesia, said the director.

"Police believe the drugs were being supplied to neighbouring countries and that all the drugs here are enough for the consumption of 85,000 drug addicts," he added.
According to Mohmad, all the suspects have been remanded until Thursday to facilitate investigations under Section 39B of the Dangerous Drugs Act 1952, which carries a mandatory death sentence upon conviction.