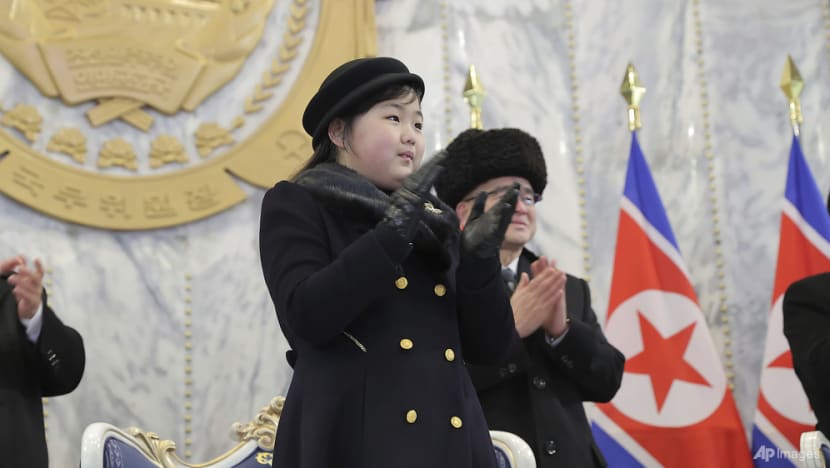 SEOUL: Sharing drinks, watching missile parades and dining with senior army commanders, North Korean leader Kim Jong Un's daughter was centre stage with her father and mother at major military events this week.
Her presence has added to speculation that she could be in line for a leadership position - maybe even the top job itself - in the nuclear-armed country's hereditary dictatorship.
She appeared on Wednesday alongside Kim at a massive military parade, where state media showed her marching with him and her mother, Ri Sol Ju, at the head of military commanders, sharing juice drinks and speaking in each other's ears as they observed the events.
The parade was the fifth known public appearance by Kim's daughter, Kim Ju Ae, his second-born child who is believed to be around 10 years old. 
It marked the 75th anniversary of the founding of North Korea's army and came after weeks of preparations involving huge numbers of troops and civilians mobilised to glorify Kim's rule and his relentless push to cement his country's status as a nuclear power.
North Korean state TV video released Thursday showed Kim, wearing a black coat and fedora, arriving at the parade with his wife and daughter in a limousine. They received thunderous cheers from thousands of troops and spectators packed in brightly illuminated Kim Il Sung Square, named after his grandfather, the nation's founder.
After saluting his honor guards, Kim held hands with his daughter as they walked down a red carpet. The family entered a building where they sat on a leather couch, chatting and sharing snacks and drinks with top officials as they waited for the main march to start.
Troops and spectators roared again as Kim appeared from behind the building as the clock struck 9pm. He smiled and waved to the crowds below before taking his spot on a balcony, with his wife and daughter sitting behind him.
Wednesday night's parade in the capital, Pyongyang, featured the newest hardware in Kim's growing nuclear arsenal, including what experts said was possibly a new solid-fuel intercontinental ballistic missile he could test in the coming months.
A day earlier, Kim's wife and daughter were once again with him as he wined, dined and flattered military commanders at a lavish banquet commemorating this week's army foundation anniversary.
State media have signaled a lofty role for Kim Ju Ae. She has been called "respected" and "beloved," and a photo released Wednesday showed her sitting in the seat of honor at a banquet, flanked by generals and her parents.
"For all we know this is just him doting on a favourite child, but the more that she shows up, the more it seems that she's either being fully groomed for leadership or at least floated as a possibility," said Mason Richey, a professor at Hankuk University of Foreign Studies in Seoul.
What is more clear is a message that the country's nuclear weapons are for posterity, and she's a part of that, he added.
"So another way of signalling that denuclearisation is totally off the table," Richey said.
Rachel Minyoung Lee, a North Korea expert with the Vienna-based Open Nuclear Network, said it is premature to conclude that Ju Ae is being prepared for leadership, but agreed that her presence at exclusively military events suggests the main purpose is to underscore the importance of continued weapons development for the security of future generations.
"The North Korean leadership probably has to make the case for why the country has to keep investing in national defence in spite of the deteriorating economic conditions," Lee said. "And no propaganda can be more potent than the leader's young daughter to convey that message."