Bulletproof and luxurious: Inside the special train that Kim Jong Un uses for overseas trips
North Korean leader Kim Jong Un's private train is said to be a luxury ride equipped with weapons. It continues the tradition of rail travel by the Kim dynasty of leaders.
SINGAPORE: Kim Jong Un's rare overseas visit to Russia for a meeting with President Vladimir Putin has drawn attention to his mode of travel - a private train that is said to be heavily armoured and luxurious.
The trip to Russia's Far East – Kim's first abroad since 2019 – will take about a day.
Such rail journeys have long been a feature of North Korean diplomatic trips, and the trains that have carried the country's leaders are as enigmatic and speculated about as most other aspects of the country.
Here is what we know about Kim's train.
It is continuing a family tradition
Kim's father Kim Jong Il and grandfather Kim Il Sung both loved trains and often travelled by rail during their tenures as North Korea's leader, according to a 2019 Reuters report.
Kim Il Sung, the country's founding leader, travelled abroad by train regularly until his death in 1994.
Among his journeys were a trip to Beijing in 1958 where he transferred to a plane to Vietnam, and a trip around Eastern Europe via the Soviet Union in 1984.
Kim Jong Il took a memorable three-week rail trip to Moscow in 2001, with the journey recounted in a 2002 book by Russian official Konstantin Pulikovsky.
The second Kim would in fact die of a heart attack on a train in 2011, according to North Korean state media.
Kim Jong Un himself made a trip to Russia in 2019 similar to his current excursion, having travelled by train to Vietnam earlier in the year to meet then-United States president Donald Trump.
Two of his four visits to China in 2018 and 2019 – including his first trip out of North Korea as its leader – were also made by rail.
There is heavy security around it
The Kims reportedly have several almost identical special trains made by a factory in Pyongyang.
Nicknamed the "moving fortress", Kim's current train has bulletproof windows and reinforced walls and floors to protect against explosives, according to Seoul's unification ministry.
"It is equipped with attack weapons and a helicopter for escape in case of emergency," the ministry said. 
But these features are not the only lines of defence.
According to a 2009 report by South Korean daily the Chosun Ilbo on Kim Jong Il's train, it travelled in a convoy of sorts, between two other trains.
The train in front took care of security while the train behind carried bodyguards and other support personnel.
While in North Korea, Kim Jong Il's train would stop at stations specifically built for his use, and when his train approached these stations, the power on other tracks would be shut off to prevent other trains nearby from moving.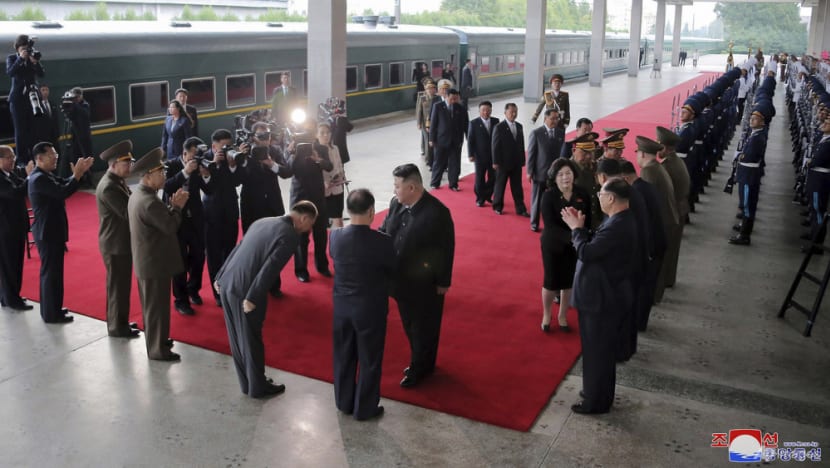 It is luxurious and well-equipped
In a 2019 report on Kim Jong Un's trip to Vietnam, Reuters said that his train had 21 carriages equipped with all-white conference rooms, dining cars and sleeping quarters.
A carriage seen in North Korean state media footage from his first trip to China was furnished with pink leather chairs and ivory-coloured curtains. It also had a large TV.
Reuters also said that the train had satellite phone connections so that Kim could keep abreast of developments and issue orders, and, according to South Korea's Joong Ang Ilbo newspaper, it had a carriage loaded with one of his Mercedes-Benz limousines.
While the train travelled at about 45kmh domestically, it was able to hit 80kmh on China's tracks. 
Seoul's unification ministry said the slow speed was due to the weight of all the extra equipment.
In Pulikovsky's account of Kim Jong Il's 2001 trip, his train was stocked with cases of Bordeaux and Beaujolais wine flown in from Paris, along with live lobsters.
It was a point noted by Woodrow Wilson International Center for Scholars fellow Sung-Yoon Lee.
"This luxurious train, bulletproof, is stocked with very lavish trappings. Fancy dining room," he told the Associated Press.
"When Kim Jong Il travelled by train to Moscow in 2001, he had lobsters flown in during his visit."
It makes a statement
The pageantry of train travel has played a role in Kim Jong Un's affection for it, former South Korean intelligence official Nam Sung-wook told Reuters in 2019.
It helped him in "putting on a big show" and projecting the image of himself that he wanted to project.
Lee shared the same view.
"We know that the Kim royalty have always led a lavish, extravagant life," he said.
"And I guess Kim Jong Un feels that he comes across as more (of) a statesman, taking his time while travelling overseas, if he travels by train like his father."
It could be seen as a "safer" alternative to flying
According to a 2010 Reuters report citing one of his former bodyguards, Kim Jong Il had a fear of being shot down while flying and never travelled by plane.
He travelled abroad exclusively by train and would use a car or a ship to tour North Korea.
Lee believes that Kim Jong Il's view of air travel persists in the present day.
"We think that Kim Jong Il's penchant for taking the train was perhaps out of fear of flying and being shot down, which, of course, resonates today," he said.
Kim Jong Un has, however, not shown a total aversion to air travel, flying to China and Singapore in 2018.
His trip to the Chinese city of Dalian that year marked the first time that a North Korean leader had publicly travelled by air since 1986, according to the Asahi Shimbun.