Japan's Prime Minister Fumio Kishida pledged on Friday (Jun 10) to boost its regional security presence to counter multiple threats, from China's expansion in the South China Sea to North Korea's nuclear missile programme.
Speaking at the Shangri-La Dialogue in Singapore, he said in his keynote speech that Russia's invasion of Ukraine had shaken the "foundations of the international order", leaving the world at a crossroads.
He added that Japan would enter a new era of "realism diplomacy", another step by Tokyo to distance itself from its post-World War Two pacifism and step out of the shadow of the United States, its main ally, to take a bigger role in regional security where it faces China, North Korea and Russia.
"We will be more proactive than ever in tackling the challenges and crises that face Japan, Asia, and the world," Mr Kishida said.
"Taking that perspective, in order to maintain and strengthen the peaceful order in this region, I will advance the 'Kishida Vision for Peace' and boost Japan's diplomatic and security role in the region."
Japan has become alarmed at growing Chinese military activity in the East China Sea and around Taiwan. It is also wary of Beijing's military ties to Moscow.
His country's active diplomacy, Mr Kishida said, will be backed up by a commitment made earlier this week to drastically raise defence spending over the next five years and with aid to countries in Asia, including patrol boats for Southeast Asian nations and the Pacific islands to help them guard maritime security.
He said Japan was considering the acquisition of counter strike weapons to deter potential enemies from attacking, a controversial proposal in a country that gave up the right to wage war after its defeat in World War II.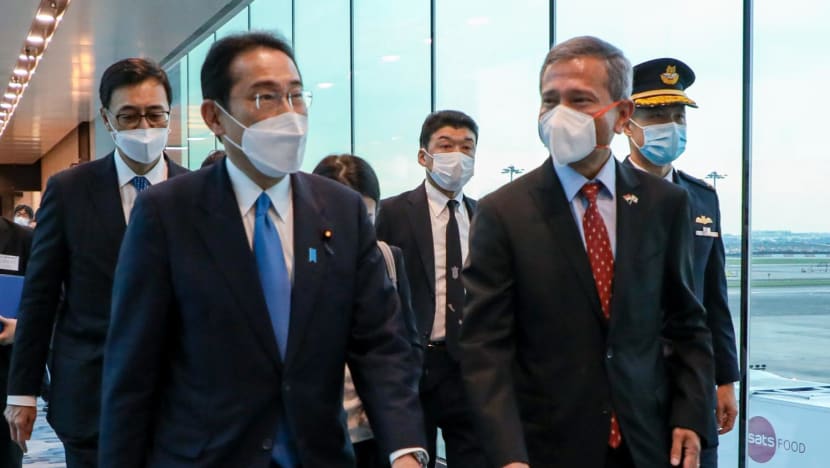 COLLABORATION WITH ASEAN "ABSOLUTELY ESSENTIAL"
In the Indo-Pacific region, collaboration with the Association of Southeast Asian Nations (ASEAN) is "absolutely essential", he said.
He added that he has visited Cambodia, Indonesia, Vietnam, Thailand and now Singapore since he became prime minister. He has also held meetings with leaders of ASEAN countries, he said.
"The history of Japan and Southeast Asia is underpinned by a long history of goodwill and friendship," he said.
"After the war, Japan supported the development of Southeast Asia, and Southeast Asian countries extended a helping hand to Japan in its recovery from the unprecedented earthquake and tsunami disaster."
Along with the ASEAN countries, the Pacific Island countries are also important partners for the "realisation of a free and open" Indo-Pacific region, said the prime minister.
"We will contribute to strengthening the foundation for their sustainable and resilient economic development, including addressing the existential challenge of climate change," he added.
"We have provided timely assistance in response to recent changes in the security environment, such as laying an undersea cable in east Micronesia in partnership with Australia and the US, and we will work together with our Pacific Island partners to ensure a rules-based sustainable maritime order."
Cooperation based on a free and open Indo-Pacific region is "cooperation built upon long-standing trust", said Mr Kishida.
"It is not limited to hardware, such as infrastructure construction, but instead also focuses on supporting the development of local human resources, promoting autonomous and inclusive development, and fostering industry through public and private initiatives as potential investment partners," he added.
It is also necessary for countries to work together to increase the investment of resources in the region, he said, pointing to how Japan, Australia, India, and the US will seek to extend US$50 billion (S$69 billion) of further infrastructure assistance and investment in the Indo-Pacific region over the next five years.
This funding will be "essential" in promoting productivity and prosperity in the region, he said.
Mr Kishida said he will accelerate these efforts by enhancing diplomatic efforts.
"I will lay out a Free and Open Indo-Pacific Plan for Peace by next spring, which will strengthen Japan's efforts to further promote the vision of a free and open Indo-Pacific, with an emphasis on providing patrol vessels and enhancing maritime law enforcement capabilities, as well as cyber security, digital and green initiatives, and economic security," said the prime minister.
NORTH KOREA
Mr Kishida also spoke about the threat posed by North Korea, which has carried out at least 18 rounds of weapons tests this year, underscoring its evolving nuclear and missile arsenals.
Describing North Korea as a clear and serious challenge to the international order, he expressed disappointment that the UN Security Council had failed to act against Pyongyang because of the ability of members to veto resolutions. Japan, he said, would seek to reform the body.
Source: Agencies/CNA/mi/ja