China's defence minister under investigation for corrupt procurement, being removed from post: Reports
Li Shangfu has not been seen in public for more than two weeks, fuelling speculation about his position as defence minister.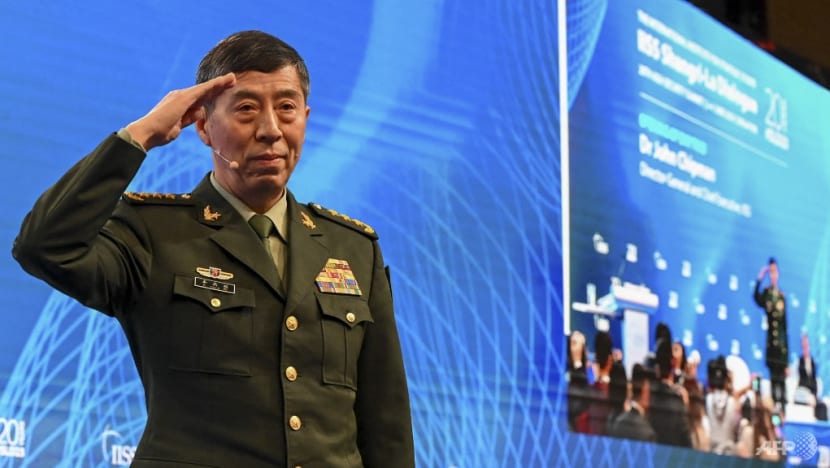 WASHINGTON: Suspicion over the unexplained absence of Chinese defence chief Li Shangfu deepened on Friday (Sep 15), as Western media reported that he was subject to a corruption probe and a top American diplomat questioned whether he had been placed under house arrest.
Li, 65, was last seen in Beijing on Aug 29 delivering a keynote address at a security forum with African nations. 
The US government believes Li has been placed under investigation, the Financial Times reported on Friday. The Times reported that three US officials as well as two people briefed on intelligence said Washington determined that Li had been stripped of his duties as minister.
The Wall Street Journal reported he had been taken away last week for questioning and removed from his post.
Neither report stated the reasons behind the investigation. 
Reuters, citing 10 people familiar with the matter, on Friday said Li has been placed under investigation by Chinese authorities.
The investigation into Li relates to the procurement of military equipment, according to a regional security official and three people in direct contact with the Chinese military. Reuters was unable to obtain details on which equipment purchases were under scrutiny.
Eight senior officials from the Chinese military's procurement unit, which Li led from 2017 to 2022, are also under investigation, according to two of the people in direct contact with the military. 
The probe into Li, who was appointed to his post in March, and the eight officials is being carried out by the military's powerful disciplinary inspection commission, those two people said.
Reuters' detailed examination of the allegations against Li and the timing of the probe is based on interviews with sources who interact regularly with senior Chinese political and defence leaders, and regional officials with close knowledge of Chinese politics.
Rahm Emanuel, Washington's outspoken ambassador to Japan, stated on social media late on Thursday Washington time that Li "hasn't been seen or heard from in 3 weeks", and that the minister might have been placed under house arrest.
The White House has not publicly addressed the matter.
It is the latest sign of potential turmoil in Beijing after Chinese foreign minister Qin Gang inexplicably disappeared and was ousted from his post in July.
China also replaced the leadership of its Rocket Force, the army unit that oversees its nuclear arsenal, in July, with its former commander Li Yuchao not seen in public for weeks before the change and official media Xinhua giving no explanation for his removal.
China's defence ministry did not immediately respond to requests for comment. 
Asked whether Li was under investigation, foreign ministry spokesperson Mao Ning said she was "not aware of the relevant information".
The White House has not publicly addressed the matter, while the US embassy in Tokyo said it did not have immediate further comment.
Li was appointed to his post in March. Like Qin, he is also one of China's five State Councillors, a Cabinet position that ranks higher than a regular minister.
As of Friday morning, Li's photo and biography were still visible on the website of the Ministry of National Defense.
In a rare notice in July, the military's procurement unit said it was looking to "clean up" its bidding process and invited the public to report irregularities dating back to 2017. There has been no update on possible findings.
Li's absence is being particularly closely watched by the United States, which has not dropped sanctions imposed on him in 2018 for buying weapons from Russia's largest arms exporter, Rosoboronexport.
Chinese officials have repeatedly said they want those sanctions dropped to facilitate better discussions between the two sides' militaries. US Secretary of Defense Lloyd Austin attempted talks with Li during a defence conference in Singapore in June, but did not get beyond a handshake.
Li has refused to hold meetings with US counterparts until Washington lifts sanctions on him.
The latest apparent removal of an elite Chinese official from public view led Ambassador Emanuel, who has been openly critical of Chinese President Xi Jinping, to fuel speculation about the issue on Sep 7 and again one week later.
"President Xi's cabinet lineup is now resembling Agatha Christie's novel And Then There Were None. First, Foreign Minister Qin Gang goes missing, then the Rocket Force commanders go missing, and now Defense Minister Li Shangfu hasn't been seen in public for two weeks," Emanuel posted last week on X, the former Twitter, using the hashtag #MysteryInBeijingBuilding.
On Thursday he openly questioned whether Beijing authorities have restricted Li's movements.
"1st: Defense Minister Li Shangfu hasn't been seen or heard from in 3 weeks. 2nd: He was a no-show for his trip to Vietnam," he posted on his official ambassador account.
"Now: He's absent from his scheduled meeting with the Singaporean Chief of Navy because he was placed on house arrest???...Might be getting crowded in there."
Wen-Ti Sung, political scientist at the Australian National University, said while Li had been a "roadblock" in US-China military relations his unexplained absence is problematic for China's international relations in other ways.
"Other countries will be wondering something as basic as whose number to call when they want to set up military dialogues with China," he said.
Li had been due to attend an annual gathering on defence cooperation hosted by Vietnam on its border with China from Sep 7 to Sep 8, but the meeting was postponed after Beijing told Hanoi days before the event that the minister had a "health condition", two Vietnamese officials said.