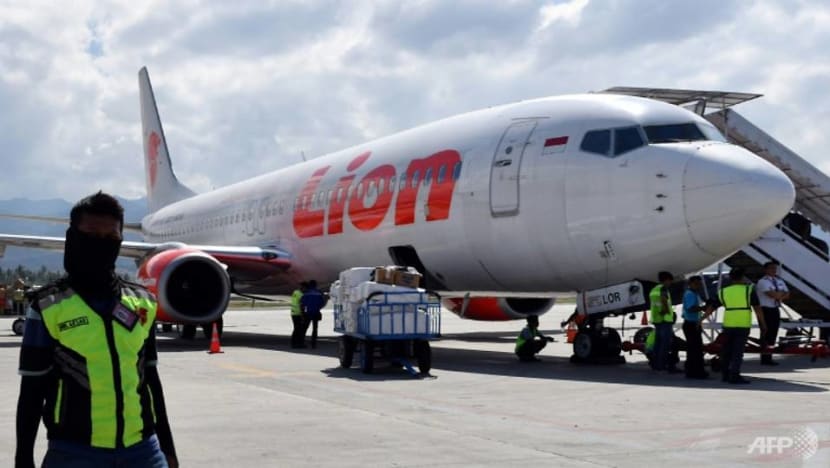 JAKARTA: Indonesia's aviation safety record has come under the spotlight again after a Lion Air flight with 189 people on board crashed into the sea off Indonesia's island of Java on Monday morning (Oct 29).
Flight JT610 was en route to Pangkal Pinang from Jakarta when it lost contact 13 minutes after takeoff. 
Indonesia, which relies heavily on air transport to connect its thousands of islands, has seen several fatal crashes in recent years.

Last year the Indonesian air traffic controllers association revealed that the rate of take-off and landings in Jakarta allowed by state-run air navigation company AirNav was more than the airport could handle, increasing the chance of accidents.
The country's carriers have also in the past faced years-long bans from entering European Union and US airspace over their safety records.
Recently, a 12-year-old boy was the sole survivor of a plane crash that killed eight people in mountainous eastern Indonesia in August.
In August 2015, a commercial passenger aircraft operated by Indonesian carrier Trigana crashed in Papua due to bad weather, killing all 54 people on board.
In 2014, an AirAsia plane crashed with the loss of 162 lives. Indonesian investigators' final report showed a chronically faulty component in a rudder control system, poor maintenance and the pilots' inadequate response were major factors in what was supposed to be a routine flight from the Indonesian city of Surabaya to Singapore.
PAST LION AIR INCIDENTS

Privately owned budget carrier Lion Air was founded in 1999 and its only fatal accident to date was when a MD-82 crashed upon landing at Solo City in 2004. 
Two dozen people were killed when the flight from Jakarta skidded off a rain-slicked runway after landing. 

However, six other Lion Air jets, including one that crash-landed in the water short of the runway at Bali in 2013, were damaged beyond repair in various accidents, according to Aviation Safety Network.
In June, Lion was among three major Indonesian airlines that had their safety ranking upgraded to seven stars by global rating agency AirlineRatings.com.

Last year one of its Boeing jets collided with a Wings Air plane as it landed at Kualanamu airport on the island of Sumatra, although no one was injured.
In May 2016, two Lion Air planes collided at Jakarta's Soekarno-Hatta airport, while a month earlier a plane operated by Batik Air - part of the Lion Group - clipped a TransNusa plane.
In 2013, a Lion Air jet with a rookie pilot at the controls undershot the runway and crashed into the sea in Bali, splitting the plane in two. Several people were injured in the crash, although no one was killed.
In 2004, two dozen people were killed when a Lion Air flight from Jakarta skidded off a rain-slicked runway after landing in the Central Java city of Solo.

"The industry has grown very quickly and keeping pace with that growth is challenging in keeping the safety culture intact," said Greg Waldron, the Asia managing editor of industry publication FlightGlobal, which keeps an accident database.
If all on board prove to have died on Monday's crash, it would rank as Indonesia's second-worst air disaster, after a Garuda Indonesia A300 crash in Medan that killed 214 people in 1997, he said.