'Everyone was crying': Lion Air crash victims' families grow frustrated as authorities scramble for information
Indonesian authorities vowed to continue the search and rescue operation throughout the night and early morning, with only the diving mission suspended until first light.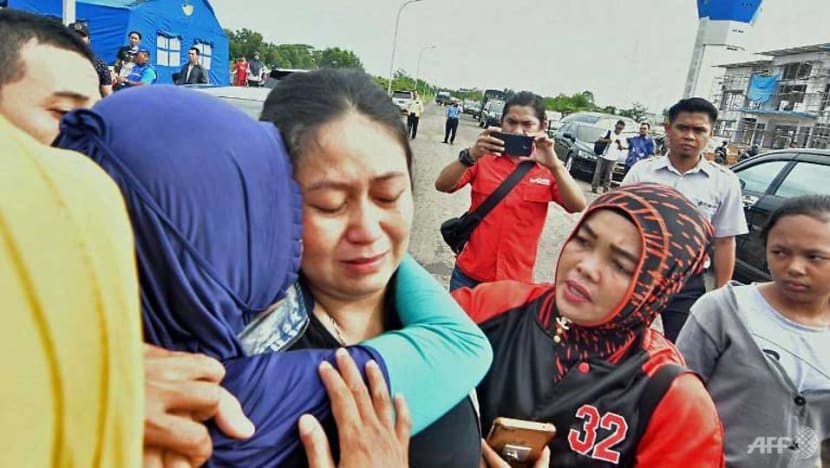 JAKARTA: Families of passengers on board a Lion Air aircraft that crashed outside the Indonesian capital on Monday (Oct 29) continued to gather and wait anxiously for information late into the night at a crisis centre set up at Jakarta's international airport.
The Boeing 737 MAX headed for Pangkal Pinang crashed just 13 minutes after takeoff from Jakarta's Soekarno Hatta airport at 6.20am. Crew on board a tugboat at sea said they witnessed an aircraft fall from the sky, and shortly after, debris was found scattered in the water, including mobile phones, handbags, life jackets and body parts.
"At 06.22 the pilot contacted Jakarta Control and conveyed a problem with flight control when flying at an altitude of 1,700ft and asked to rise to an altitude of 5,000ft," said Haryo Satmiko, deputy chairperson of the National Transportation Safety Committee (KNKT).
"At 06.32, Jakarta Control lost contact with the aircraft."
Authorities said there were no reports of survivors and there was little hope of finding any of the 189 passengers and crew on board alive.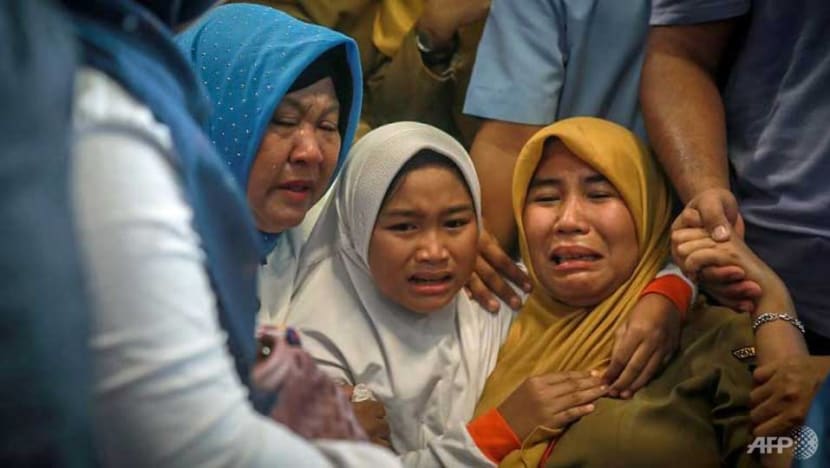 Keshia Aurelia, 14 - whose mother was on board flight JT610 - waited with dozens of other families at a makeshift crisis centre for information throughout the day, but already has grown frustrated at the lack of updates from officials.
She said relatives of those on board were forced to search for updates online about the search and death toll as there were no televisions available to them.
"We have been here the whole day but we get nothing. The number of victims is also unclear and we have to find it on the Internet. There were some people who threw a tantrum, saying that we don't need food but information," Keshia said.
She explained that she learned of the accident from her school teacher but initially had no idea her mother, who was visiting a relative in hospital, was on board.
"I went downstairs and saw my friends cry. I thought there was an accident to my uncle because my mum flew to see him. It turns out it was my mum.
"Everyone was crying. We are all very shocked and didn't expect that my mum will be gone this fast. Everyone is grieving but we have to be strong."
Indonesian authorities vowed to continue the search and rescue operation throughout the night and early morning, with only the diving mission suspended until first light. A remotely operated underwater vehicle was available to be deployed to detect wreckage on the seabed.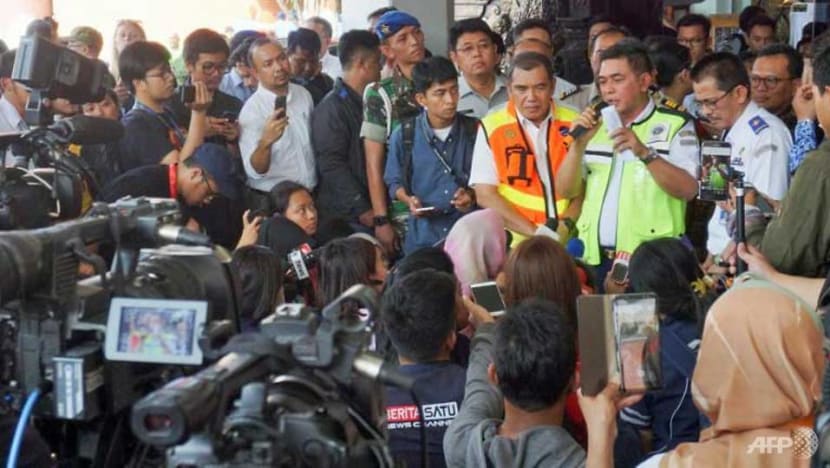 "We are all out. We are exerting all our efforts to find where the aircraft is located," said brigadier general Bambang Suryoaji, the director of operations for BASARNAS, Indonesia's national search and rescue agency.
Debris from the aircraft will be examined for clues to the cause of the crash, with a focus on the aircraft's performance given it was only delivered to Lion Air in August and was fitted with world-class technology. Finding the plane's black box will be a key focus for recovery teams.
There were no thunderstorms over the local area where the plane came down and both the pilots had logged thousands of hours of flying experience.
Boeing will provide technical assistance to help determine the cause of the incident, while Malaysia and Singapore have also offered to help with the investigation.
Lion Air Group chief executive Edward Sirait confirmed a recent mechanical problem with the aircraft, but said it had been cleared to fly by engineers.
"The plane indeed had an issue based on the logbook written by the pilot previously and then they fixed it in Ngurah Rai. After that it was released to fly," he told local media.
"The pilot flew and then when he felt something wrong asked to return to base. What we don't know is that why he asked that.
"We received photos that there is plane debris but there is no actual main body of the plane, so we are still waiting on the updated information."
Family members of the passengers from Pangkal Pinang have been flown to Jakarta to provide DNA, which will assist in the identification of victims. At least six bodies had been retrieved as of Monday night.