PM Anwar warns against race and religious rhetoric in Malaysia, puts security agencies on alert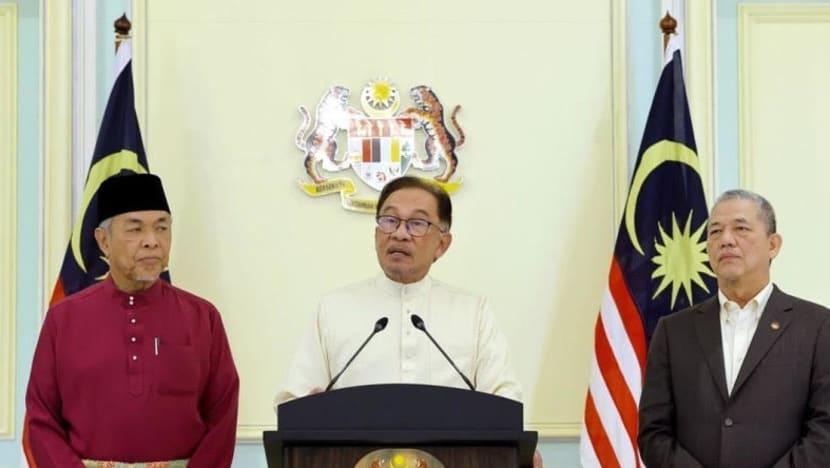 KUALA LUMPUR: Malaysian Prime Minister Anwar Ibrahim on Friday (Mar 17) warned against the fanning of racial and religious flames in the country. 
This came after a programme organised by the youth ministry for people to visit places of worship to learn about other religions had stirred debate.
"I will not tolerate this. Any effort by anyone who tries to … heat up the racial or religious temperature in this country will not be allowed," Mr Anwar told a press conference after a Cabinet meeting. 
Mr Anwar also said that security agencies have been ordered to stay alert for situations that could fan racial or religious flames.  
"I have instructed all security agencies to be alert because people who feel desperate or threatened will use this sentiment and it is the poor who will be exploited to create chaos," he said. 
In response to groups claiming that the government should not be involved in organising visits to mosques, Mr Anwar said that any disagreement should be settled through dialogue.
"If there are some issues that arise, they should be resolved well so that there is no enmity or misunderstanding or suspicion. 
"These include the issue raised recently about how visits to mosques should not involve the government at all, but if there are any rules that were violated or if anything causes some degree of racial sensitivity, it should be resolved through negotiation," said Mr Anwar. 
He added that all religions have the right to exist in the country. 
"Islam is the religion of the federation … (and it is also) guaranteed in the federal constitution from the beginning, the freedom and right of all other religions," said Mr Anwar. 
On Friday, Selangor Islamic Religious Council's (MAIS) chairman Abdul Aziz Bin Mohd Yusof also criticised the programme, saying that it could "subtly and unknowingly influence" Muslim youth to be attracted to a faith that is not Islam. 
"From perusing the advertisements and pamphlets distributed, MAIS believes that this programme has elements that can attract the interest of the youth, especially Muslim youth, to study or acquire knowledge related to religions other than Islam," said Mr Abdul Aziz in a statement. 
He added that in the state of Selangor, any programme which aims to persuade or influence any Muslim to tend to or have interest in a non-Muslim religion is strictly prohibited and is an offence under the Non-Islamic Religions (Control of Propagation Among Muslims) Enactment 1988. 
Mr Abdul Aziz noted that while the programme is now limited to non-Muslim youth, as mentioned by Minister of Youth and Sports Hannah Yeoh in parliament, online leaflets and advertisements have not yet been amended to reflect the change. 
"MAIS takes the opportunity here to advise any organisers, whether from the public sector, non-government organisations or other bodies that intend to hold activities and programmes on the basis of unity and harmony, to be more careful and take care of the sensitivity of Muslims and communities in the country," he said.
On Sunday, a Malay rights event is set to take place in Kuala Lumpur, with former prime minister Mahathir Mohamad in attendance as the guest of honour. 
The organiser of the "Malay Proclamation", a group called Sekretariat Tanah Air, was quoted as saying by Free Malaysia Today that the event is not a political event but a space to discuss issues pertaining to the Malay community.