Malaysia unveils expanded budget to spur post-pandemic recovery
The budget for 2022 is the largest ever in Malaysia, according to the finance minister.
KUALA LUMPUR: Malaysia announced an expanded budget on Friday (Oct 29) aimed at jump-starting its pandemic-battered economy in 2022, according to the government's fiscal and economic outlook reports laying out the budgetary details.
Fresh COVID-19 lockdowns have dampened recovery, with the Southeast Asian country slashing its 2021 growth outlook twice to 3 per cent to 4 per cent this year, but a ramped-up vaccination drive and gradual reopening have boosted hopes of a quick turnaround.
The budget is also expected to set the stage for a general election that could be called by the middle of next year. Malaysia's next polls are due by 2023.
The government plans to spend RM332.1 billion (US$80.06 billion) in 2022, up from RM320.6 billion this year, despite lower-than-expected revenue and a widening deficit in 2021, one of the reports said.
"In the past 19 months or so, the government has repeatedly proven that despite our tight fiscal space, we delivered as best as we could," Prime Minister Ismail Sabri Yaakob said in his foreword to the government's 2022 fiscal outlook report released ahead of the budget.
"However, when it comes to strengthening our fiscal position, ultimately it depends on a sustained economic recovery."
Malaysia has rolled out RM530 billion worth of stimulus packages to soften the pandemic's blow, as coronavirus curbs weighed on revenue - targeted to come in at RM221 billion this year, 6.7 per cent short of initial estimates.
But it expects economic growth to accelerate to between 5.5 per cent to 6.5 per cent next year, driven by further reopening of the economy and improved external demand, the report showed.
Its fiscal deficit is also expected to moderate to 6 per cent in 2022, after climbing to 6.5 per cent this year.
Next year's spending increase includes a hefty 21.9 per cent jump in development expenditure, to RM75.6 billion, while operating expenses will rise 6.3 per cent to RM233.5 billion.
Revenue is seen expanding 5.9 per cent to RM234 billion ringgit in 2022, including RM25 billion in dividends from state energy firm Petronas, unchanged from the 2021 dividends.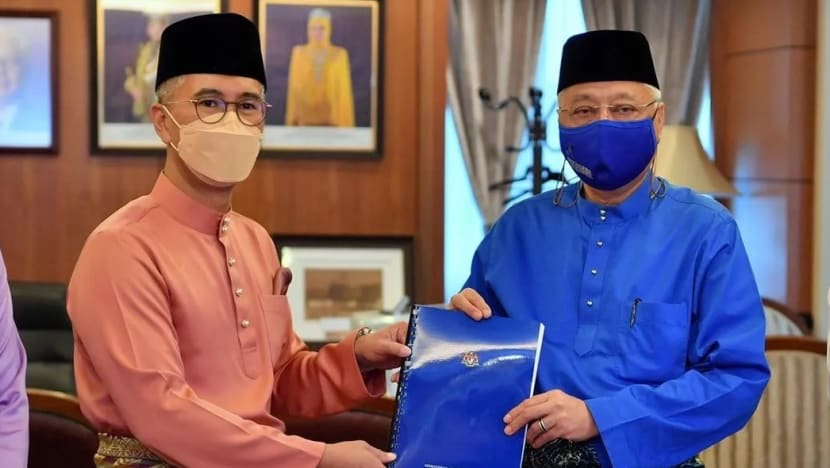 LARGEST EVER BUDGET: FINANCE MINISTER 
In his budget speech in the parliament, Finance Minister Tengku Zafrul Tengku Abdul Aziz said the 2022 budget is the largest ever. 
The economic growth of between 5.5 and 6.5 per cent is based on strong economic fundamentals and diversified economic structure, he said. 
"However, this performance also depends on other factors, such as the success of pandemic control, the effectiveness of the implementation of vaccination programmes as well as the strength of the world's economic and trade prospects," he said.  
As the country prepares to enter COVID-19 endemic phase, the Health Ministry has been allocated RM32.4 billion for its expenses, the minister added. 
An additional RM4 billion has been set aside to combat COVID-19, with RM2 billion to fund the vaccination programmes and the remaining RM2 billion to enhance the capacity of public health service facilities.
MINISTERS WELCOMED BUDGET 2022 
Cabinet ministers welcomed many of the initiatives proposed in the 2022 budget.  
Senior Minister for International Trade and Industry Mohamed Azmin Ali said several initiatives in the budget could facilitate more foreign investments into Malaysia, especially high-tech multinational corporations. 
He said his ministry expects to attract RM200 billion worth of investments and create an estimated 114,000 jobs. 
"Most of the foreign direct investments (FDI) are expected to come from the manufacturing sector, which is about RM140 billion," said Mr Mohamed Azmin as quoted by the Star.
Senior Minister for Education Radzi Jidin said the RM52.6 billion allocation for the Ministry of Education, which is the largest component in the budget, will be fully utilised to ensure a vibrant educational ecosystem in the country. 
Defence Minister Hishammuddin Hussein said the RM16 billion allocation for his ministry will be fully utilised for the benefit of the country's defence sector, and to fulfil the aspirations of the "Malaysian Family", especially for the armed forces personnel, veterans and its civilian staff.
He described the budget as "inclusive, all-encompassing" and one that is from the people, by the people and for the people.
Source: Reuters/CNA/lk(tx)