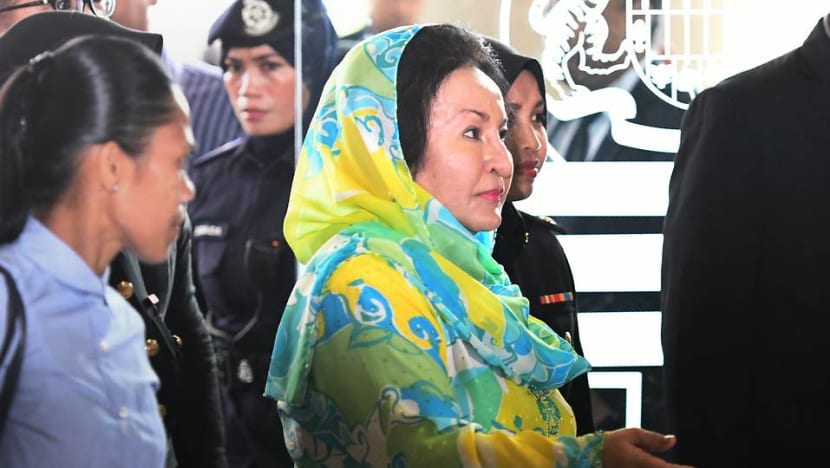 KUALA LUMPUR: Malaysia on Thursday (Nov 15) accused Rosmah Mansor, the wife of former prime minister Najib Razak, on charges of soliciting and receiving bribes involving RM189 million (US$45.12 million) from a company pitching for a government project.

Prosecutors who charged Rosmah with two counts of corruption said the payments concerned a RM1.25 billion (US$298 million) solar project in schools in Malaysia's eastern state of Sarawak, on the island of Borneo.
According to prosecutors, Rosmah sought a bribe of RM187.5 million in 2016 from an executive of Jepak Holdings, and received a bribe of RM1.5 million the following year from the official.
Rosmah pleaded not guilty to both the charges, which carry a jail sentence of up to 20 years each and a fine of at least five times the amount.
Jepak Holdings said last year it won the solar contract from the education ministry.

Other officials close to the couple have also been arrested and charged since May.
Rizal Mansor, a former aide, was charged on Thursday with soliciting and receiving bribes for himself and on behalf of Rosmah over the solar project.
In court, he pleaded not guilty.
Tengku Adnan Tengku Mansor, a former minister in Najib's cabinet, was charged with corruption involving a sum of 3 million ringgit. He also pleaded not guilty.
Last month, Malaysia charged its former treasury chief with criminal breach of trust over the 1Malaysian Development Berhad (1MDB) investigation.

Rosmah spent almost four hours at the MACC on Wednesday giving her statement on the contract for the supply of solar energy to schools in Sarawak.
She already faces 17 other charges, including receiving proceeds of illegal activities as well as failure to declare income tax. She has pleaded not guilty to the charges.
Her husband Najib faces 38 charges ranging from money laundering to abuse of power and criminal breach of trust, mostly over the multi-billion-dollar corruption scandal at 1MDB. 
Najib and his wife, who has faced criticism for her extravagant lifestyle, are at the centre of a wide-ranging graft investigation launched by Prime Minister Mahathir Mohamad, who was returned to power by a stunning election victory in May.

The 1MDB scandal, one of the major reasons for Najib's election defeat, is the subject of corruption and money-laundering investigations in at least six countries.
US authorities say US$4.5 billion was siphoned from 1MDB and about US$700 million was diverted into Najib's personal bank accounts. He has denied any wrongdoing.