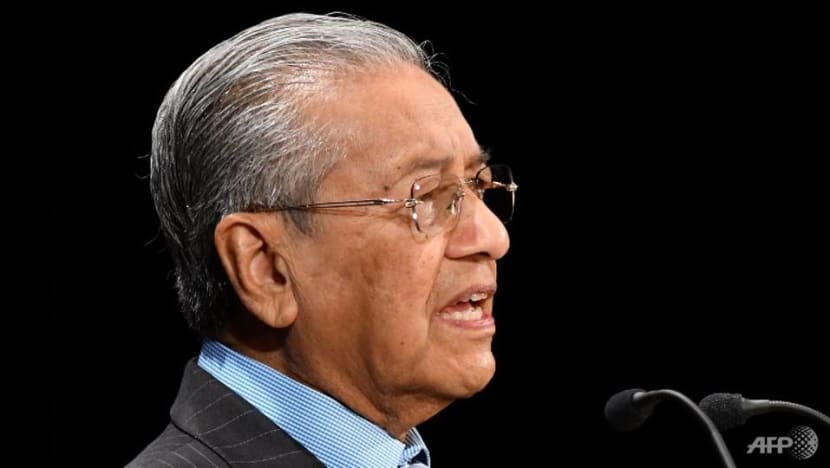 NEW YORK: The newly elected Malaysian government is hopeful of a substantial reduction in the amount of government debt within the next one to two years, Prime Minister Mahathir Mohamad said on Thursday (Sep 27).

The Pakatan Harapan (PH) government will prioritise efforts at restoring wealth and rescuing the nation's economy within this period, said Mahathir while speaking in New York at a dialogue with members of the Asia Society.
"Now that we are in government, one of the first things we have to do is solve the problems created by the previous government," he said.
"The previous government borrowed huge sums of money, more than RM1 trillion (US$241 billion). It is tough on us, but in one or two years we can reduce the amount."
Touching on Malaysia's debt, Mahathir said no country should spend beyond its means, adding that he was surprised how the previous government could have allowed this to happen.
He added that his government has already cancelled and reviewed a number of costly projects, which has reduced its overall debt, since coming into power in May. 
These include the China-backed East Coast Rail Link and Trans-Sabah Gas Pipeline projects.
"We are still trying (to negotiate), and I feel the contractors in China are not too happy - but they are not objecting too strongly," he said.
The prime minister added that the government is also keen to encourage foreign direct investment, as Malaysia is a good investment location.

VALUES IMPORTANT IN DEVELOPMENT OF SOCIETY
During the question-and-answer session, Mahathir also spoke about values, their importance in the development of society and the role of the education system.
"Today, in most countries, including Malaysia, parents are not able to teach their children the right values because both the parents will be working and don't spend quality time with their children," he said.
"So, we in the school, at the primary and kindergarten levels, need to teach children the right values."
Schools, he added, should place importance on value systems that positively shape the character of the people.
"Otherwise, they will get values from their friends and that may not be suitable for their own future or for society," he said.
Mahathir said he wanted to be the country's education minister so that he could revise the Malaysian education curriculum, but had to dismiss this idea as he had to abide by the PH election manifesto.
Shortly after victory in May's general election, Mahathir announced he would also be the country's education minister, but reversed the decision after it was pointed out that PH's election manifesto stated the prime minister would not simultaneously hold other ministerial posts.
The session saw a light moment when the moderator, former Australian prime minister Kevin Rudd, said he regarded Mahathir as a "patron saint".
"Very rarely have I seen a leader deliver a 30-minute speech without notes. We regard you as the patron saint of political comebacks," he said, drawing laughter from the floor.