Malaysian king appoints Mahathir as interim PM after accepting his resignation
Members of the Pakatan Harapan Cabinet have been relieved of their duties.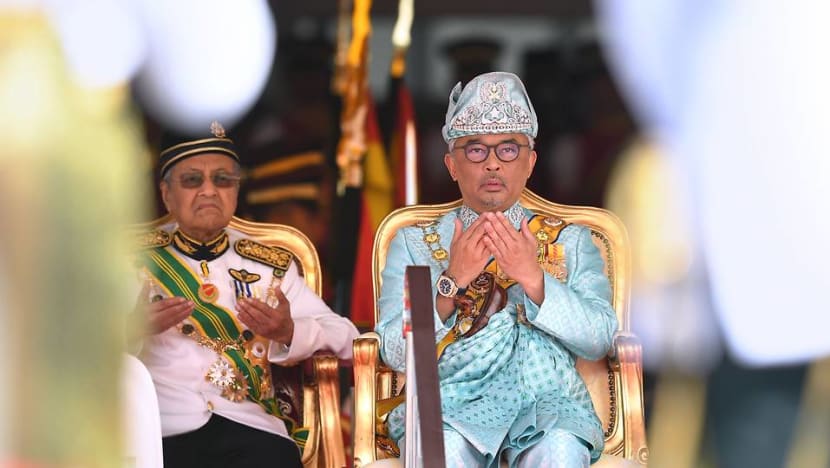 KUALA LUMPUR: Dr Mahathir Mohamad's resignation as Malaysia's prime minister was accepted by King Abdullah Ri'ayatuddin Al-Mustafa Billah Shah on Monday (Feb 24) evening, said Chief Secretary to the Government Mohd Zuki Ali.
However, the king also appointed Dr Mahathir as the interim prime minister until a new prime minister is chosen, in line with Article 43 (2)(a) of the Federal Constitution.
Earlier in the day, Dr Mahathir, 95, tendered his resignation while quitting as chairman of Parti Pribumi Bersatu Malaysia (Bersatu) amid speculation that a new pact would be formed to replace Pakatan Harapan (PH) as the ruling coalition.
This came a day after Parti Keadilan Rakyat (PKR) president Anwar Ibrahim noted that there was a betrayal by coalition partners to break up PH. 
Bersatu president Muhyiddin Yassin, meanwhile, announced on Monday that the party has quit PH. 
Eleven members of parliament from PKR, including deputy president Azmin Ali, also declared their departure from the party and PH to form an independent bloc in the parliament. 
The series of actions was seen as efforts to block the long-promised succession of Mr Anwar as the next prime minister.
Nonetheless, Mr Anwar and the Democratic Action Party (DAP) said Dr Mahathir played no role in the attempt to create a new coalition. 
Mr Anwar said: "I think this was not him (Dr Mahathir) because his name was used. Those within my party and outside (are) using his name. He reiterated what he had said to me earlier - he played no part in it."
DAP secretary-general Lim Guan Eng said Dr Mahathir decided to resign as an objection to the "nefarious attempt to subvert and undermine the people's mandate given to PH". 
In a separate statement, Mr Mohd Zuki said that in line with Dr Mahathir's resignation, the king has also revoked the appointments of all ministers on Monday. 
"As such, the duties of the members in the administration (including deputy prime minister, ministers, deputy ministers and political secretaries) are terminated on the same date," he said.