Search operations to resume on Monday as authorities identify 21 victims of Malaysia landslide
At least 24 people died in the disaster at an unlicensed campsite at Father's Organic Farm in Batang Kali town.
KUALA LUMPUR: The search for the remaining nine victims of the landslide tragedy at the camping site of Father's Organic Farm at Batang Kali will resume on Monday morning (Dec 19) after rain prematurely halted operations the previous day.
No bodies were recovered on Sunday and Hulu Selangor police chief superintendent Suffian Abdullah said rescue efforts would continue at 8am local time depending on the weather conditions.
"The operation to search for nine more landslide victims has been postponed tonight and will resume at 8am Monday following unsuitable weather conditions," he told reporters at the disaster site.
Malaysian authorities on Sunday identified 21 out of the 24 victims of Friday's deadly landslide at an unlicensed campsite at Batang Kali, a popular hilly area near Genting Highlands and about 50km north of the capital Kuala Lumpur.
Of the 94 people caught in the landslide at Father's Organic Farm, 61 are safe and nine are still missing, the Selangor state fire and rescue department said.
In a Twitter post, the National Disaster Management Agency (NADMA) confirmed the names of the seven children known to have died in the tragedy and also revealed that eight people had been hospitalised. Five of the eight have since been discharged.
The victims identified so far are: Lim Wei Xin, 36; Hong Mei Jing, 38; Nurul Azwani Kamaruzaman, 31; Lai Lee Yin, 37; Tong Kai En, nine; Lai Lee Koon, 44; Ka Kok Boon, 43; Zech Loh Qi Yi, seven; Eng Huai Yi, 12; Eng Choon Wen, 43; Ng Yee Tong, 11; Ka Sin Ya Vanya, six; Lam Sook Man, 37; Wong Kim Yap, 34; Fong Choy Kee, 43; Liu Pei Si, 44; Daniel Khor Yen, five; Chin Su King, 36; Lai Chee Sam, 33; Wong Zi Hang, one; and Gain Choo Yin, 35.
Three of the dead have not been identified yet.
The search for missing campers caught in the deadly landslide continued for a third day on Sunday, with the fire department saying the chance of finding survivors was slim.
The operation to locate and rescue the remaining nine missing victims was temporarily suspended as of 6pm local time due to weather conditions but would continue later, said Selangor Fire and Rescue Department director Norazam Khamis.
Short-term preventive measures, including covering the exposed slope with tarpaulin sheets, have been conducted at the Father's Organic Farm campsite to avoid further landslides.
The Public Works Department (PWD) said on Sunday that they were also diverting water flow at the surface and existing drains to prevent run-off from entering the landslide area and installing tilt sensors to monitor soil movement in the area.
The measures were taken after an initial inspection by the department's slope forensics and engineering team revealed there was active underground water flow at the location of the failed slope, especially in the camping grounds.
"The results of the initial findings revealed two slope failures at the same location with intervals of 20 minutes to 30 minutes between them," the department said.
"The first slope failure most likely occurred at the campsite, which caused the toe of the road slope to weaken and led to the (second) larger landslide."
The PWD added that a detailed investigation will be conducted at the site immediately after search and rescue operations are completed.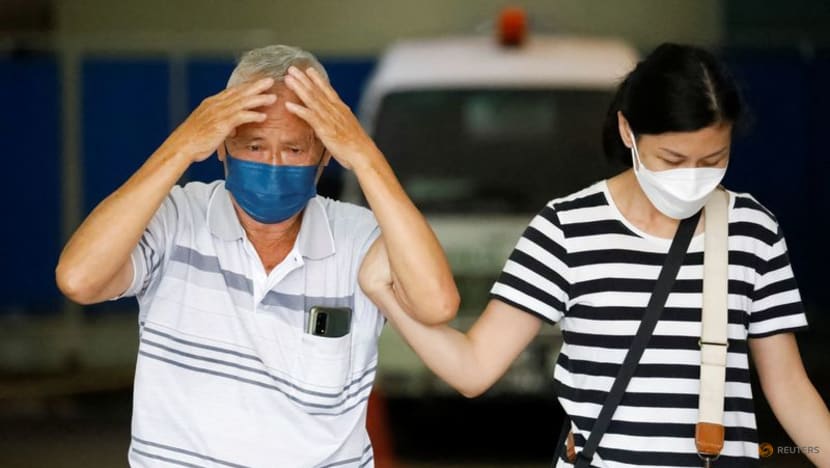 RADAR BEING USED TO DETECT BODIES
Responders have deployed excavators and rescue dogs to search for people trapped under mud and debris, while heavy rain has raised concern of further landslides.
Malaysia's fire and rescue service said heavy machinery would be operated carefully to prevent any damage to bodies.
It is also utilising ground penetrating radar - which uses electromagnetic waves - to gauge soil thickness and detect the locations of the nine people still missing, said Selangor state fire and rescue chief Norazam.
He earlier said that the chance of finding more survivors was slim given the lack of oxygen and weight of mud pressing down on the site.
An initial investigation showed an embankment of around 450,000 cubic metres of earth had collapsed. The earth fell from an estimated height of 30m and covered an area of about 0.4ha.
Landslides are common in Malaysia but typically occur only after heavy rain. Flooding is also common, with about 21,000 people displaced last year by torrential rain in seven states.
News agency Bernama reported on Sunday that the police had called in the Father's Organic Farm campsite operator and two of its workers to give statements.
"We may be calling more parties involved to assist in the investigation," said Hulu Selangor district police chief Suffian Abdullah.
On Friday, Malaysia's Local Government Development Minister Nga Kor Ming said the campsite did not have a valid licence for camping activities.