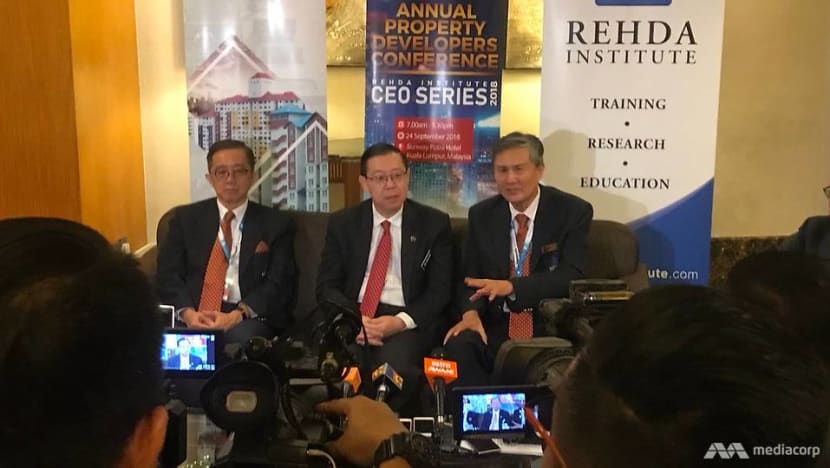 KUALA LUMPUR: Malaysia's Finance Minister Lim Guan Eng on Monday (Sep 24) told developers to reduce residential prices, and warned them against building projects exclusively for foreigners.
"We want all developers to reduce prices. This applies to all states," the Star Online reported Lim as saying at the Annual Property Developers Conference Rehda Institute CEO Series 2018.
The government had exempted constructions materials from the recently imposed Sales and Services Tax (SST) and wants the cost savings from that exemption to be passed on to consumers, Lim was cited as saying in the New Straits Times.
Should developers fail to do so, the government may consider taking back the SST exemption, he added.
"We want to see a reduction in prices. I am not interested to see add-on packages, that is meaningless," said Lim.
Lim was also quoted as saying in the Malay Mail that government will not allow developers to build projects exclusively for foreigners.
"Let me be clear that our prime minister does not oppose foreigners buying properties in Malaysia but when townships are built exclusively for foreigners, how does that benefit the country and Malaysians?" he was cited as saying.
"This the government will not accept."
Lim's remarks come after Malaysian Prime Minister Mahathir Mohamad earlier this year hit out at foreigners buying flats in Chinese developer Country Garden's US$100 billion Forest City project in Johor.
Mahathir had said he objected to the project because it was "built for foreigners, not built for Malaysians" and that most Malaysians are unable to buy those flats.
His comments prompted Johor's chief minister to stress that foreigners were still welcome to buy properties in the Forest City project, and led to the setting up of a government committee to review the real estate project.
FOREIGN WORKER LEVY
Meanwhile, Lim also said the government is tweaking the levy payment structure for temporary foreign worker permit extensions for individuals who have worked at least 10 years in Malaysia. This, he said, would ease the burden on employers.
Under the new structure, employers will only pay 20 per cent of the RM10,000 annual levy to renew the permit, while the rest will be borne by the employees.
Previously, said Lim, employers would have had to pay the full amount, adding that the move is to encourage employees to retain workers with more than 10 years of experience as they are considered skilled workers. 
"It is not worth it to send back trained workers and hire inexperienced foreign workers," he said.