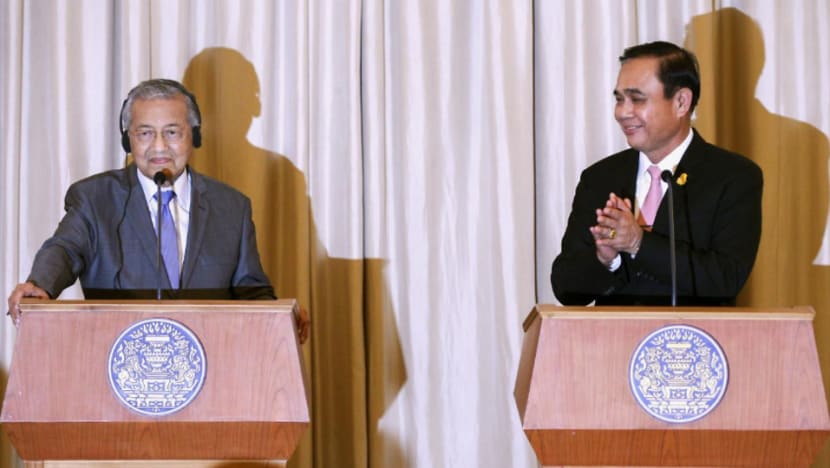 BANGKOK: Malaysian Prime Minister Mahathir Mohamad promised on Wednesday (Oct 24) to help in "whatever way possible" to end the violence in Thailand's insurgency-plagued south.
Thailand's mainly Muslim southern region bordering Malaysia has been in the grips of a low-level but bloody insurgency for more than a decade, as insurgents battle the Buddhist-majority state for greater autonomy.
Almost 7,000 people - mostly civilians - have been killed since 2004, although the death toll in 2017 was the lowest in 13 years amid a tighter security operation.

"We pledge to help in whatever way possible to end this violence in the south," Mahathir said at a media conference after meeting Thai Prime Minister Prayuth Chan-ocha on his first visit to Thailand since his stunning win in May's general elections.
"It is not just the case of talking or drawing up treaties, it is really a cooperation between two friendly neighbours and we want to continue that friendship," Mahathir said.

He added that Malaysia is grateful for the help given by Thailand when it was faced with terrorism, and wants to return that favour.
"When Malaysia was facing the problem of terrorism before, Thailand helped in many ways to put an end to that kind of activity, and we are very grateful to the Thai government and the Thai people," said Mahathir.

Muslim-majority Malaysia has long acted as a facilitator for brokering peace talks between the Thai government and Mara Patani, an umbrella group that claims to be the political wing of a shadowy network of rebel fighters clashing with state forces.
But the talks have stalled in the past year, and both countries recently appointed new representatives to lead the delicate negotiation process.
Malaysia's new representative, former Inspector-General of Police Abdul Rahim Noor, was also present during the joint media conference.

Resolving the years-long conflict would be in the best interests for both countries, as well as for the region, Prayut told reporters.
"The dialogue will resume immediately and Malaysia is the facilitator," Prayut said.
"We both agree that this is Thailand's domestic problem. Malaysia is willing to help so that the problems will be solved faster," said Prayut.
Neither party gave further details or a timeline for the process.

OBSERVERS SCEPTICAL OF PEACE PROCESS
Observers of the deep south conflict, however, remain sceptical of moves to jumpstart fractious talks months before expected elections in February.
"Mara Patani said they are not going to come to the table until there is a democratically elected government in Thailand," Don Pathan, a Thailand-based independent analyst, told AFP.
"Most importantly, the BRN, the group that controls virtually all the combatants on the ground, are not part of the dialogue."
The BRN, or Barisan Revolusi Nasional, is believed to oversee most fighters but has long refused to talk barring international mediation - which the Thai government has consistently rejected.

Rights groups have accused both insurgents and security forces of widespread human rights abuses in the region.
How far talks go depends not on Malaysia, but on the Thai military which has "dragged its feet" on the process, said Paul Chambers, an expert on the conflict at Naresuan University.
"The fact that the talks have fallen off could mean that the junta has seen them more as a public relations stunt than as a sincere endeavour."

Earlier on Wednesday, the prime ministers of Malaysia and Thailand held a bilateral meeting where they discussed various issues of common interest, which includes increasing trade. 
"Bilateral trade which has shown an increase of 17.9 per cent in 2018 can be further increased when problems related to bureaucracy at the border crossings are solved," said Mahathir. 

He will meet with members of the Malaysian diaspora on Thursday, followed by a public lecture at Bangkok's Chulalongkorn University on the two countries' relationship..
Source: AGENCIES/bernama/gs