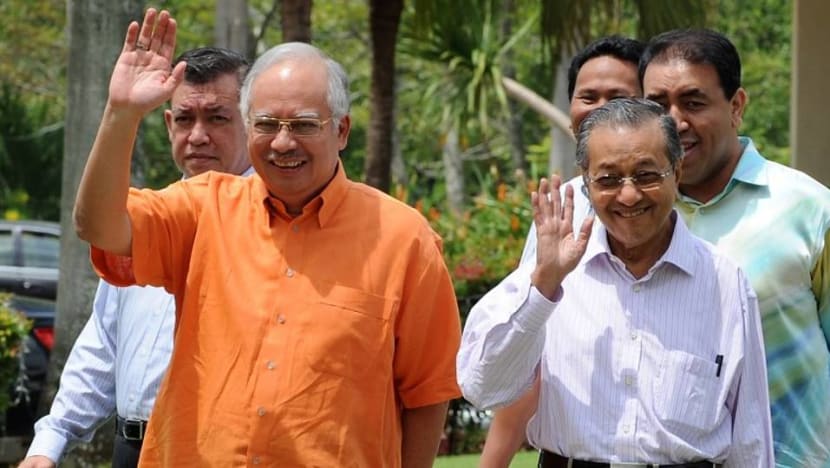 KUALA LUMPUR: It appears Malaysia's former prime minister Najib Razak had a role in keeping his successor's mind active.
"I had a big quarrel with the previous prime minister. So all the time my brain is actively thinking about ways and means to change the government," said Prime Minister Mahathir Mohamad.
"So when you keep on thinking, using your brain, that means you will not lose your memory, like you often see in old people," he added.
Dr Mahathir was speaking on Saturday (Oct 6) at the opening of a conference called Ageing, Learning and Technology: Enriching Lives Connecting Communities.
At 93 years old, he is the world's oldest prime minister.
Dr Mahathir said his political comeback after retirement was motivated by the people's desire to change the previous government.
"Two weeks after I retired, people came to see me. They were not happy with my successor. They asked me, can you do something about it?
"So I started doing something. I became very active. Of course when that successor eventually gave up, we had a second man to succeed the first man after me.
"Unfortunately again people came to see me and said please do something. First I tried to advise but it did not work. Then I decided I can't have this man as my leader so I left the party (UMNO)," he said.
Dr Mahathir first retired in 2003 and handed the reins to then-prime minister Abdullah Badawi. Mr Abdullah, who had been publicly criticised by Dr Mahathir, stepped down in 2009 after a poor showing at the country's general election.
Najib, meanwhile, is facing more than 30 charges over the suspicious transfer of money from state fund 1MDB and its former subsidiary into his personal bank account.
During his speech at the conference, Dr Mahathir urged the older generation to stay active after retirement in order to be healthy.
"It is not just your muscle but also your brain. If you don't use your brain it tends to regress. 
"Then the ability to talk, to lecture, to speak out, to complain, that all will go because your brain is no longer functioning. So I suppose it is good for old people to read, to write, and also to quarrel. Because that exercises your brain," he said to laughter from the audience.