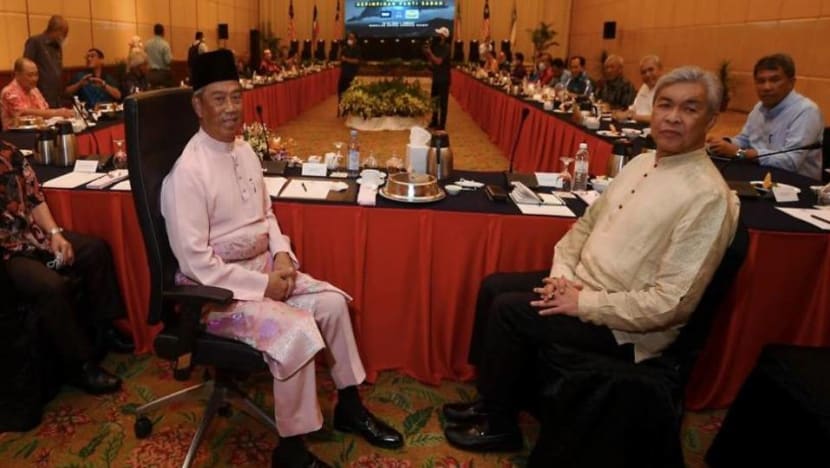 KUALA LUMPUR: Malaysian Prime Minister Muhyiddin Yassin's government is currently in a precarious position where it might not be able to govern effectively after the United Malays National Organisation (UMNO) withdrew its support for Perikatan Nasional (PN) on Thursday morning, analysts told CNA.
He will need to explore options to strengthen PN's parliamentary majority.
Mr Muhyiddin could resort to political negotiations with other parties such as Parti Warisan Sabah, or even the opposition Pakatan Harapan (PH) coalition, said Dr Wong Chin Huat, a political analyst from Sunway University.
Should UMNO president Ahmad Zahid Hamidi and those backing him leave PN, Mr Muhyiddin would have lost its razor-thin parliamentary majority and might face problems passing bills and legislation, he said.
"Muhyiddin's government will face the challenge in the next parliamentary meetings after Aug 2, as it may be defeated in the royal address or budget. It would be irresponsible and objectively improbable to hold snap polls; so, Muhyiddin still needs to find a solution to restore his majority," he said.
The tussle for leadership in Malaysia's government saw a key development on Wednesday when Mr Muhyiddin promoted UMNO MPs Ismail Sabri Yaakob and Hishammuddin Hussein as Malaysia's deputy prime minister and senior minister respectively.
The appointments came amid renewed talks of UMNO considering pulling out of PN.
In the early hours of Thursday, Ahmad Zahid, who was speaking at a virtual press conference after the party's supreme council meeting, confirmed that UMNO has withdrawn its support for the PN government led by Mr Muhyiddin, and called for his resignation.
The prime minister, who is president of Parti Pribumi Bersatu Malaysia (Bersatu) came to power with a razor-thin majority after PH was ousted from Putrajaya.
MPs from Bersatu, Barisan Nasional (BN), Parti Islam Se-Malaysia, Gabungan Parti Sarawak and several other parties had then banded together to form ruling bloc PN.
UMNO, a traditionally dominant party in BN, has 38 MPs, while Bersatu - seen as a splinter of UMNO - has 31. UMNO's wish to regain dominance in federal politics has been playing out since last year, with it threatening to pull out of PN and withdrawing support for Mr Muhyiddin.
Ahmad Zahid's statement has sent ripples across the political spectrum on Thursday. However, analysts said there was still no clear consensus on what UMNO's official stance was.
They noted that it is not clear if UMNO has reached a consensus among members on how the party will move forward, with a faction of MPs, possibly including 17 who are holding ministerial posts, still keen on maintaining ties with Mr Muhyiddin's PN coalition.
"The situation is a little murky right now, it's unclear if the party as a whole has a clear stand," said Professor Ahmad Martadha Mohamed from the School of Government in Universiti Utara Malaysia.    

MUHYIDDIN LIKELY TO HANG ON
Analysts pointed out that Mr Muhyiddin is currently facing mounting pressure to ensure that his government is able to continue functioning, following Ahmad Zahid's announcement.
Prof Ahmad Martadha believed that PN would continue to run the country and Mr Muhyiddin would continue to serve as prime minister, as none of the three main coalitions - PN, PH or BN - have a simple majority to form the government.
He added that Malaysia's King Al-Sultan Abdullah Ri'ayatuddin Al-Mustafa Billah Shah would also not be likely to support a change in government as the country is knee-deep in combating the COVID-19 pandemic.
"The king will not allow (a change of government during this period) as it will also anger the people. He has said before that welfare of the people should be prioritised over politics," he said.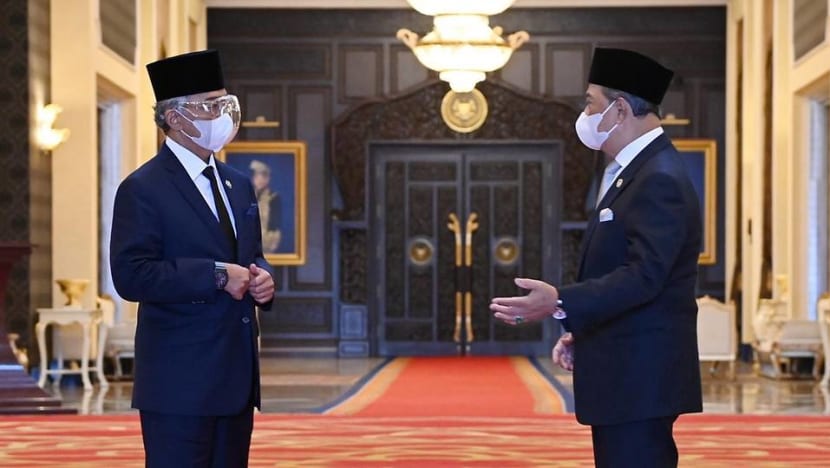 Dr Oh Ei Sun, a Senior Fellow at the Singapore Institute of International Affairs, explained that ultimately, for the embattled Mr Muhyiddin, what mattered was the support of the UMNO parliamentarians, not the party's.
However, if indeed UMNO MPs are withdrawing and in enough numbers that Mr Muhyiddin no longer enjoys the majority, then the ball is at the king's feet, he said.
"One possible route was for the king to allow Muhyiddin to continue as a minority government, or ask him to resign," he said.
UMNO STILL HAS NO CLEAR STAND
The situation after Ahmad Zahid's late night statement was still unfolding, said Dr Oh.
"For instance, what does it mean by UMNO pulling out of the government? The wording is deliberately, strategically vague," he said.
Even though Ahmad Zahid's announcement was "intriguing", said Prof Ahmad Martadha, Malaysians have not heard from the other UMNO MPs, or even Mr Ismail Sabri and Mr Hishammuddin, who were promoted by the prime minister.
He also noted that while the announcement came from the supreme council, the majority of UMNO's members were not parliamentarians, and Ahmad Zahid's announcement might have contradicted the wishes of the majority of members in UMNO.

One possible scenario is UMNO sacking those who are serving as ministers as well as the MPs who support the PN government, pushing them into Bersatu's arms, said Dr Wong. 
That would leave UMNO's grassroots leaders on opposite sides, having to fight Bersatu or BN in the next general election. "It would be a fight between party loyalty and incumbent advantages," he said.
SNAP POLLS UNLIKELY
Are snap polls on the cards?
The analysts said Ahmad Zahid's announcement has not significantly altered the political situation all that much in the short term.
Dr Oh observed that Mr Muhyiddin would not be in a hurry to call for a general election as Bersatu might not be in a favourable position to win.
"It's simply not a strong party, lacking in grassroots, and now that it has made a mess of combatting the pandemic, it is doubtful whether it will win any seat at all," he said.
It is also unlikely for the opposition PH coalition led by Parti Keadilan Rakyat president Anwar Ibrahim to form a new government, Dr Oh pointed out.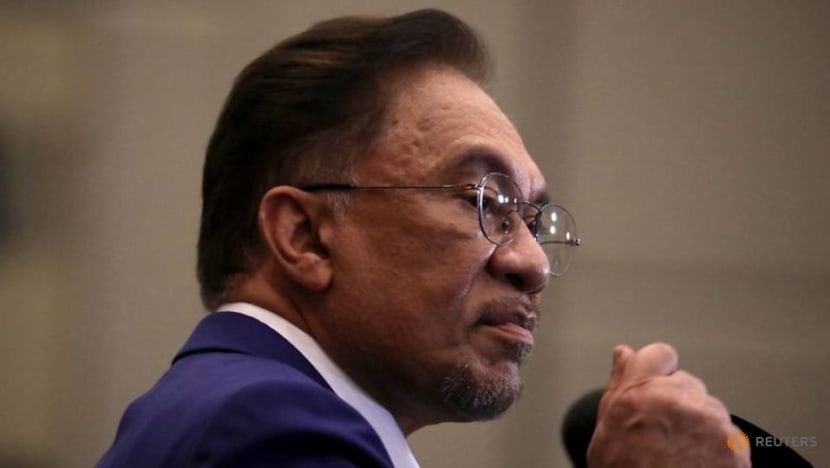 Ahmad Zahid reaffirmed in his statement that he would not back Mr Anwar as prime minister and his party would not support any government led by PH and Democratic Action Party.
"If UMNO, as it said last night, does not want to work with them, the opposition can't form a government without UMNO essentially," said Dr Oh.
On its part, PH said on Thursday that although it would support calls for Mr Muhyiddin to step down, it is now not the time to call for polls.
Agreeing that there are no alternative coalitions that are ready to take over, Dr Wong said the only way to change the government was to present an alternative majority to the king, in the absence of a formal defeat in the parliament's Lower House.
He also expressed his concerns that the government ministers, including the new deputy prime minister and senior minister, would not be able to focus on the pandemic, economy or their respective portfolios with the constant political drama.
"More than ever before, Malaysia needs to stabilise and professionalise multiparty competition by making it less winner-takes-all and more policy-based, reducing incumbent advantages and leaving enough room for losers to survive.
"All the remedies that probably go against many Malaysians' taste for gladiator fights," he said.