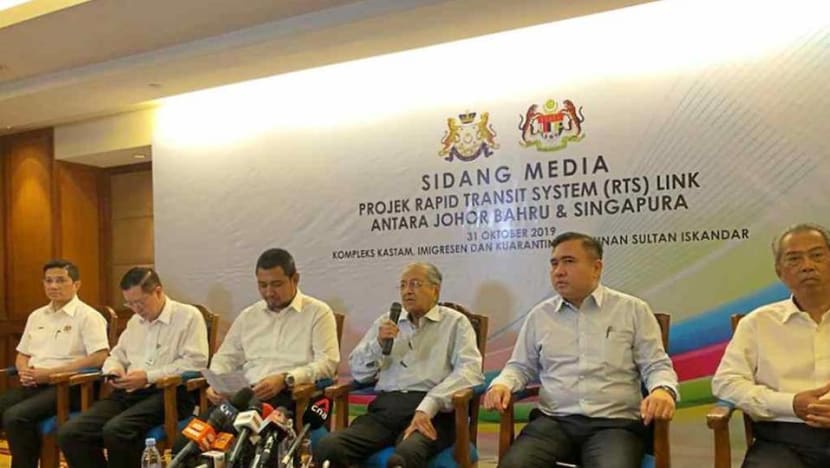 JOHOR BAHRU: Malaysia will proceed with the construction of the Johor Bahru-Singapore Rapid Transit System (RTS) Link project, Prime Minister Mahathir Mohamad said on Thursday (Oct 31).
Speaking at a press conference at the Bangunan Sultan Iskandar Customs, Immigration and Quarantine Complex, Dr Mahathir said the total cost of the project is estimated to be RM3.16 billion (S$1.03 billion), which is RM1.77 billion or 36 per cent less than the original cost of RM4.93 billion.
"We will build the (RTS) … that has already been decided. We will go ahead with that project," he said. 
On Thursday evening, Singapore's transport ministry said it welcomes Malaysia's decision, adding that both sides are now discussing the changes to the project, which Malaysia is proposing in order to reduce the cost of the project.
An important feature of the revised project structure is the involvement of the Sultan of Johor, the owner of the land at Bukit Chagar to fund and enable the project, by waiving the land cost, said Malaysian Transport Minister Anthony Loke at a separate press conference. 
"The station (for the RTS in Johor Bahru) will be located in Bukit Chagar. That is the major piece of land we need in order for this project to proceed," he added.
In a statement, Putrajaya said Cabinet approval was given on Oct 18 for the project to proceed, with changes to the project structure, scope and specifications.
The land cost waiver, coupled with optimised costs in construction and rail systems, will result in substantial savings, thus making the project more financially viable, the statement added.
Mr Loke also said he expects the final agreement for the project to be signed early next year. 
He said that Malaysia has submitted an official proposal to the Singapore Government, and will await Singapore to go through it before things are finalised. 
He explained that Malaysia's proposal will reduce construction costs and result in affordable fares for commuters. The RTS will still serve up to 10,000 passengers per hour. It will be a system that is similar to the Light Rail Transit in Kuala Lumpur. 
In its press release, Singapore's transport ministry said discussions would "take some time" as the changes being proposed would require amendments to the RTS Link Agreement. 
"Both sides are working hard on this," it said.
A spokesperson said in response to queries from CNA that it has requested further details from Malaysia on the proposed changes.
In May, Singapore and Malaysia agreed to suspend the construction of the RTS Link until Sep 30 at Malaysia's request.
As part of the agreement, Malaysia had agreed to reimburse Singapore for the abortive costs incurred - around S$600,000 - due to the suspension. During the suspension period, Malaysia looked at whether to proceed with the RTS Link project as it was.
It was announced on Sep 29 that both sides have agreed to extend the deadline for an additional month, until Oct 31.
In delivering the Budget speech on Oct 11, Malaysia's Finance Minister Lim Guan Eng said that Putrajaya "intends to proceed" with the RTS as a longer-term solution to address congestion at the Causeway and Second Link.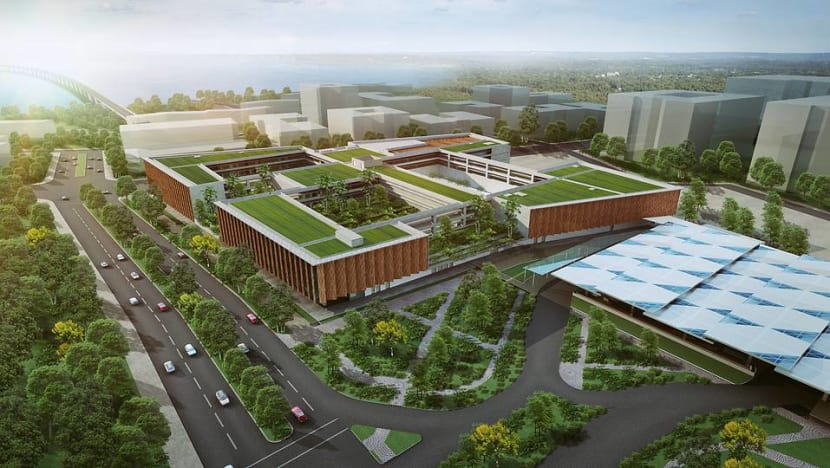 The RTS Link, which connects Bukit Chagar in Johor Bahru to Woodlands in Singapore, is expected to ferry up to 10,000 passengers per hour each way. The project was meant to be completed by 2024, but is now behind schedule with Malaysia repeatedly delaying confirmation of its joint venture partner. 
According to a bilateral agreement signed in January 2018, a joint venture company comprising Singapore's SMRT and Malaysia's Prasarana Malaysia should have been constituted by Jun 30 last year.
The joint venture company should also have been appointed as the RTS Link operator through a concession agreement with Singapore's Land Transport Authority and the government of Malaysia by Sep 30, 2018.
MAHATHIR SAYS RTS WON'T RESOLVE CONGESTION, BUT A THIRD BRIDGE WILL
On Thursday, Dr Mahathir insisted that the RTS will not fully resolve the congestion issue at the Causeway and Second Link. Only the construction of "a third bridge" would alleviate the problem, he said. 
"RTS isn't going to solve the problem for motorcyclists who go to and fro," he said. 
"People who work in Singapore will have to come to the station, but they cannot carry their bikes (onto the trains), and if they don't have motorbikes and want to go to work, they will have a problem," he added.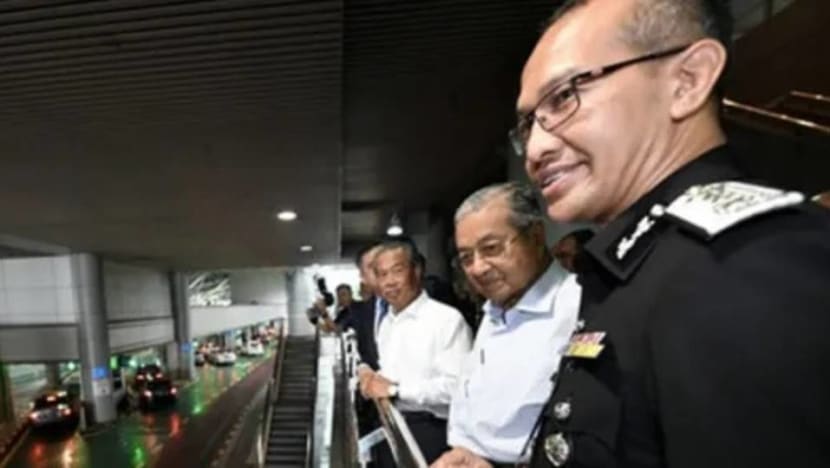 Dr Mahathir first mooted the idea of a crooked third bridge project in his first stint as prime minister. 
The original concept of the bridge involved a six-lane highway that would curve in a way that would allow vessels to pass under it. But the project was dropped by his successor Abdullah Ahmad Badawi. 
"We want to build a bridge because of traffic jam, but Singapore refuses to allow us to build a bridge," Dr Mahathir claimed. 
"I don't see how we can be so accommodating to Singapore without Singapore accommodating us." 
WATER PRICE SHOULD BE RENEGOTIATED: MAHATHIR 
Dr Mahathir also reiterated that the price of water being sold to Singapore by Malaysia under the 1962 Water Agreement needs to be renegotiated. 
The agreement, which expires in 2061, entitles Singapore to draw up to 250 million gallons a day (mgd) of water from the Johor River. 
Singapore pays 3 sen per thousand gallons of raw water and sells treated water back to Johor at 50 sen per thousand gallons, a fraction of the cost of treating the water. 
Johor is entitled to a daily supply of treated water of up to 2 per cent or 5 mgd of the water supplied to Singapore. In practice, however, Singapore has been supplying 16 mgd of treated water to Johor at its request. 
Malaysia had previously acknowledged that it chose not to ask for a review of the agreement in 1987 because it benefited from the pricing arrangement. 
Both countries have said that their attorneys-general will continue discussions to "better understand each other's position" on the right to review the price of water.  
Speaking at the press conference, Dr Mahathir claimed "Johor subsidises Singapore billions of ringgit by selling water at 3 sen per thousand gallons".
"We can't seem to discuss this (water) issue because we can't set a date to discuss. Each day we don't discuss to raise the price, we lose money in the millions ... We want to discuss (raising the price) as soon as possible," he added.