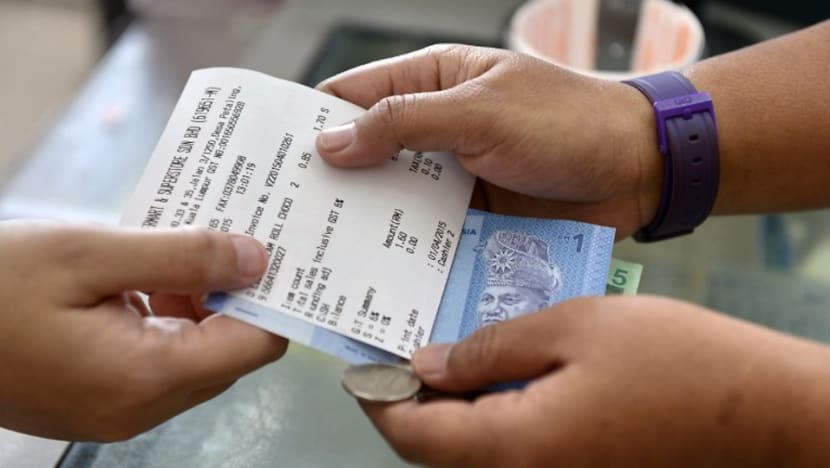 KUALA LUMPUR: Malaysia will impose a tax of between 5 per cent and 10 per cent on the sale of goods, while services will attract a 6 per cent levy when a new tax regime comes into effect on Saturday (Sep 1), the country's customs chief Subromaniam Tholasy said on Thursday.
The Sales and Services Tax (SST) is being reintroduced after the government led by Prime Minister Mahathir Mohamad repealed an unpopular goods and services tax (GST) earlier this month.
The GST, which covered a broader range of items and services compared with the SST, was introduced on Apr 1, 2015 with the rate set at 6 per cent.
While the percentage charged on goods appears to be higher than under the old system, a total of 5,443 items have been declared exempt, compared with 544 items under GST.
In all, the SST will only be applicable to 38 per cent of the Consumer Price Index basket of goods, compared with the 60 per cent under the GST regime.
Among the items that will not be taxed are food items such as rice, cooking oil, bread, baby food products and bottled drinking water.
Also exempted are general goods such as newspapers and wheelchairs, medicine as well as construction materials such as sand, cement and bricks.
Malaysian eateries will only be subject to the SST if their annual turnover exceeds RM1.5 million (US$365,000) annually.
Finance Minister Lim Guan Eng said on Thursday that due to the big increase in exemptions, SST was projected to raise RM21 billion for the government in 2019, compared to RM44 billion ringgit by GST last year.
"So this means we have returned RM23 billion to the people," Lim said.
The minister said the new tax regime should not lead to higher prices, although "some inflation" was likely.
"If there is an increase (in prices), it would likely be due to profiteering by businesses," Lim said.
TRADERS WARNED NOT TO RAISE PRICES OF GOODS
Separately, traders in Malaysia have been warned not to take advantage of the SST by raising the prices of goods on Sep 1.
Division director of the Domestic Trade and Consumer Affairs Ministry's enforcement division, Mohd Roslan Mahayuddin, said it would be unfair for traders to charge higher prices on Sep 1 as SST was only imposed at the manufacturer level.
"For goods from the factory to reach the shops, it will take time and, at the same time, traders will still use the existing stock during the tax holiday given by the government prior to this.
"Hence it is not necessary for traders to raise prices for the first several days of the SST implementation," he said.
He added that the ministry will continue to conduct checks as well as monitor traders, and stern action would be taken against any offenders.
On its part, Guardian Malaysia has promised to keep prices unchanged across all its stores for the whole of September.
"We are very happy to give our commitment to keep prices unchanged, irrespective of the Sales and Services Tax impact. We view this effort as timely and appropriate and we are confident the consumers will be thrilled," Guardian Health and Beauty CEO Soren Lauridsen said in a statement.
ROLE OF CONSUMERS
Federation of Malaysian Consumers Associations of Malaysia (FOMCA) advisor Prof Mohd Hamdan Adnan said he expects prices to remain the same, as SST is a single-stage tax imposed only on manufacturers.
On the other hand, GST was imposed on various goods and services specified by the government and being a multi-stage tax, was payable by all parties in the supply chain, including consumers.
"If consumers feel the prices are unreasonable (after the implementation of SST), they should take action and complain to the authorities," he said.
The government, he added, should publicise the necessary channel and phone numbers to enable the public to report any irregularity.
"Where this matter is concerned, consumers must do their part by complaining to the authorities so that they can take action," he told Bernama.
Pointing out that SST is not the sole factor that influences price changes, Mohd Hamdan said there were also other contributing factors such as the value of the ringgit that would have an impact on imported goods, as well as the supply and demand for certain products.
Source: Reuters/bernama/aj