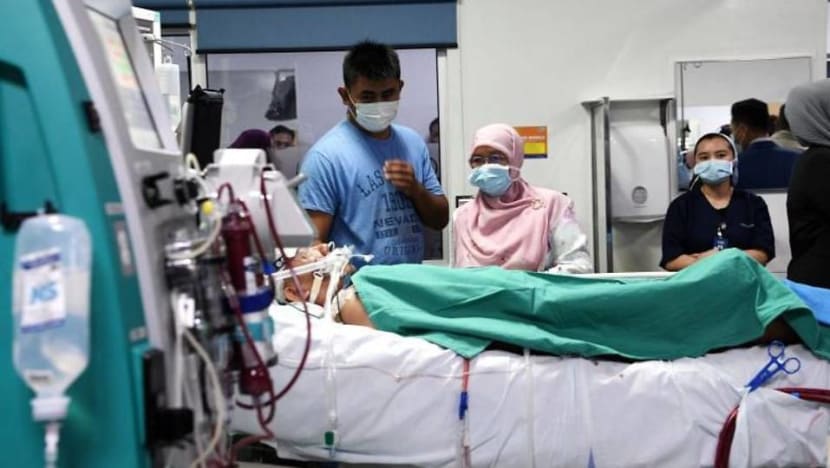 KUALA LUMPUR: The Malaysian firefighter who was seriously injured during the second day of riots at Sri Maha Mariamman Temple in Selangor no longer needs a life support machine for his heart. 

Muhammad Adib however, still needs a ventilator for his lungs, said Malaysian fire and rescue department director-general Mohamad Hamdan Wahid on Sunday (Dec 2). 
"The doctor treating him told me that his heart was able to function on its own and the National Heart Institute (IJN) took him off the life support system for his heart at 11am today," said Mohamad Hamdan. 

"However, he is still categorised as being in critical but stable condition," he told reporters at a charity football match. 
The match was held as a sign of solidarity for Muhammad Adib, as well as to collect funds for six firemen who drowned during a rescue operation in October. 
Commenting on the temple issue, Mohamad Hamdan said police have recorded statements from eight firemen who were at the scene of the riot.
Muhammad Adib was believed to have been forcefully pulled out of a vehicle by rioters near the temple. 
Inspector-General of Police Mohamad Fuzi Harun earlier stated that Muhammad Adib's injuries were not due to being hit by a fire truck which was reversing during the incident, as claimed by the chairman of the temple's task force. 

Tensions over the relocation of the Hindu temple boiled over last week, triggering riots in the area of the temple.
During the riots, 23 vehicles were set on fire and windows of a nearby mall were smashed.

To date, 58 people have been arrested over the riots.