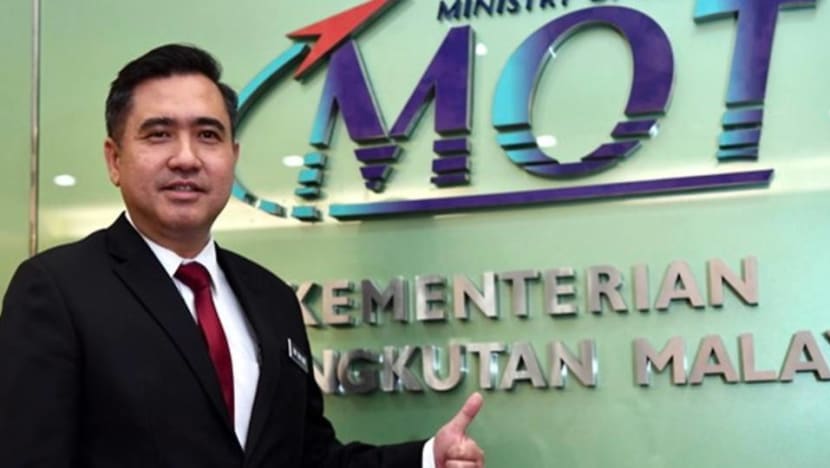 KUALA LUMPUR: The Malaysian government wants to reclaim its "delegated airspace" in southern Johor, its Transport Minister Anthony Loke told parliament on Tuesday (Dec 4).

Citing concerns over sovereignty and national interest, the minister said Malaysia will discuss its plans in greater detail with Singapore, and if necessary refer to the International Civil Aviation Organization (ICAO) for further advice. 

Mr Loke said Malaysia informed Singapore on Nov 29 regarding its plan to "reclaim its sovereign airspace in phases", with the first stage expected around the end of 2019 and the next stage in 2023.
"The plan to reclaim Malaysia's delegated airspace in southern Johor needs to be done in stages in order to coordinate the air traffic control service arrangements between the air navigation service providers in both countries to ensure safe, efficient and organised aircraft movement," Mr Loke said.

In his remarks to parliament, Mr Loke added that the airspace in southern Johor has been "delegated" to Singapore since 1974 for the purpose of providing air traffic control services through Operational Letter of Agreement Between Kuala Lumpur And Singapore Area Control Centers Concerning Singapore Arrivals, Departures And Overflight (LOA 1974).

Speaking to reporters at a press conference later, Mr Loke said he had recently met Singapore's Transport Minister Khaw Boon Wan, and that he had given his counterpart a "heads-up" that Malaysia intends to negotiate the retaking of the airspace.
"But of course the process will take some time. We are not saying immediately."
In response to Mr Loke's remarks, Singapore's Ministry of Transport (MOT) said that the current airspace arrangements over southern Johor "have worked well", any that proposed changes will impact many stakeholders.
"Consultations will therefore be required to minimise the impact on airlines and passengers," MOT said in a media statement. 

PROCEDURES FOR SELETAR AIRPORT
Mr Loke also said in parliament that Malaysia's Ministry of Foreign Affairs will send a statement of protest to Singapore over what he described as a "violation" of principle, referring to Singapore's publication of the Instrument Landing System (ILS) procedures for Seletar Airport.

Mr Loke told parliament that Malaysia notified Singapore on Nov 28 and Nov 29 of its objection to the publication of the ILS, citing the impact on developments and shipping operations in Pasir Gudang, and that Singapore still published it on Dec 1.

The ILS procedure refers to an assisted navigational aviation facility at the airport which provides vertical and horizontal guidance to pilots while the flight is descending and approaching the runway. 

ILS procedures provide a point of entry which guarantees the accuracy and efficiency of flights and increases the probability of landing a plane in an airport, Mr Loke explained in parliament.

For the purpose of upgrading Seletar Airport's landing system and procedure, Mr Loke said that it is necessary for Singapore to broadcast the new ILS procedure for the airport in the Aeronautical Information Publication (AIP) Singapore, according to the standards of the ICAO.

"Should the publication in AIP Singapore be allowed, development in Pasir Gudang areas may be stalled as buildings and structures must comply with the impedance and height control limits set by international standards. In addition, Singapore's AIP broadcasting will also affect shipping operations at Pasir Gudang Port," Mr Loke said in parliament.
He noted that the ILS will take effect from Jan 3, 2019, without the permission of the Malaysian government.
Speaking to reporters later, Mr Loke said: "The Seletar Airport is very near to Pasir Gudang - the aircraft has to fly very low, over Pasir Gudang airspace (when it descends) … We can't even build tall buildings in Pasir Gudang."
"There are currently some tall buildings above the limit over Pasir Gudang. So it is technically not viable right now for that flight path to be allowed."
He stated that Malaysia is not against Seletar Airport but as far as the descend flight path is concerned, it cannot be over Pasir Gudang.
"Let me make it very clear. This Seletar Airport is in Singapore territory. We cannot tell other people not to build their airport. That is their right," he said.

"We are not taking a confrontational approach. We want to be good neighbours … But this is our position and we hope our Singapore counterparts can respect our position."
The announcement from Malaysia's transport minister comes after Malaysian budget carrier Firefly announced earlier that it would suspend all flights to Singapore from Dec 1.
It had been unable to obtain approval from Malaysia's civil aviation regulator to operate at Seletar Airport, after Singapore authorities said that turboprop flights would be relocated from Changi Airport to newly opened Seletar Airport, to optimise the use of resources.

Following Firefly's announcement, the Civil Aviation Authority of Singapore (CAAS) said it has been asking its Malaysian counterpart to share any regulatory concerns about the move, adding that Singapore has made "all preparations and approved all applications" by Firefly to operate to and from Seletar Airport.

On Tuesday, Singapore's Transport Minister Khaw Boon Wan pointed out that Seletar Airport is not a new facility. He added that the ILS procedures are in line with the current flight profile, and publishing them was just a translation of the current situation onto paper.
"So we are not introducing new flight paths, new flight patterns with this Seletar Airport," Mr Khaw told reporters.
He noted Malaysia's decision to "take back the airspace", but said that it was not a straightforward decision to "just change the status quo".
ICAO procedures are "quite clear" that any such changes must improve on the status quo, added Mr Khaw.
Source: CNA/bernama/zl(mn)